A Star is (re)born
Andrew Pern's Star Inn The City has been one of York's flagship restaurants for a number of years, and when a fire tore through the restaurant in late 2018, many feared the worst. However, it proved to be a turning point for the restaurant, with Andrew and his team taking the opportunity to refocus and refresh the menu, with a state-of-the-art Electrolux Professional thermaline suite at its heart.
"When we started, we sort of threw everything at the kitchen that we thought we should have. The menu was quite a lot bigger than it is now, which presented its own set of challenges. Unfortunately we then had a fire just before Christmas 2018, which destroyed the majority of our equipment in the kitchen."
Luckily, no one was injured in the fire. But for many, such an occurrence at a pivotal time of the year would have spelled disaster. However, for Andrew and his team – given much of the restaurant's main structure remained intact – they saw it as an opportunity to start again, and create a kitchen befitting of the location, and the food they wanted to serve.
He continues "It gave us an opportunity to refocus on the kitchen itself and the style of menu. For the design of the kitchen, we had a blank canvas because everything that was there before had to be pulled out, so we could really start from scratch.
"Again, one of the major challenges we face is the volume of covers. We can do four or five hundred covers on a Saturday evening, and up to a thousand on a busy bank holiday Monday. When you're catering for such a high volume, you don't want to be moving up and down the kitchen everywhere. You really want to be standing in one place in arm's reach and that's exactly what we went for."
At the heart of the Star's new kitchen sits a bespoke Electrolux Professional thermaline cooking suite, tailored to Andrew's exact specifications.
He continues: "I'd known of Electrolux for a while. Our previous kitchen featured some Electrolux XP equipment, including stoves, fryers and pasta cookers; and I'd cooked on their thermaline equipment while participating in the Obsession series at Northcote."
This planted the seed for what would become the beating heart of the Star Inn The City's new state-of-the-art kitchen.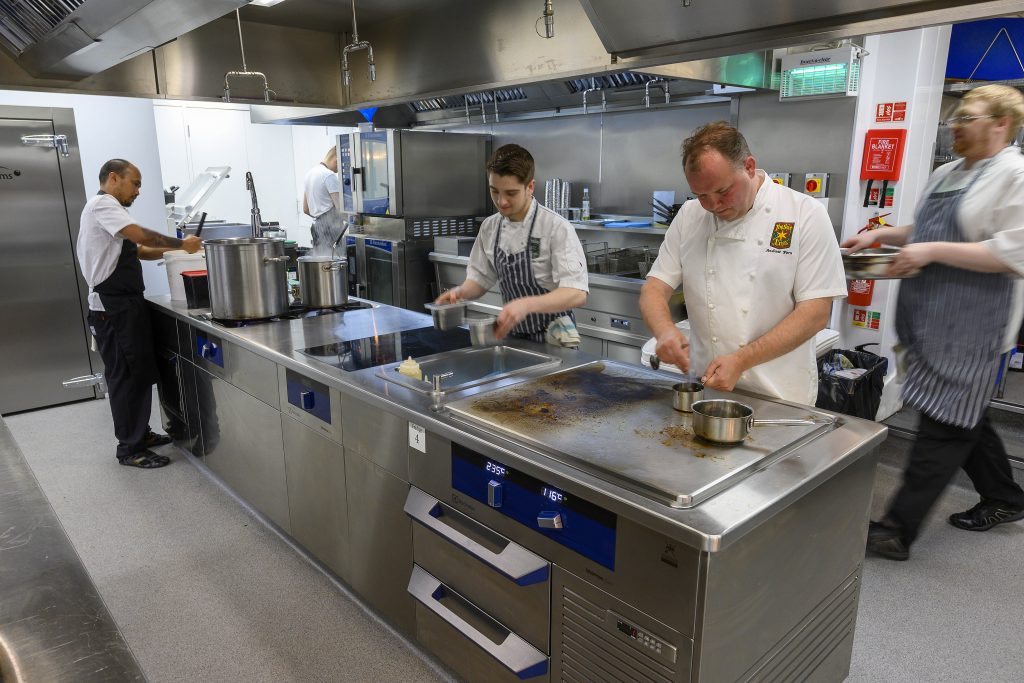 Made from 2mm thick AISI 304 stainless steel, the thermaline suite combines a variety of cooking methods in an ultra-compact footprint to give Andrew and his chefs complete flexibility. At one ends sits a thermaline Free Cooking Top. Completely unique to Electrolux, it is effectively a plancha with four individual zones; each of which can be used for direct and indirect cooking, and controlled to the exact degree, up to 350°C.
Alongside the Free Cooking Top, Andrew's suite features an induction hob and four gas burners which not only provide different cooking methods, but to also contingency in the event of a gas or electricity outage. Both the Free Cooking Top and the induction hob contribute to significantly reduced operating temperatures in the kitchen, while also helping minimise energy wasted through heat loss.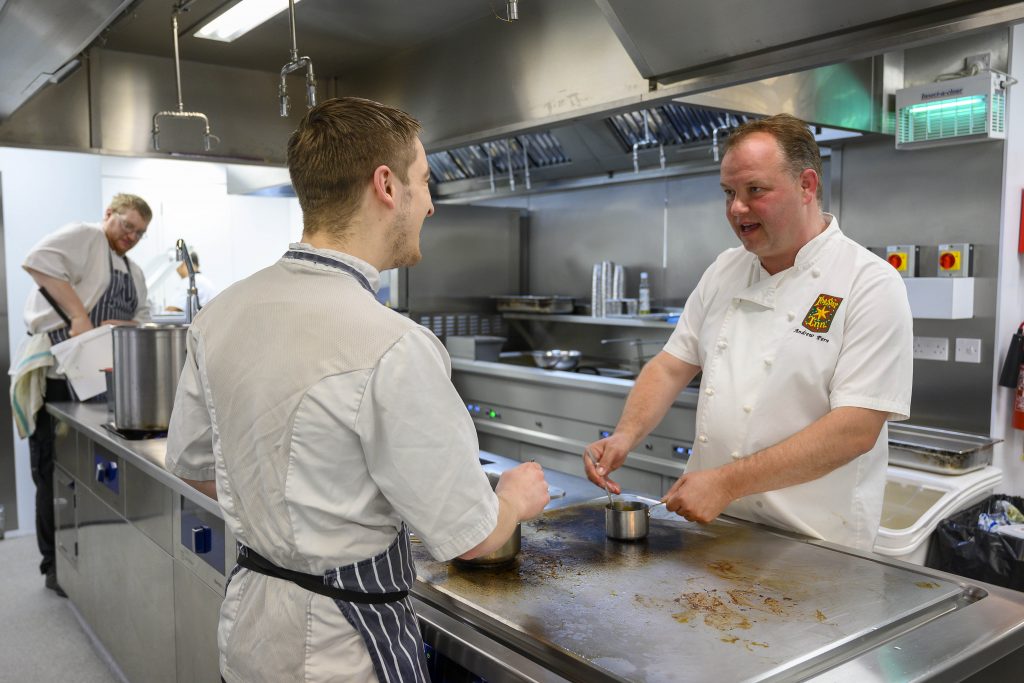 All three modular methods of cooking – as well as a bain marie Aqua Cooker, which can be used for delicate sous vide cooking and blanching vegetable garnishes – are contained within a single stainless steel top, known as Swiss Finish. This not only helps promote a sleek finish, but helps with quick cleaning as there are not gaps of crevices for food to accumulate.
To streamline the flow of the kitchen, each cooking zone can be controlled from either side of the island, meaning the kitchen team do not need to jostle for position on just one side of the suite.
To maximise space and ensure fresh ingredients are within easy reach of the cooking zones, a series of refrigerated drawers have been integrated into both sides of the suite.
Further refrigeration is close at hand, with refrigerated counters from Electrolux's ecostoreHP range are located within arm's reach of the suite, underneath the pass. Rated both Climate Class 5 and Class A for energy efficiency, the units also operate using R290 refrigerant gas with cyclopentane in the foaming process, which further improves efficiency. What's more, a built-in intelligent air circulation system, OptiFlow, adapts to the contents of the fridge in order to preserve food for as long as possible.
"It's a lot more relaxed, which is a bit unnerving for me as an old school chef," laughs Andrew. "I think that now we have a much nicer working environment. You haven't got the smoking ovens, everything in there is brand new, even down to the extraction and the refrigeration. Refrigeration isn't something you always necessarily think about when you're buying a cooking suite but having it built in has improved the ergonomics of the kitchen."
"It's a lot nicer place to work in. The thermaline is quite sleek and it gives us a lot more space. People aren't bumping into each other, other people aren't getting grumpy; it's a just a nice place to work."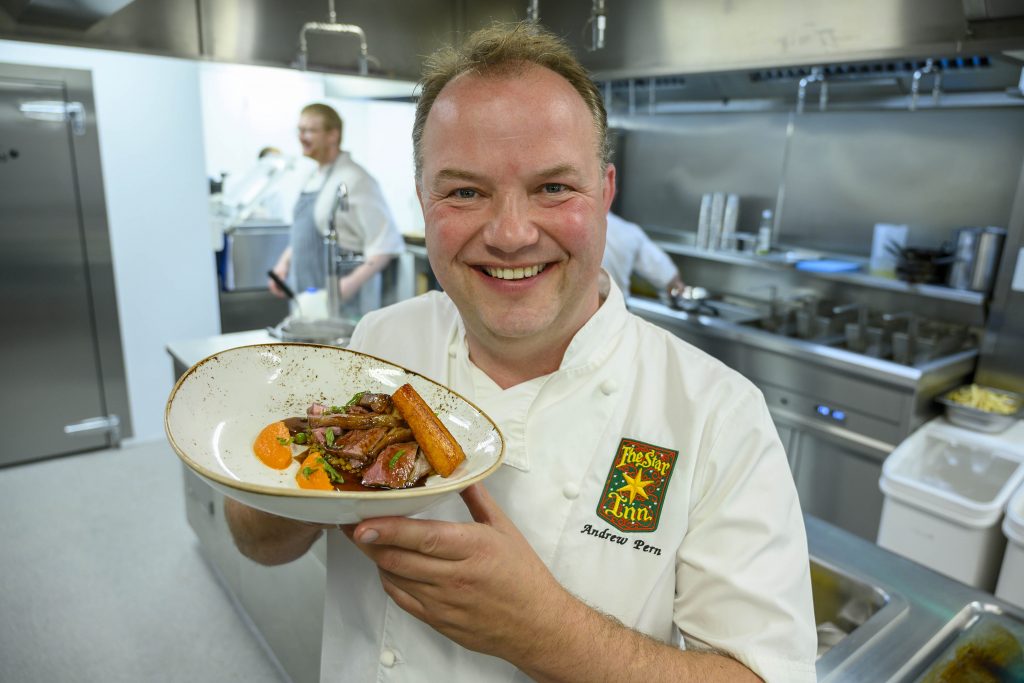 Given the volume of covers the restaurant must cater for from a comparatively compact kitchen footprint, the versatility of the multi-zone plancha is a real asset to the brigade, as Andrew affirms:
"Having the thermaline cooking top is fantastic. You've got the four areas of heat, so you can be searing something there in front of you, then you can let it rest at an ambient temperature on the other side of the stove. You can have some pans in a bain marie or some purees ticking over, which allows you to do a full menu really around yourself. If you've got a pan of mussels that you want to come on quickly – bang, there you go. Everything is very immediate; it can be as quick as or as slow as you want it to be, and I think that's the beauty of it."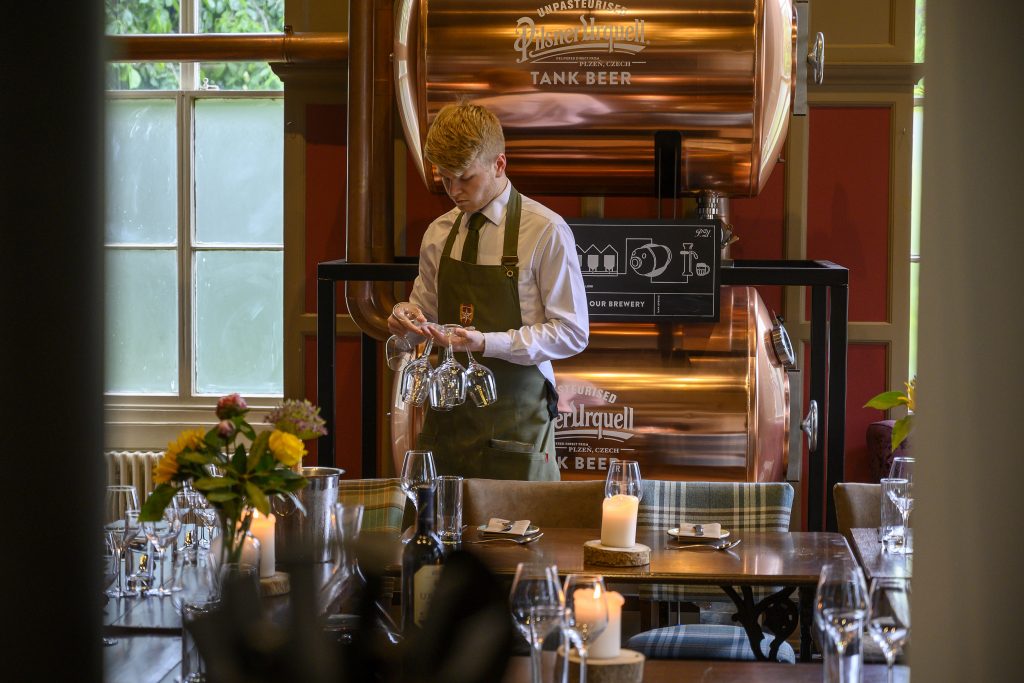 Having fully reopened in April, Andrew is firmly back into the swing of things, and his new kitchen is playing a major role in helping reach the culinary heights that such a spectacular location warrants: "It's something that we've spent a lot of money on, and we're very proud of it. We've just been inspected by the Environmental Health Office and he said there's not a kitchen like this in York," he concludes.
"It's fantastic to have that kind of pride in your job, and having seen the kit in action, choosing Electrolux was a no-brainer."
Star Inn the City
2020-01-04T11:05:24+00:00