A new way to finance your laundry solution, specifically for lagoon Advanced Care
Providing total peace of mind and helping to plan your laundry costs. No hidden fees or costs and the best in class equipment with a rapid return on investment.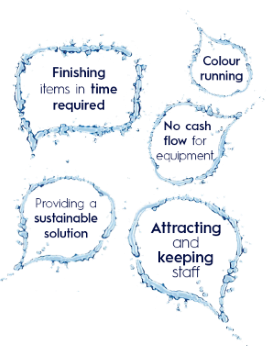 We have found a selection of pain points and responses from our survey that outline what you're going through. Our job, is to then come up with a solution that helps to address these challenges and make your life that little bit easier. So that you can concentrate on running a successful business. Therefore, we introduce a new way to finance your laundry solution – Cost Per Cycle.
Unique to Electrolux Professional the inclusive Cost Per Cycle package includes:
 Equipment, service plan and detergents
 No capital outlay
Peace of mind
Manage seasonal peaks
Service support package
Six month contract review. Subject to T&C.
Flexible payment options
Cost Per Cycle for lagoon Advanced Care
The first and only professional fabric care Wet-cleaning system approved by The Woolmark Company as the ideal alternative for the care of delicate garments. lagoon® Advanced Care has the ability to do what a traditional dry cleaning machine can't.
Tested programmes and dedicated equipment are specially designed to perform the perfect cleaning and drying of your fibres. The innovative wet cleaning process ensures that all kind of textiles are gently and efficiently cleaned. Thanks to the combination of technology and gentle care, lagoon® finally allows you to safely clean your most delicate clothes. Perfect cleanliness, fresh smell, soft touch, bright colours and brilliant white: enjoy the benefits of lagoon® while preserving the quality of your garments and the environment.
Cost per Cycle provides a unique opportunity to allow you to:
Manage your costs
Manage seasonal peaks
Unique to Electrolux Professional your inclusive Cost Per Cycle package includes:
Equipment
3P Service Package
lagoon® Specialist detergents
Installation
Visit the lagoon Advanced Care page
Get in touch to find out what Electrolux can do for your business
Cost per Cycle
2017-05-11T10:03:49+00:00