Electrolux Professional Commercial Refrigerators
a true masterpiece of preservation
ecostoreHP is class A
designed for heavy duty working conditions
Electrolux Professional's ecostoreHP is in class A, compatible with the requirements of top classes for the first mandatory Europe-wide energy labelling for professional refrigerators and freezers.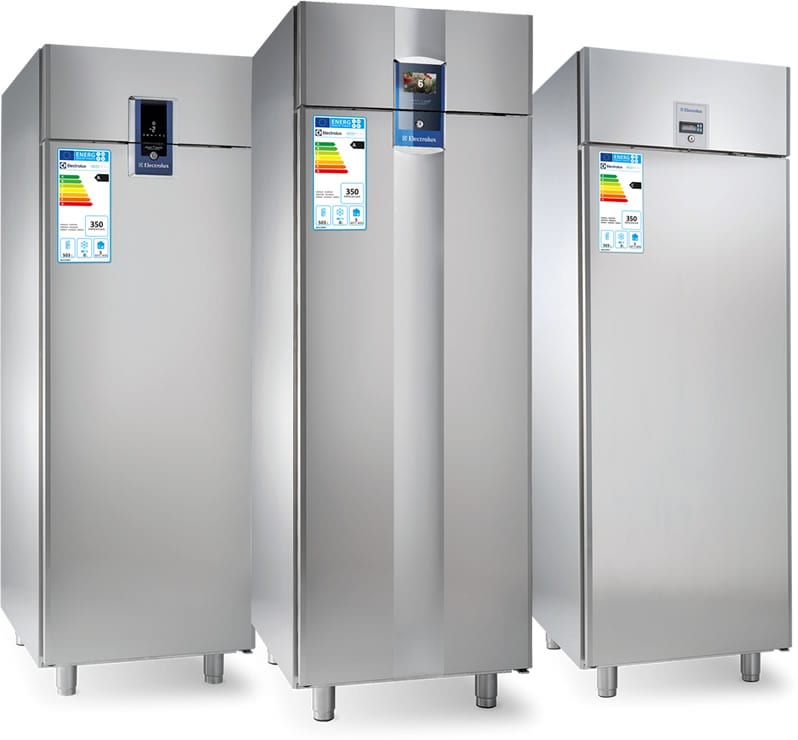 More capacity and best in class in energy efficiency.
Cut your electricity bill by 80% and save up to 830 euro/year*.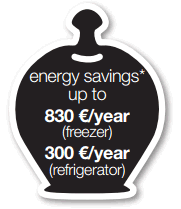 *Potential savings based on European Ecodesign directive data and obtained by comparing Class G refrigerators and freezers with equivalent Class A cabinets (energy cost of 0,21 €/kWh and net volume of 503lt). The label complies with the delegated regulation (UE) 2015/1094 of the commission of 5th may 2015.
Electrolux Professional Commercial Fridge
At Electrolux Professional, we have been designing and delivering superior kitchen solutions for commercial enterprises for nearly a hundred years. We install and maintain quality equipment in some of the best dining experiences across the globe.
Regardless of your kitchen's size, capacity or cuisine, we guarantee that we can supply you with an excellent commercial refrigerator unit that will help your establishment to achieve its full potential.
Why Choose Electrolux Professional for Your Commercial Refrigerator?
There are many different places you can choose to shop to buy your next commercial refrigerator for your professional kitchen, but when you choose Electrolux Professional you will enjoy the total peace of mind and confidence that comes with knowing that you are working with the very best. Over the years since we began supplying commercial kitchen appliances and equipment to businesses in Europe, we have grown into one of the world's most trusted brands when it comes to quality kitchen supplies, working with businesses ranging from independent restaurants and hotels to large resorts.
Owing to our many decades of experience at the top of our industry, we understand the various challenges faced by our customers every day, and we also know that no two commercial kitchens are exactly alike. This is why, unlike some kitchen equipment suppliers, we believe in the importance of working closely with individual customers to provide them with the help and guidance they need to make informed purchasing decisions.
Everyone benefits when you select the professional refrigerator that is perfectly suited to your kitchen and your needs, so we are always happy to offer our professional advice to make sure you end up with the product that will exceed all your expectations both now and long into the future. And because our entire product range of commercial deep fryer, commerical dishwashers, commerical refrigerators, and professional laundry equipment can be accessed and explored online here on our website, you can get all the information you need to make your next successful kitchen investment without even needing to leave your home or office.
Get the Best Commercial Refrigerator for Sustainability
Doing business in a sustainable, responsible manner is one of our core principles, which is why our team of highly trained and experienced specialists takes the time to assess each of our products for its environmental impact, resolving to make any necessary adjustments to the designs in order to maximise energy and water efficiency.
Thanks to this rigorous and thorough approach, we can ensure that all our products are accredited to the ISO 14001 Environmental Management System and the ISO 9001 Quality Management System, allowing our customers to know that the equipment that is powering their kitchen is causing minimal impact on the environment. Our highly energy-efficient designs also mean less waste and therefore less cost, helping to improve your long-term profits at the same time as allowing you to play your part in protecting the environment.
To get started with purchasing your new refrigerator, just select the one that interests you using our online e-store and fill out the enquiry form. A member of staff will then get in touch with you to answer any questions you may have and provide you with more information about your chosen product. If you are ready to make your purchase, we will also be able to inform you of the best places to do so in order to get the best value for money on your investment.
The Importance Of A Suitable Industrial Refrigerator
If you work in a professional capacity in a cafe, restaurant, canteen or bistro, you will appreciate the importance of having a quality commercial fridge that can accommodate the needs of your cuisine and the volume of food you need to store every week.
Without the right professional fridge space or the right cooling ability, you could easily find yourself throwing away perfectly good food for no better reason than because it went unused for too long and no longer retains its freshness.
Likewise, insufficient refrigeration capacity can lead to cross-contamination of different foods that are stored too closely together. This can have detrimental impacts on your business as it increases the risk of unknowingly subjecting your clientele to allergens that they may be sensitive to.
Professional Fridges Uphold Food Safety At All Costs
We supply first-class industrial refrigeration units that cover a wide range of culinary specifications. From spacious cold rooms to segregated fridges, from chilled food preparation areas to wine coolers, we have everything that you could require for your kitchen and service area.
We can design excellent refrigeration solutions for any setup that you may have ensuring that frozen goods are completely isolated from more moderately chilled foods like fruit, vegetables and partially cooked meals.
It is important that your kitchen is in full compliance with food safety standards and that you do your utmost to ensure that every meal served to your diners is one-hundred percent safe. Solid refrigeration plays a strong role in achieving this and today you can put your trust in us to deliver outstanding units that won't let you or your restaurant down.
Electrolux Professional: Providing Commercial Refrigerators With Quality That You Can Rely On
So, if you are considering upgrading your food preparation area with a modern professional refrigerator, then there is only one place you need to look for the best possible quality. Electrolux Professional is the brand that you can trust with a track record of excellence that spans decades.
If you are uncertain about what we can do for your organisation, we recommend you view some of our previous client testimonial videos to get a strong sense of the level of dedicated service we deliver. You can watch them on our YouTube account which you can access through our website. While you are there, why not fill out an online form about what you would like to get from your kitchen and our client services team will respond as soon as possible.
Reliable Restaurant Kitchen Fridge You Can Depend On
In your restaurant kitchen, food is the most important aspect, and you need a restaurant kitchen fridge that is up to the task of keeping it fresh so that it is ready for when you need it.
As restaurant kitchen fridge suppliers, we have a fridge that will work for your restaurant's requirements thanks to our excellent range.
Find the Perfect Fridge for your Restaurant
Whether you are equipping a new professional kitchen for the first time or you simply need to replace the fridge in your restaurant kitchen, Electrolux Professional can help you to find a suitable one.
We have a variety of sizes. From large fridges to compact sizes, an Electrolux Professional fridge can slot into your restaurant seamlessly. There are different door options too, such as a glass door so you can easily see the food available at a glance without opening the fridge door.
You can also choose from a range of accessories to keep your food ordered and neat. By having gaskets, grids and wire baskets that work for you, you can store your fresh produce in date order, ensuring that food is used appropriately, and waste is minimised.
If you are looking for a fridge for a restaurant kitchen, look no further than Electrolux Professional. With over 100 years of experience, we bring our expertise to your kitchen with a solution that makes your work easier, more enjoyable, and more profitable.
Keeping your food fresh is an important part of any catering business. A commercial upright refrigerator can make the ideal fridge for your commercial kitchen, and at Electrolux Professional, we have a size to suit your needs.
A Commercial Upright Refrigeration That Works for Your Requirements
We have many options available with our commercial upright refrigeration. This includes a range of accessories for better storage and compartmentalisation of foods. With gaskets, grids and wire baskets, food can be stored correctly in the right order to minimise any waste.
Electrolux Professional also has options such as glass doors that allow you to easily see the food at your disposal and quickly select the ingredients you need.
With great eco-options that allow you to save money and the environment, and systems that ensure your food stays fresh, you do not need to look anywhere other than Electrolux Professional.
Meeting Your Refrigeration Needs in Every Capacity
As well as giving you a range of options for a fridge that works for your business, Electrolux Professional is here for you from the moment your new fridge is installed. With comprehensive maintenance agreements, you can be confident that your fridge will enjoy a long lifespan with the right care and attention.
We have over 55,000 spare parts for our products, as well as a team of Customer Care, authorised global technical experts to service your fridge.
We are proud to be known as the premier global brand that businesses trust to get the job done. We supply Australia with commercial freezers. Additionally, we specialise in delivering high-quality commercial cooking equipment and commercial induction cooktops. Don't hesitate to contact us for more information.
Electrolux Professional clients have left great reviews for popular products such as our Professional Kitchen Stove, as well as our hotel laundry anagement solutions and they also left amazing reviews about our commercial stove.
If you have any further questions about the best commercial-grade deep fryer for your kitchen, do not hesitate to contact us by filling in our online form.
Why should my business invest in an Electrolux Professional ecostoreHP fridge?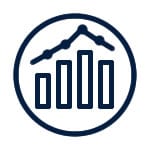 Smart Performance
ecostore cabinets, equipped with Frost Watch Control provide great advantages in kitchens with frequent door openings, because they optimize defrosting avoiding sudden changes in temperature, reducing bacterial proliferation, food damage and high energy consumption.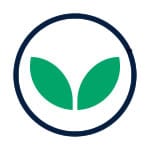 Energy efficiency
65% less energy consumption
To guarantee you exceptional efficiency, our ecostore cabinets are classified according to the strictest international standards for protecting the environment and managing costs like ECA, EIA, Go'Energi and European Energy Label.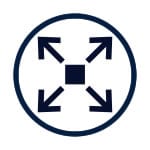 Storage capacity
Up to 50 liters more space
Thanks to their new design, the Electrolux Professional ecostore cabinets provide, on average, 50 litres more available space, compared to equivalent cabinets in the market. Exceptional sturdiness is guaranteed by internal and external full AISI 304 stainless steel construction.
Optiflow: the best cooling results and temperature uniformity while saving energy
Optiflow is the intelligent air circulation system which adapts to your load for the best cooling results, optimal temperature uniformity and increased savings in energy consumption.
In the ecostore cabinets, the shape of the condenser has been developed to minimize resistance in the passage of the air, reducing its depth, thus guaranteeing the best cooling results.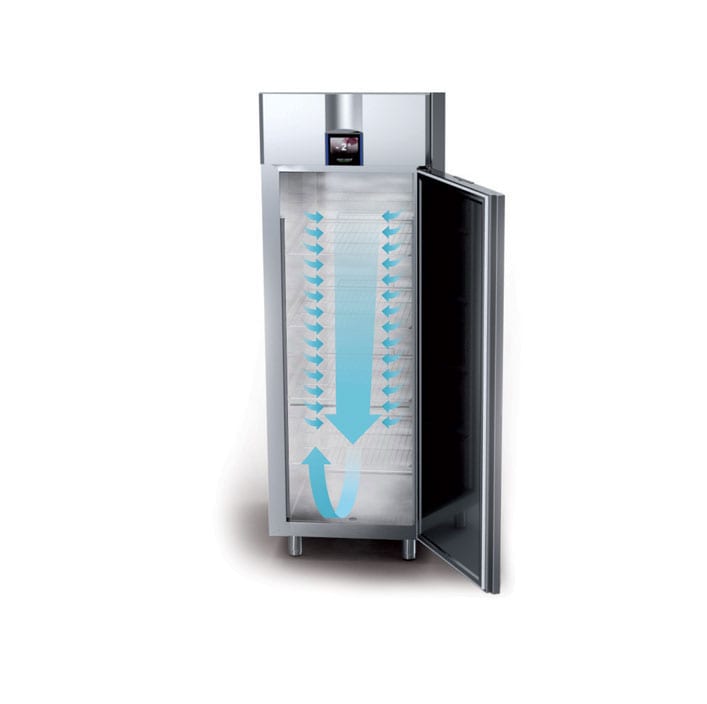 ecostore is created for a professional target group with high demands. ecostore is the choice for any company that values a combination of innovation, reliability and sustainability.
A responsible refrigeration

Gaskets, grids and wire baskets
To preserve the food, accessories for refrigeration are the most valuable asset in your kitchen. Choosing the proper accessory is a guarantee for correct and efficient operation.
Discover more about accessories and consumables
Discover what our refrigerators can do for your business
Refrigerators
2019-07-17T00:13:39+00:00
Filter (135 Products)