Barrier Washers
Electrolux Professional commercial barrier washers,
your reliable hygiene partner
Commercial barrier washers bring excellence to your laundry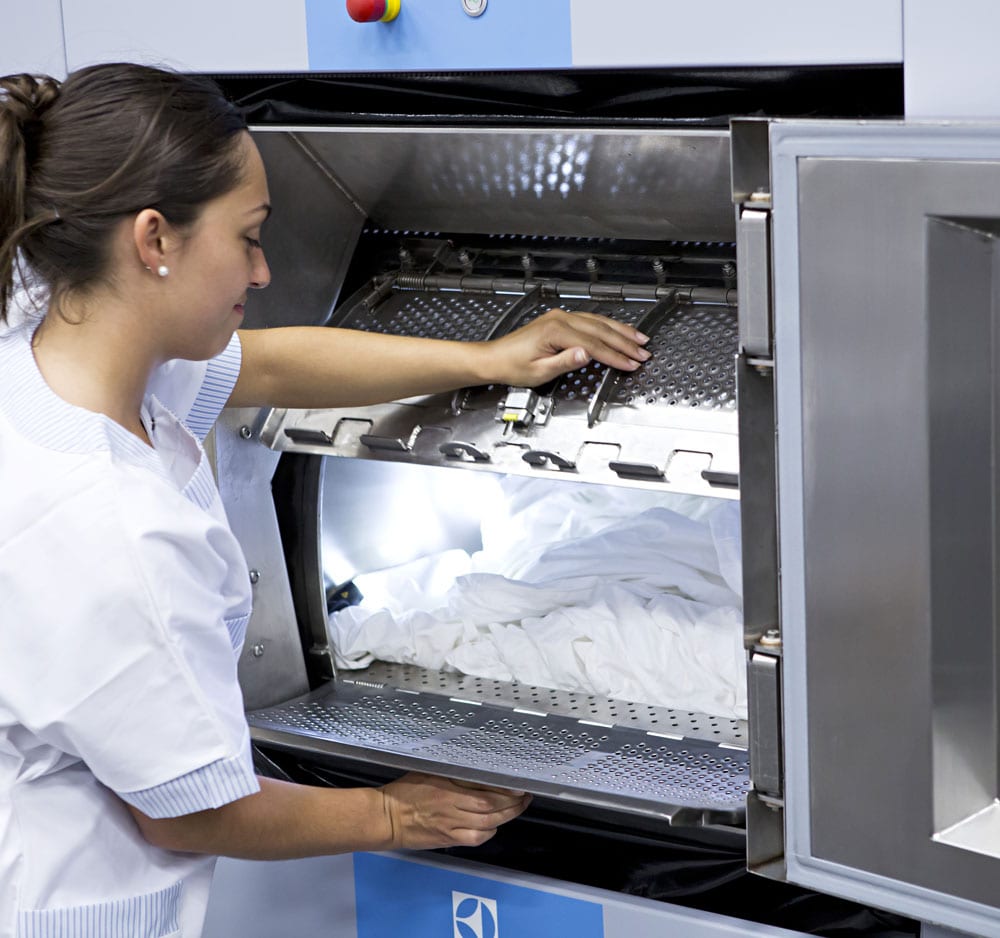 Guaranteed hygiene
Electrolux Professional Hygiene Watchdog (HW) ensures the best defense against the spreading of micro-organisms and cross infections.
Top ergonomics
Automatic inner drum door opening, lightest and largest doors on the market making it the safest and easiest machine to operate.
Low operation costs
The optimized design of the machine drum, together with the Electrolux Professional Efficient Dosing System, provides top savings in water and detergents.
Control and traceability
Certus Management® Information System (CMIS) allows for the highest level of control and traceability throughout the whole hygiene process.
Discover our accessories and consumables
Hyvolution barrier washer
Ergonomic design meets
classic Pullman design
Electrolux Professional introduces their efficient loading and unloading system improving on customers' insight for ease of use.
Ease of access
Uniquely large ERGO Door ensures ease of access to linen.
Safe and effortless use
Automatic opening options and pneumatic systems allow safe and effortless use.
Increase of capacity
The slim and compact design allows increase of capacity in small laundry areas.
Electrolux Professional Barrier Washers
When it comes to professional laundry and washing equipment, there aren't many brands that have the same global recognition as Electrolux Professional. All of our equipment has been manufactured to ensure that all of our clients are able to simply use them with outstanding results.
We know that there is no such thing as one size fits all and that's why we have a wide range of laundry equipment for you to choose from. Commercial barrier washers are the perfect choice for commercial in-house laundries – particularly in the medical or hospitality industries. Their unparalleled cleaning abilities mean that even the most soiled laundry won't cross-contaminate any other garments.
Our barrier washers guarantee the maximum levels of hygiene; providing protection for users throughout the entire laundry process.
Electrolux Professional Equipment to Control Cost and Quality
When you use Electrolux Professional to install your in-house laundry equipment, you can rest assured that you are getting a globally trusted brand and superior quality machines. We are also renowned for our fully-integrated, world-class customer service that we have perfected after nearly 100 years in the commercial laundry industry.
When you buy a barrier washer from Electrolux Professional, you know that you are guaranteed:
A globally trusted brand: Electrolux Professional has been a key player in the industry for nearly a century and you know that when you buy and install any equipment from us, that is has passed global requirements and has been specifically manufactured to save you time and money and to wow your customers.
Expert technicians: At Electrolux Professional, we take great pride in our expertise and our experienced technicians will ensure that they explore every aspect of your needs and your building before installation to avoid unnecessary mistakes that could cost you money in the long run.
Eco-friendly: The laundry industry is notoriously high in energy consumption and for companies with a high turnover, the utility bills can get ridiculously high. All of our equipment, including our medical clothes barrier washers, have been made with the latest technology and they are more energy-efficient and eco-friendly than many of the other models on the market. So, not only are you helping the environment but your bank account too.
Maintenance: One of the best ways to ensure that your in-house laundry is running at optimum levels, is to look after and maintain your equipment. However, that isn't always cheap and it's almost impossible to do yourself. When we install equipment for you, we will enter a comprehensive maintenance deal that will save you money and keep your equipment in tip-top shape.
Spares: We've all been there: a machine has broken down and once you try to get it fixed, there is seemingly no spare parts available. Luckily, at Electrolux Professional, we stock over 55,000 spare parts; this means that when your machine needs a repair – we can get it done fast and effectively, with very little downtime on your side.
Sanitary Clothes Cleaning Made By Electrolux Professional
Ensure that your laundry standards are exceptional with Electrolux Professional sanitary barrier washers and other world-class equipment. Get in touch if you'd like to know more about our superior services and equipment now.
We are extremely proud to be known internationally as the premier brand that restaurants, hotels and cafes trust to deliver high-quality products. We provide Australia with commercial dishwashers in Sydney. Also, we promise to continue to provide reliable commercial dishwashers in Melbourne and commercial dishwashers in Brisbane. Don't hold back, contact us today.
Discover what Barrier Washers can do for your business
Find your complete solution
Barrier Washers
2016-11-09T11:24:51+00:00
Filter (11 Products)