Enrique Olvera is awarded the Global Gastronomy Award 2017!
MOVING MEXICAN CUISINE FORWARD, AND EXPANDING OUR NOTION OF FOOD ITSELF
For the 11th year running, White Guide proudly presents the Global Gastronomy Award.
The distinction is awarded to a chef or another gastronomical dignitary of international stature at the apex of his or her orbit, serving as a role model and inspiration within contemporary gastronomy, taking it forward – and beyond.
The award ceremony will take place at a special event in New York this fall.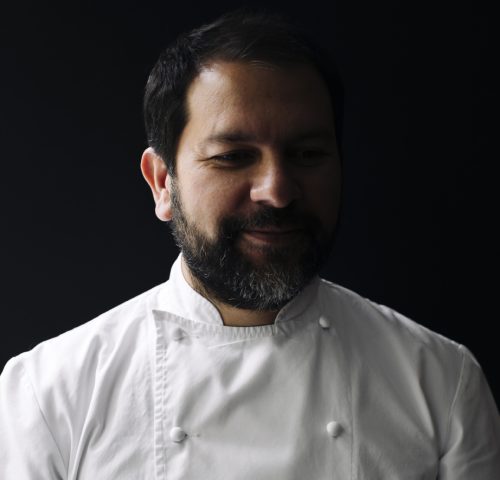 Global Gastronomy Award 2017 in collaboration with Electrolux
"For having elevated Mexican classics and beloved street food to new heights, bridging modesty and sophistication, hindsight and modernity – and for bringing the rich spectrum of regional fare into the limelight, including indigenous and ancient delicacies, whose secrets he has successfully unlocked."
ENRIQUE OLVERA, Pujol, Mexico City, Mexico.
Mexican food is a universe in itself, spanning a vast diversity of regional produce, ingredients and traditions, some pre-Columbian. Yet, sophistication is not what first comes to mind when imaging Mexican food, but rather frozen Margaritas, nachos and guacamole, which may be more Tex-Mex than authentic Mexican.
Enrique Olvera is about to change all that. He successively redefines and elevates this ancient and rustic cooking into contemporary gastronomy, with full respect for its roots and unique qualities.
With a little tweaking from the inspired hands of Chef Olvera the legacy of Mexican cooking plays out in new and sometimes unexpected ways at his restaurants, especially at Pujol in Mexico City. Based on his stock of native ingredients like heirloom corn, wild herbs and greens, rare endemic seeds, nuts, chillies, and indeed insects like maguey worms and flying chicatana ants, he is not only moving Mexican cuisine forward, but expanding our notion of food itself.
White Guide presents the Global Gastronomy Award
2017-06-27T06:41:53+02:00