Electrolux Professional is The OnE Trusted Partner – now more than ever
Our world has changed, and we know the impact on many of our customers has been tremendous. In these uncertain times Electrolux Professional is here for you.
Electrolux Professional is a global leader in the industry providing food, beverage and laundry equipment to our customers. As member of the global community of hospitality and laundry professionals we are proud to support you in this unprecedented time.
Be assured that we have put substantial efforts and resources into managing this uncertain situation in order to safeguard our customer's needs.
We have taken precautionary measures to ensure business continuity for our customers including:
Inventory planning and management adjusted to mitigate supply chain disruptions.
Stock levels increased in major warehouses and decentralized to local warehouses to ensure products close to our customers and ready to ship.
"Two Pairs of Eyes" – our advanced contactless service tool now available to keep our customers safe and drastically reduce service downtime.
Customer Care and Technical Services are operating as normal and committed to providing continuous support.
Steps to ensure safety and
prolong performance during inactive periods

Electrolux Professional wishes to provide you with some measures that will prolong the life of your machine when stopped for long periods of time.

E-training online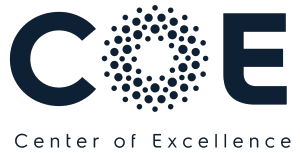 Write us to participate in our e-training to discover our solutions on Food Service, Laundry, Beverage and our Innovative Assistance Services

Staying close to customers
with augmented reality service

With "Two Pairs of Eyes" service technicians are still able to provide remote support to customers thanks to Augmented Reality that Professional is speedily making more widely available.
Read how we have supported our customers during this emergency

The safety and well-being of our employees, customers and partners remains our top priority. As the Coronavirus (COVID-19) situation evolves we will continue to adjust, adapt and move forward.
Close to our customers especially in emergencies
Read below some good stories that happened during lockdown
Role model partnership towards hotels and hospitals
Turkey
When it comes to Social Responsibility, there are many great examples of donation, acting beyond business purposes to support wellbeing and safety. Donating service to sustain business continuity and safety for main affected areas such as hotels, hospitals and the care sector has inspired the Electrolux Professional team in Turkey to team up with their network.
The idea of providing free breakdown maintenance during the pandemic generated a high number of followers among their Authorized Service Partner network. Immediate readiness to join in supporting hotels, hospitals and healthcare professionals wholeheartedly and to provide the necessary infrastructure whatever needed.
Despite the travel restrictions during the pandemic, they provided maintenance services and supplied spare parts on time from their own stocks with a remarkable after sales service through Essentia, without facing any problems.
Up to now, six hospitals have been provided with free maintenance and service for kitchen and/or laundry – as widely known under tough conditions and with limited access to the sites. Still, the situation remains critical and requires action where help is needed to save lives and help the economy to stabilize.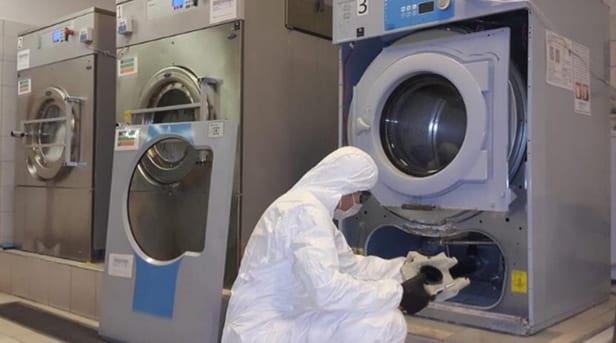 Keeping operations up and running
Role model partnership towards hotels and hospitals
2020-09-13T07:52:46+02:00
Behind the scenes: Tchibo Turkey
Turkey
Founded in 1949 by Max Herz, Tchibo has been synonymous with freshness and quality in the coffee market for over 71 years. Originally a coffee mail-order firm, it has evolved into an international company and operates in many more business sectors than the traditional selling of coffee. "Top quality at fair prices" has always been their striving, carefully selecting partners that meet their high demands and ensure reliable, replicable results across many outlets. What is closer than partnering with a global, trustable brand and team to ensure top quality service? 
Electrolux Professional Turkey is constantly expanding their offer towards all Tchibo branches in Turkey: from dishwashing, refrigeration/ice making to water filters.
Performing water tests at every maintenance and cartridge replacement to ensure that reliable water is used in all branches in accordance with Safety & Hygiene conditions.
With the Essentia Service Agreement performed by Electrolux Professional Authorized Service Partners, all products are reliably maintained and repaired before and during the pandemic. As a result of trust and satisfaction of the service quality, Tchibo Turkey has recently committed also to sourcing original Accessories & Consumables from Electrolux Professional. Just in time and on site for their outlets – making their experience complete for offering "honest products, best service everywhere, anytime".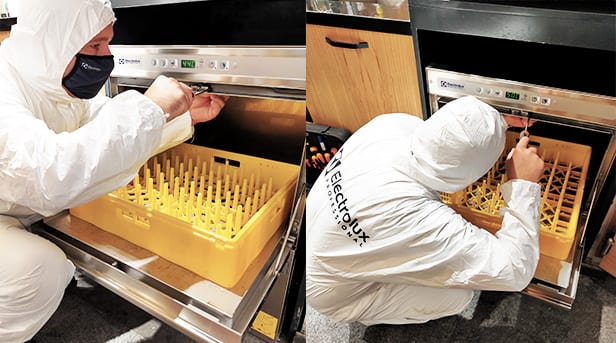 Keeping operations up and running
Behind the scenes: Tchibo Turkey
2020-08-28T14:00:10+02:00
Hygienic and safe laundry service in South Korea
Cheonan, South Korea
Imagine you would have to enter a self-service laundry in this period – what could reassure you in finding a clean environment, measurements taken to provide hygiene and safety so to have your garments washed in a "feels like home" environment? 
The pandemic stimulated people to improve their personal hygiene habits. Electrolux Professional's Authorized partner KLC (Korea Laundry Co., LTD) responded to this by emphasizing HACCP certification in their marketing approach. They distributed promotional posters to nationwide store operations so to attract consumers with a trustable hygienic and safe laundry service – which resonated in increased revenues of the shop owner. 
Visiting WASH & FOLD, located in Cheonan, one of KLC's 600 stores, employees wear protective uniforms and safety gears providing a dedicated service for better hygiene conditions. Their service is tailored to collect and deliver laundry from various industries such as hospitals, nursing homes, hotels, gyms and military facilities. 
KLC is working to develop more services to prevent the spread of infectious diseases and provide a safer laundry experience – fully relying on Electrolux Professional solutions.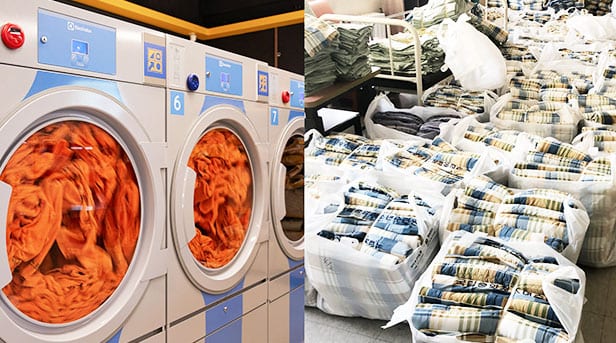 WASH & FOLD stores in Cheonan

 (

Photo 

by courtesy of 

KLC South Korea

)
Hygienic and safe laundry service in South Korea
2020-07-28T06:48:56+02:00
Spotlight on Japan: running a profitable laundry during the pandemic
Japan
Meikei Sangyo (Meikei) is a commercial cleaning company, located in northern Kanto area (approx. 3 hours from Tokyo). Their main customers are hotels, elderly care institutions and medium to large size hospitals.
The relationship between Meikei and Electrolux Professional dates back to 2004 when Meikei decided to build their 2nd factory in order to expand their hygiene cleaning business. Meikei was impressed by the overall hygiene concept and specifically the Barrier Concept offered by Electrolux Professional.
The result of this initial engagement led to the sale of 8 Barrier washers and 6 Tumble Dryers to Meikei for installation in their 2nd factory. Integration of Electrolux Professional products into their cleaning system greatly assisted Meikei in achieving their hygiene certification in accordance with RAL quality mark RAL-GZ992/2.
Meikei's 2nd factory welcomes visitors for a tour of the facility to demonstrate their advanced cleaning process based on the idea that seeing is believing! One part of the tour consists of an explanation of Electrolux Professional hygiene concept and laundry cycle management.
Covid-19 has had a negative impact on the hotel business since people are travelling less. As a consequence, Meikei' business for hotels was also affected. At the same time, there is an increased demand for hygiene laundry services among hospitals and elderly care institutions. The majority of the items cleaned by Meikei in their hospital business is divided between patients' clothes and surgical gowns, even extended to resident garments at elderly homes.
Many commercial laundry companies stopped supplying their services to hospitals and elderly care institutions due to Covid-19 as they were not confident to provide services without having their employees becoming infected. Meikei on the contrary took all necessary steps to grow their business by promoting their capability to offer cleaning services utilizing an advanced hygiene concept including Electrolux Professional solutions. The response was overwhelming even required to increase cleaning capacity.
Specifically, Meikei has replaced two of their original Barrier Washers with 70 kg models. Electrolux Professional expedited the delivery and installation of the new equipment due to the urgent requirement.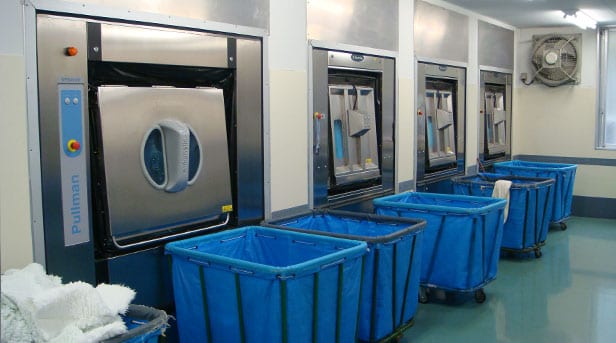 Photo: Meikei Sangyo (Tochigi Prefecture, Japan)
Spotlight on Japan: running a profitable laundry during the pandemic
2020-07-23T08:56:33+02:00
How London ramps up for better and safer launderette experiences
London, UK
For customers in Self-Service Laundry, the lockdown meant reasonable income losses. However, some saw the opportunity to upgrade their equipment making it safer, better to operate and to prepare for the "new cleaning" with good hygiene practice for consumers' everyday laundry.
With passion for fast action and improvement, Electrolux Professional's Authorized Partner AGS, was able to plan, act and deliver full range of washers and dryers to launderettes in Leyton and Walthamstow in London as well as individual ones towards Stockport, Hitchin and Wales.
AGS has managed to support (and is still supporting) hospitals,  hotels (looking after NHS workers), care homes, nursing homes, dry cleaners and launderettes who need to ensure that their machinery is in good working order as well as carrying out servicing in preparation for when things get back to normal businesses will be able to cope with returning customers.
AGS strive to communicate and support existing and new customers through this very trying time with Electrolux Professional laundry solutions leading the way.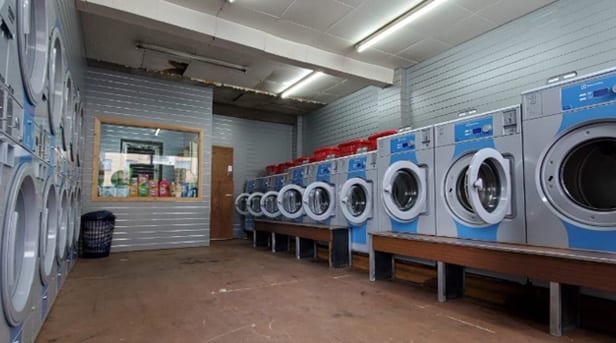 How London ramps up for better and safer launderette experiences
2020-07-03T20:05:09+02:00
The OnE that counts and cares in Vienna
Vienna, Austria
To be prepared for all eventualities, the Austrian Samaritan Federation and the Johanniter have set up the large care facility Messe Wien for suspected COVID-19 cases on behalf of the City of Vienna. Within two weeks, the associations created a care center that can accommodate at least 2200 slightly ill patients or people under quarantine restrictions – including homeless or refugees. The wards, each with 110 beds, are equipped with sanitary facilities and washing machines for the patients' private clothing.
Electrolux Professional supports the preventive care program in Vienna with a range of washing machines and dryers from its smart-professional line myPRO. In addition, the care center has several full-commercial washing equipment available for the hygienic washing of workwear. To complete the service also for food supply, two Skyline combi steamers have been donated to the staff catering.
Günter Sekanina, Sales Manager of Electrolux Professional Austria explains: "We are very happy to support the Messe Wien care center with our highly professional equipment, which meets the requirements of a medical and care facility in every respect. The COVID 19 pandemic requires absolute hygiene. Our Line 6000 commercial washing machines and dryers and our combi-steam systems contribute to this. We are very pleased to be able to make a non-bureaucratic contribution in this way".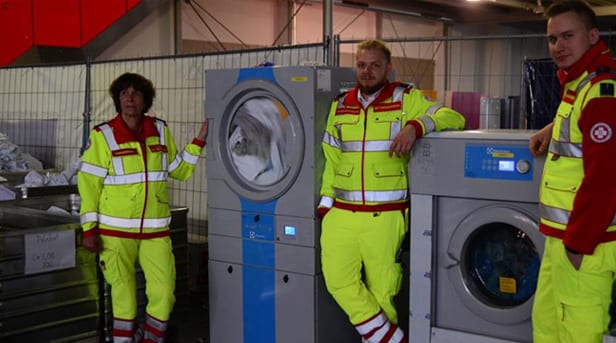 Photo: Care Center Vienn

a prepared for

 ultimate hygiene washing results
The OnE that counts and cares in Vienna
2020-07-03T19:43:20+02:00
Coffee – Tomball
Texas, USA
Barbarossa Coffee opened it's first location in May 2017. Exactly three years later Barbarossa Coffee has opened it's second location in Tomball, Texas. What couldn't have been planned for is that the new location would be opening amid a global pandemic and extensive new regulations limiting customer traffic and changing how customers are served.
Barbarossa Coffee offers their customers a unique coffee experience fueled by passion : 20 different kinds of coffee brewed in 6 different ways.
Additionally they host coffee tasting sessions which allow their customers a guided experience in tasting the various and complex flavors of the coffee. In order to provide this experience, Barbarossa required an espresso machine that would be an extension of the barista and perform so that each coffee is presented with exactly the flavor profile desired.
Our 3-group multi—boiler precision espresso machine matched Barbarossa's needs exactly and had proven to be the perfect fit at the first location. Barbarossa's second machine was installed in the new location in by an ASA with extensive precautions taken to protect both the installer and the employees. The store opened on May 8 and owner Oguzhan Guragac states,
"My staff is working with their masks on, washing their hands or using hand sanitizer after each customer interaction, wiping down tables and chairs immediately after customers leave."
Electrolux Professional is proud to partner with Barbarossa Coffee during these unprecendented times to achieve their mission to 'Serve the best coffee brewed with love in Texas'.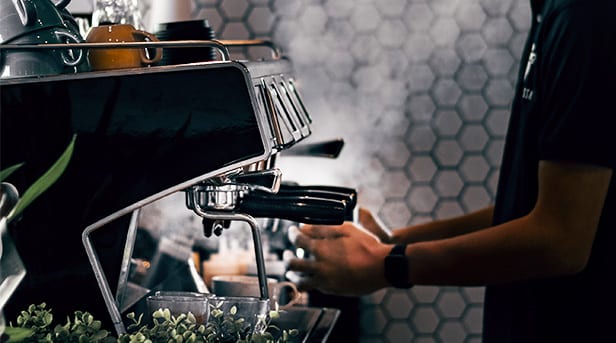 Photo: Electrolux Professional Internal
Coffee – Tomball
2020-07-03T18:28:12+02:00
Moving mountains in hygiene for Dominican Republic Hospitals 
Dominican Republic
Santo Domingo has first-rate private hospitals and clinics with top-notch technology and amenities. This is also true for the Dominican Republic's other major city, Santiago. Their staff is mostly bilingual and highly educated (mainly in the United States). These hospitals will perform organ transplants and other major surgeries. When it came to lifting the standards, the government played a key role in funding most advanced healthcare concept – and landed at Electrolux Professional.
Educated by our key consultants trained in our factories in Troyes, the President himself was giving direction towards ultimate hygiene and safety for newly build Hospital Cities. As a result, hospital concepts were rethought during construction and built around the concept of Electrolux's barrier laundry "Laundry Cycle Management".
Join us on an impressive journey through first-class hospitals: Hospital Docente Universitario Dario Contreras, Hospital Jaime Mota de Barahona, Hospital Clínico Quirúrgico, Hospital Materno Infantil – the result of a 360 relationship between Electrolux Professional experts, partners delivering turnkey solutions and service providers not letting faith decide over anything.
Consistently transferring knowledge to our partners Calmaquip and SEMINSA, being close to them 24/7, created a team of ultimate trust in the brand, the people and the future together.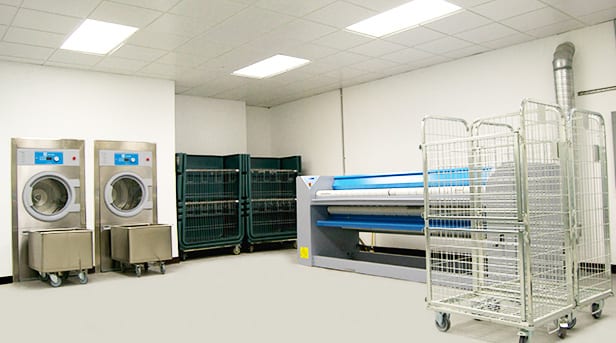 Photo: Electrolux Professional Internal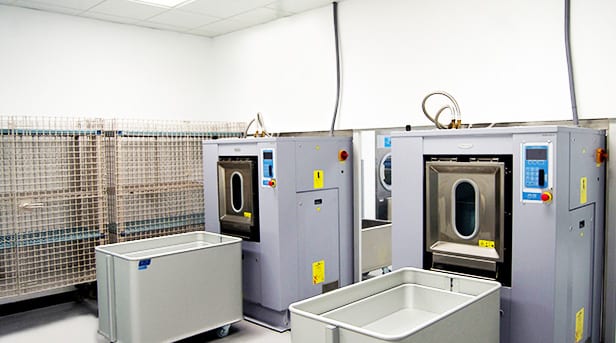 Photo: Electrolux Professional Internal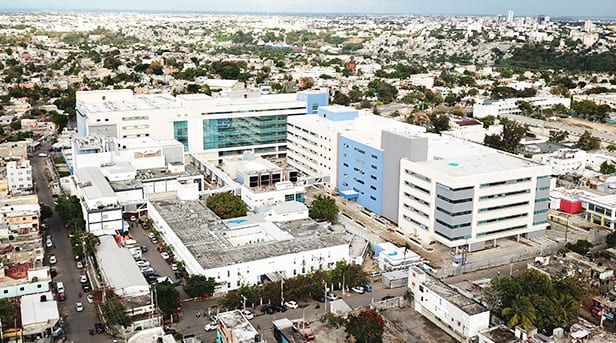 Photo: Electrolux Professional Internal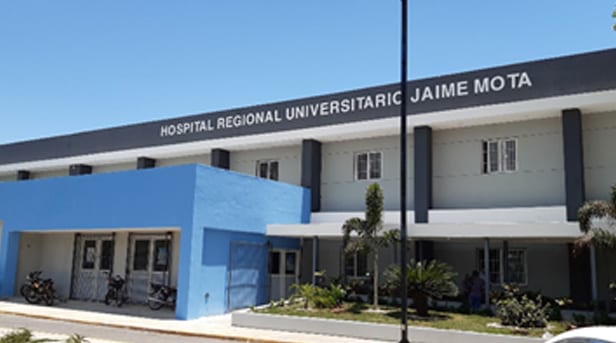 Photo: Electrolux Professional Internal
Moving mountains in hygiene for Dominican Republic Hospitals 
2020-07-03T18:25:45+02:00
Keeping a family-owned suburban deli alive : Mrs. Marty's Deli Broomall
Pennsylvania, US
Being well known as "Home of the Original Brisket Hoagie" and its Jewish specialties, Mrs. Marty's Deli looked at the pandemic from a different angle. Switching quickly towards drive through and take away made them rethink their menu adding frozen drinks for the upcoming warmer spring/summer period. The I-Pro 2 Frozen Granita dispenser, with its double insulated bowls, allows it to standup well to rising temperatures.
The I-Pro 2 is the perfect solution for the company's menu expansion as it's able to quickly mix and freeze a variety of different frozen treats. With the full support of our local partners Corsi and Associates Foodservice Consultants, the Deli is gaining profitability day by day – even during limited opening hours.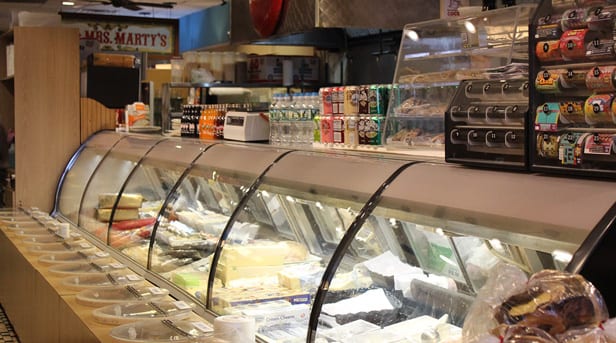 Photo: Marty's Deli website
Keeping a family-owned suburban deli alive : Mrs. Marty's Deli Broomall
2020-07-03T18:19:24+02:00
The "Nordic Light" in the pandemic
Norway
The Electrolux Professional team in Norway has accumulated over many years a high level of expertise, knowledge and good confidence in the market, especially on barrier washers and dryers. When Norway partially closed down in mid-March, the Norwegian health-authorities changed the guidelines and adopted new infection control regulations to secure safety against further infection in several different industries including the health sector. Therefore, the ambulance stations were made aware that they had to change their washing routines and equipment in line with the new industry standards such as washing at 85 degrees for 10 minutes.
Thanks to the efforts of Electrolux Professional Authorized Partner T. Sebergsen AS, Electrolux Professional Laundry solutions were selected to equip 18 new ambulance stations in Finnmark area.
Jinsoo Kang, Head of Sales Laundry at Electrolux Professional Norway, commented "a local partner like Sebergsen with 40 years of experience within the industry shows how important trust, security and quality are for our customers".
Sebergsen offered a complete solution including Electrolux Professional washers, Heat Pump drying cabinets, service, assembly and preparation as well as programming for Automatic Dosing System. A full "360 delivery", where value for money, quality and solution made a key difference for the customer. To meet the specific and challenging conditions of the infrastructure in all 18 locations, it was recommended to offer easy-to-install Heat Pump drying cabinets – for both environmental and cost efficiency reasons in the long term.
Most ambulance stations used domestic products in the past, moving now towards professional equipment. Standing out from the others, the ambulance station in Tromsø will be the first station in Norway to switch to a complete barrier solution. Setting a new bar in laundry hygiene for ambulance stations, there is big potential for a new standard for other stations in the future. "Until now, we have gained 117 Ambulance stations in total – most of them equipped with WH6-6 (6kg) Professional washers. Thanks to a longstanding, reliable cooperation with our partner network such as Sebergsen, Lilleborg Professional and Staples we were able to drive the change", closes Jinsoo.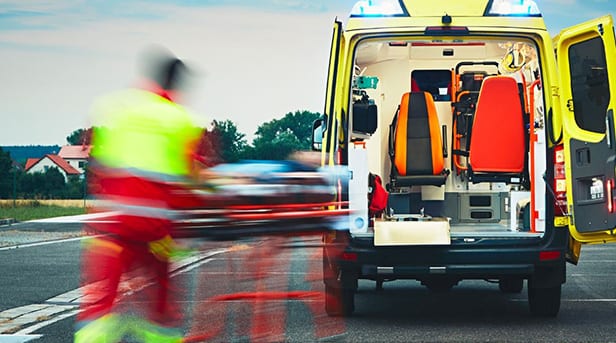 Photo: Electrolux Professional internal
The "Nordic Light" in the pandemic
2020-07-03T18:16:08+02:00
During lockdown in the UK AGS has continued to support customers
UK
Some businesses found that during the down time in trade it would be a good idea to refurbish their machinery. Due to the fact Associated Group Services Limited (AGS) hold large stocks of Electrolux Professional washers and dryers they were able to supply and deliver equipment to site.
AGS have supplied multiple Super 8 machinery into launderettes that have completed total refurbishments in Leyton and Walthamstow in London which has been installed within days of the equipment being delivered. As well as this some of our customers have replaced individual machinery in Stockport, Hitchin and Wales.
AGS has managed to support (and is still supporting) hospitals,  hotels (looking after NHS workers), care homes, nursing homes, dry cleaners and launderettes who need to ensure that their machinery is in good working order as well as carrying out servicing in preparation for when things get back to normal businesses will be able to cope with returning customers.
During the downtime of laundry/launderette business AGS have given a lot of advice to callers covering various subjects that everyone has been affected by. AGS strive to communicate and support existing and new customers through this very trying time with Electrolux laundry machinery leading the way.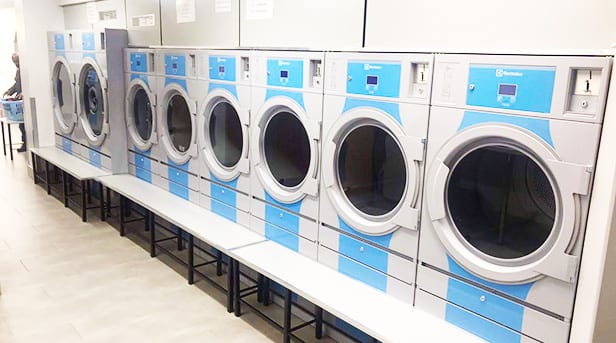 Photo: Electrolux Professional internal
During lockdown in the UK AGS has continued to support customers
2020-07-03T18:13:25+02:00
The «Hidden Heroes»
Glasgow, UK
Established in 1985 by Lord and Lady Haughey in Glasgow, UK, City Facilities Management followed a distinctly different approach to facilities management.
Replacing client/contractor relationships with long-term, mutually beneficial partnerships enabled City Group to grow into one of the world's most trusted facilities management companies with divisions across Europe, Australia, North America and Asia.
With safety at the heart of City's values, their top priority is to keep over 10,000 colleagues safe as they support the delivery of vital services across retail and healthcare sectors in the UK. Values that Electrolux Professional's team is proudly supporting with bespoke Essentia Excellence Service.
This Essentia contract provides essential cover to over 390 Food Superstores and distributions centres in the UK and Ireland. Each superstore has 1 x Washer, 1 x Tumble dryer complete with efficient dosing and process validation to verify thermal decontamination of each wash. Thus, to ensure that each store has a readily available supply of clean and ready to use microfibre cleaning textiles and their hygiene requirements are met 7 days a week.
The level of service provided to City FM is even more essential during the pandemic. Electrolux Professional's partner network, back office and technical department continue to provide a first-class service and continuously meet the KPI's set by City FM and their client base.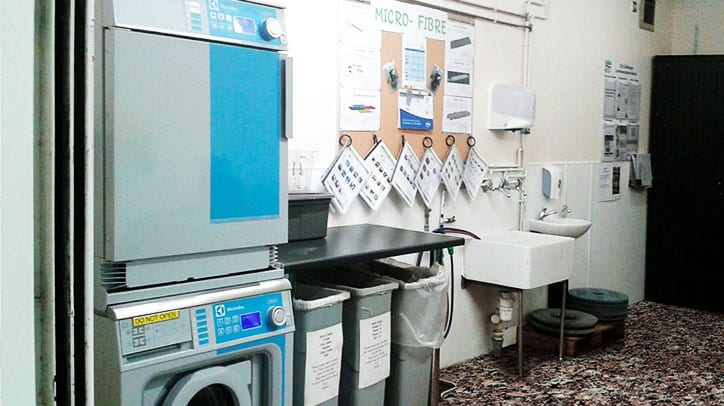 Photo: Electrolux Professional internal
The «Hidden Heroes»
2020-07-03T17:59:47+02:00
"Centre Hospitalier Régional Universitaire"
Lille, France
The laundry at "Centre Hospitalier Régional Universitaire" de Lille (CHRU) started operations in 1983 with a capacity of minimum 18.000 kg of linen per day, mainly via tunnel washers.  In 2007, they relied on the Electrolux Professional Barrier solution to process all laundry not compatible with Continuous Batch Washing.
In the context of COVID-19, the CHRU decided to disinfect all linen potentially contaminated by the virus in separate Washer Extractors before washing some in the tunnels.
Due to the rapid increase of volume, there was an urgent need of a third 70 kg Barrier Washer. The Electrolux Professional team ensured availability and transport of equipment in time while the CHRU completed the seamless workflow from onloading the truck to installation and water connection. Our technical partner GSCE enabled the « go-live » of operations on April 3rd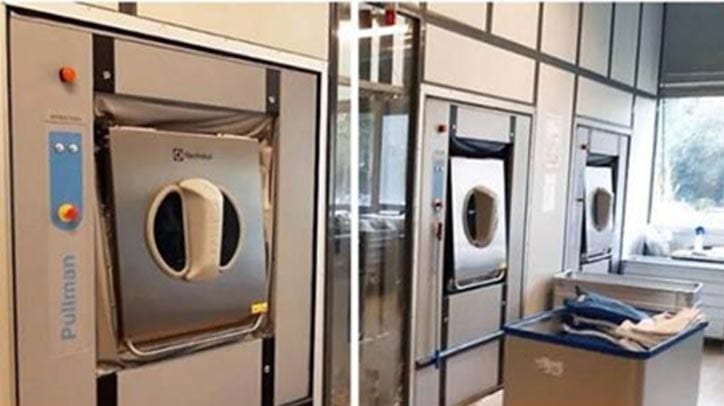 Photo: Electrolux Professional internal
"Centre Hospitalier Régional Universitaire"
2020-07-03T17:53:54+02:00
A safe home for foreign workers Singapore
Singapore
Two floating accommodation facilities parked in a restricted area at Tanjong Pagar Terminal are housing healthy foreign workers from mid of April. Each can take a few hundred people, and be organised to achieve safe distancing.
Meals can be prepared off-site and delivered to the cabins to minimise inter-mingling. Electrolux Professional Kitchen and Laundry solutions on site ensure a proper hygiene workflow, maximum food safety, cleanliness and efficiency and overall healthy conditions for the population.
Recently, in Singapore  coronavirus clusters in foreign worker dormitories are a grave concern, and efforts are being made to reduce the density within each dormitory. While building new dormitories will take time, making use of such floating accommodation facilities – typically used by those in offshore and marine industries – was another solution.
Workers can have fresh air, at the open-air deck to exercise an hour a day. There is also a medical facility that can attend to the workers who are ill.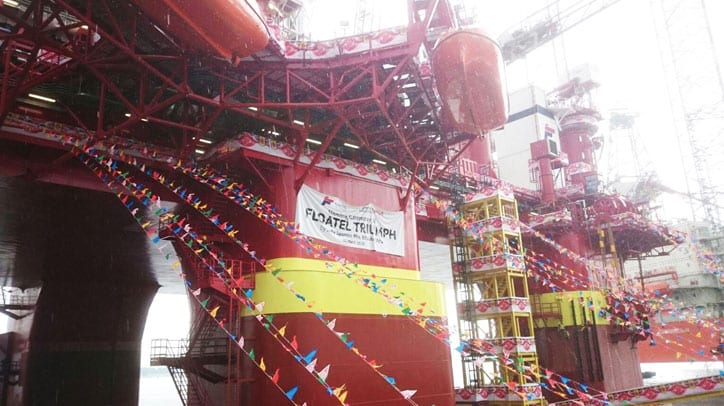 Photo

 

: 

Loipart

 SEA 

Pte

 Ltd (Electrolux Professional 

Authorized

 Partner)

 
A safe home for foreign workers Singapore
2020-07-03T17:49:36+02:00
Helping Restaurant Chains to ramp up for delivery and reopening
Glen Waverly, Victoria
How do you manage your kitchen operations within a small footprint whilst offering an extensive menu in peak times? Keeping productivity high, energy and water consumption low – and coping with additional hygiene & safety regulations during and beyond the Coronavirus pandemic. Ensuring replicability and process compliance for multiple outlets, standardized workflows and a partner that services across borders. 
Electrolux Professional's team in Australia was confronted with these exact requirements for warewashing from a global Restaurant Chain and their outlet in Glen Waverly, Victoria.
Having teamed up with our factory and colleagues in Shanghai leveraging on their experience with the customer, the Australian team was able to fast track the proposal and deliver the new Electrolux Professional Flight Type and Undercounter dishwasher. Right on time – despite the challenges during Coronavirus travel ban and restrictions providing an outstanding after-sales service through Essentia which made a clear difference for the customer.  
Going the extra–mile, our Chains experts even added a world's first laundry solution: with myPRO smart laundry package they are able to wash staff linen inhouse so to be independent and effective. myPRO includes specific hygiene wash programs so to comply to the everyday need of clean and disinfected garments.
"Working closely with the customer and their building contractor, we were able to exceed their expectations with a seamless installation, commissioning and training" commented Colin Cassells, Business Manager Chains & Beverage Segment at Electrolux Professional ANZ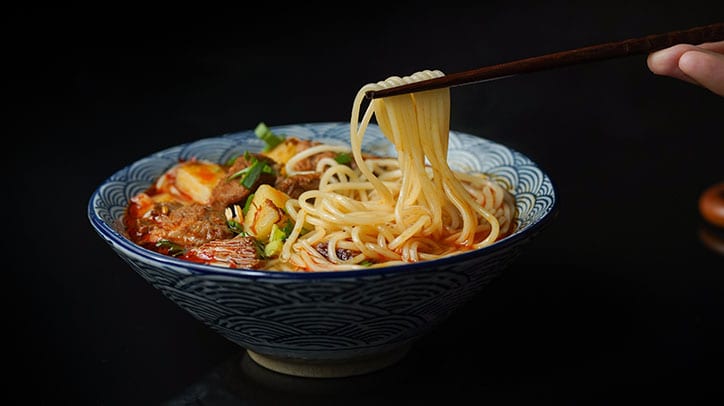 Helping Restaurant Chains to ramp up for delivery and reopening
2020-07-03T17:42:06+02:00
Setting the bar for linen hygiene for NHA
China
Standardizing procedures, continuous monitoring and visualization of hygiene procedures are foundational to improve hygiene standards in the Care Sector. The Electrolux Professional team in China provided insights into effective linen hygiene, disinfection and avoiding cross-contamination for the National Health Association in China.
The way to comply with the RABC standard and thus to ensure a proper hygiene level to millions of patients is described and went online on NHA's WeChat channel.
Read the full article here.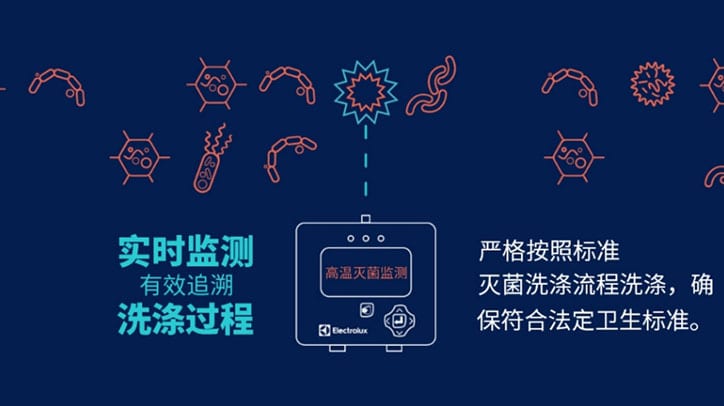 Photo: Electrolux Professional internal
Setting the bar for linen hygiene for NHA
2020-07-03T17:19:57+02:00
How PUMC Hospital benchmarked linen hygiene years ago
Bejing, China
Having 10.000 outpatients per day and dealing with 10 tons of linen, the challenge of proper hygiene laundry management was adressed in Bejing years ahead of the Coronavirus pandemic.
Read more about how the hospital management decided to insource their laundry to ensure high efficiency and being at the forefront of Chinese Healthcare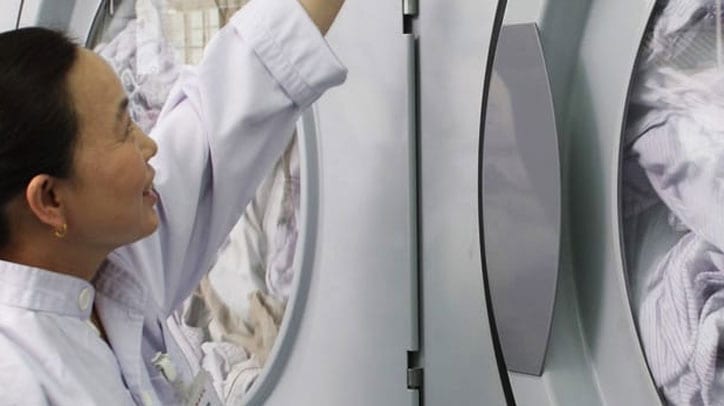 Photo: Electrolux Professional internal
How PUMC Hospital benchmarked linen hygiene years ago
2020-07-03T17:16:38+02:00
Electrolux Professional dishwashers for the farm
Switzerland
The trend towards regional farm products opens up a new application segment for Electrolux Professional: high-quality professional dishwashers that meet the highest hygiene standards.
Swiss researchers at the Lucerne University of Applied Sciences and Arts recently investigated how everyday life in corona times affects people's consumer behaviour*. From the results of their survey, the scientists concluded that many people would want to eat healthier in the future and are also paying more attention to the regional nature of food. The changed behaviour could reinforce the trend towards farm shops – not only in Switzerland, but also in Austria and Germany.
Yoghurt and drinking milk are among the popular farm products. But producing and marketing dairy products themselves has so far been viewed with scepticism by agricultural dairy farmers. After all, the most important question facing farms is: How can farm products such as drinking milk or yoghurt be packaged in such a way that they meet the high hygienic requirements of food safety?
Electrolux Professional looked into this possibility after the company received a request from the agricultural sector. Read the results we achieved in the full article here.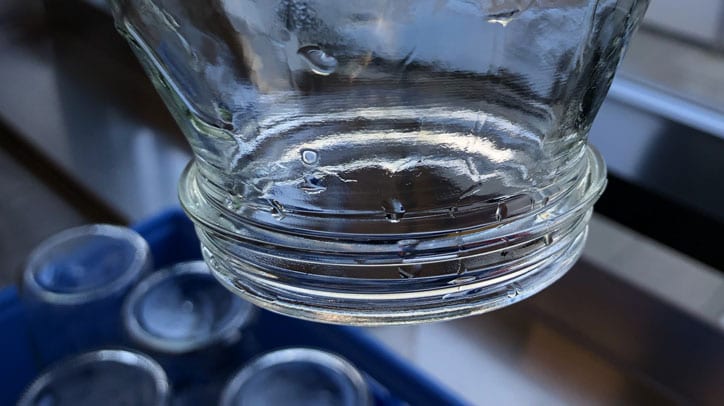 Photo: Electrolux Professional internal
Electrolux Professional dishwashers for the farm
2020-07-03T17:09:51+02:00
SSP adds a bit of sweetie to the life of healthcare heroes
UK & Ireland
During these months Electrolux Professional UK have been partnering up with SSP Group Plc. to show appreciation for the wonderful job of the local NHS staff (UK National Health Service) heavily under pressure during this pandemic period.
SSP Group Plc. operates around 570 units across approximately 130 airports and railway stations in the UK and Ireland.  In their portfolio are some of the best-known brands in Great Britain and they also offer their own brands – such as Millie's Cookies and Upper Crust.
Both Beth Seager and Andre Riphagen from Electrolux Professional UK have been safely baking Millie's Cookies in our local Center of Excellence in our SkyLine ovens, ready for them to be delivered to the Luton and Dunstable NHS Trust and the Bedford NHS Trust to thank the fantastic healthcare workers in the local hospitals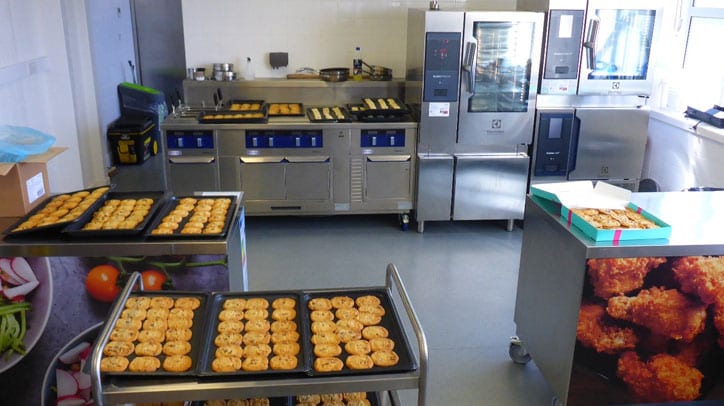 Photo: Electrolux Professional Internal
SSP adds a bit of sweetie to the life of healthcare heroes
2020-07-03T16:57:29+02:00
Fighting against hunger in North Carolina
North Carolina, USA
Every night, people in almost 630,000 North Carolina households don't have enough to eat. North Carolina has the 8th highest rate of food insecurity in the nation. A food-secure household means that all members of the home have access to enough healthy and nutritious food, supporting an active and healthy lifestyle. There's where FeedNC's mission is anchored. With over 450 regular volunteers, serving approximately 150 guests each day, hosting countless visitors, FeedNC's mission is more than providing a hot meal. 
It is to create healthy, stable families who can meet their needs – and can readily call on outside resources when necessary.  In order to help FeedNC on managing their food supply, storage, preparation and meal distribution, Electrolux Professional North America donated solutions for refrigeration (including blast chilling) and dishwashing. To set a landmark in fighting against the cycle of hunger and poverty.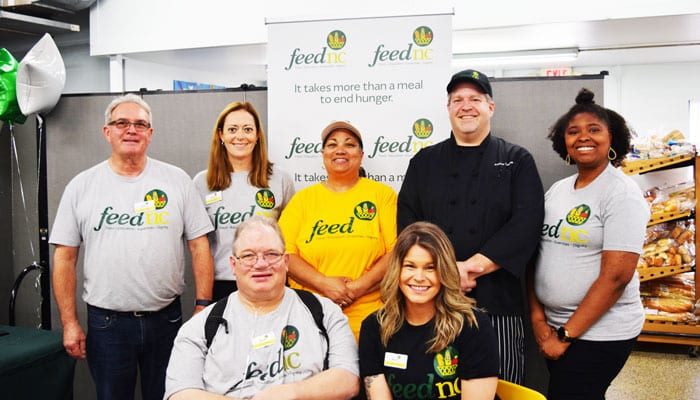 Fighting against hunger in North Carolina
2020-07-03T16:05:29+02:00
How to get your garments washed with « Social Distance »
NYC, USA
When meeting with these two young ladies, your first thought is truly on « fashionettes » rather than laundrette owners. And fashion was that brought them to NYC years ago working for prestiguos fashion magazines and coming from Germany where everyone is used to have his/her own washer at home. Experiencing the first oh my god, my white dress is grey », they took a decision to provide high-end launderette service to their neighborhood. Their entrepreneurship and believe in a 5-Star-customer service model took Corinna and Theresa Williams to a truly sustainable business. Fully equipped with Electrolux Professional high performing washers and dryers.
Now, facing coronavirus period, staying home regulations and people's fear to meet a crowd in the laundromat, the co-founders of Celsious have been roactive again being only open for drop-offs and collections now , but offering priority booking for anyone on the front lines, workers in essential services, the immunocompromised, those 65 years or older, and families with small children. On top, they're providing useful advise on taking care of garments when washing them at home. In addition, Corinna and Theresa have set up a Laundry Love fund at Celsious for New York neighbors who have been financially impacted by COVID-19.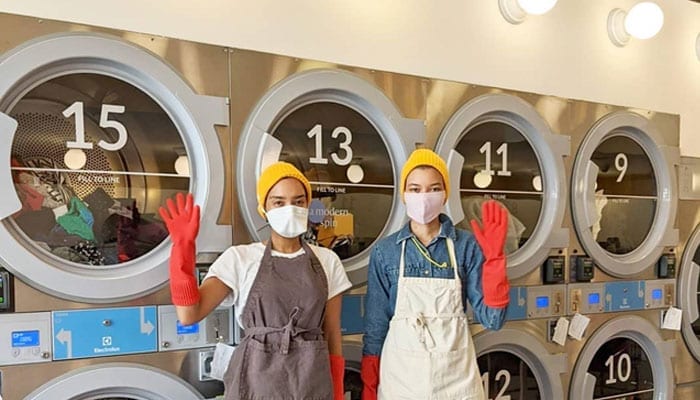 How to get your garments washed with « Social Distance »
2020-07-03T15:56:52+02:00
Being part of The OnE makes the difference
for customers and our own people. 
Contact us for more information about our services
Supporting Customer through the Coronavirus Crisis
2020-05-05T15:50:20+02:00