Working in a professional kitchen means dealing with a huge amount of stress. All chefs admit it. With long, busy work days, little or no social life, not enough free time and confined spaces, chefs have to deal with a lot of things that put a real strain on their ability to handle tension.
Still, it is possible to reduce stress in a professional kitchen. Here are four useful tips to help improve the life of every chef.
1. The right equipment
Every chef knows they can work much better when they've got the right equipment. From cookware to knives, from ovens to fridges, every kitchen utensil and appliance must be safe and efficient to get perfect results, time and time again.
Electrolux Professional carried out a social experiment with two teams of chefs preparing the same menu but with different equipment. One team worked with standard professional kitchen appliances, while the other team worked with the Electrolux Professional Cook&Chill system, specifically designed to reduce stress in professional kitchens. During the experiment, the chefs wore heart rate monitors to record their stress levels. The results showed that the stress levels of the team working with the Cook&Chill system were much lower throughout the whole experiment.
2. Be aware of your surroundings
All chefs dream of working in a large kitchen equipped with all the latest appliances and equipment but more often than not they work in a crowded, hectic space, in close physical contact with lots of other people who need to move around, in environments that may even be poorly ventilated, and uncomfortably hot. Every move counts, and it helps if the kitchen is designed specifically to minimize the stress of the chefs who work there. Not having to worry about sharp corners, naked flames or protruding hoods is no small advantage.
3. Keep everything clean and tidy
By the same token, a large kitchen and a well-organized kitchen are two completely different things. Make sure there is a place for everything and everything is in its place. This is just as important as keeping your mise en place clean and tidy. Use tightly sealed containers and labels to organize your station; throw away any food that has expired along with old pots and pans; wear aprons and use dishtowels to keep uniforms clean. Working in a clean, tidy environment is one of the most effective ways to reduce stress in the kitchen.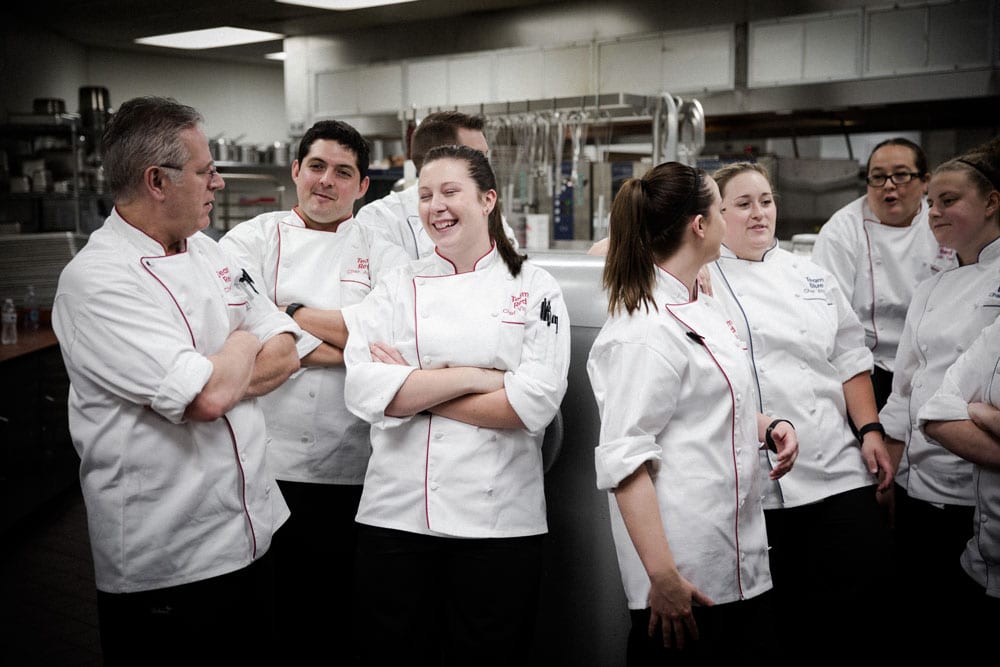 4. Ask for help and have fun
In a crowded environment where you're forced to brush up against people all the time, it's important to know when to ask for help and learn how to relieve tension and bring things back to an even keel in a professional kitchen too. For teamwork to be effective everyone needs to collaborate and have fun. Remember to take a break every now and then and remind yourself about your deep-seated love of food and cooking and what made you decide to become a chef in the first place.
Have a look at our solutions for professional kitchens
Professional Kitchens: 4 ways to reduce stress for Chefs
2018-11-22T16:30:29+02:00