The hospitality industry is gathering in Milan yet again for Host 2019, from 18 to 22 October. Every two years, the event held at Fiera Milano lines up all the new proposals available for the professional hospitality business. HostMilano is the world's leading tradeshow in the catering and hospitality sector with more than 1800 exhibitors participating in three broad groups:
Professional Catering, Bread – Pizza – Pasta
Coffee, Tea, Bar, Coffee machines, Vending, Ice-cream, Confectionary
Furniture, Technology, Tableware
Participating in the Host 2019 show poses a challenge for any professional: hundreds of booths to visit, with dozens of products and presentations, shows, demonstrations and training/educational events.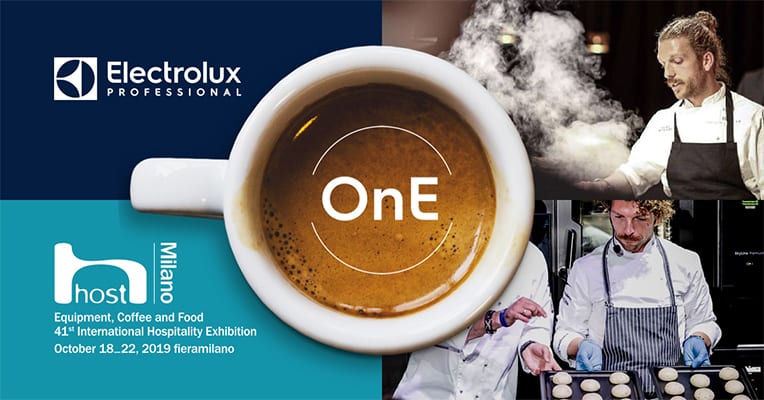 The OnE at Host show Milan 2019
Staying true to its mission of making its customers' work-life easier and more profitable, Electrolux Professional is participating in Host Milan 2019 as The OnE supplier offering a complete choice for professionals in the food service, professional catering and hospitality industry. The Electrolux Professional booth at Host show is The OnE stop shop, a microcosm where professionals from different businesses can find the best solutions covering the whole range of needs for their Company.
On top of that, from this year visitors can find appliances and services for a new area of business: coffee machines and beverages.
Electrolux Professional remains a center of gravity in a tradeshow with plenty of suppliers. Dropping into its The OnE booth will give you a glimpse of the latest technologies in different industries, and an idea of the appliances and services needed in every step of a hospitality business.
Food service professionals can find the whole range of commercial kitchen equipment for businesses of various dimensions, from small restaurants to community services, including the pioneering SkyLine cook and chill solution and its advanced connectivity features.
Hospitality industry operators can catch the Company's wide range of commercial laundry solutions: everything you need for laundry services for both small boutique hotels and tourist resort facilities.
Both Food Service and Hospitality operators will find the all-new beverage solutions for business; professional services for hot beverages (coffee machines, dispensers, grinders, brewers), cold and frozen beverages and even soft ice cream dispensers.
The OnE supplier for service too
The uniqueness of this approach is not limited to appliances: at the Host show Milan 2019, the Company will also showcase its pre-sales, customer assistance and after-sales services. The Electrolux Professional offering is the most complete of the whole tradeshow, making it The OnE trusted supplier for professionals in the food service, catering and hospitality industry.
Host show Milan 2019 – the importance of being The OnE stop shop
2019-10-15T14:16:27+02:00