There is more to choosing the right salon for hair and skin care than the skill of the professional and the quality of their products. The premises also need to be spotlessly clean and tidy, particularly in an environment where people want to feel relaxed and pampered. It is extremely important for salons to have clean, sanitized linen at all times, especially when you think of the number of towels that stylists and therapists use.
Being both business owners and professionals, all operators in this field must give top priority to the cleanliness of their premises, both to deliver excellent customer service and to make sure their employees are working in a healthy environment. Therefore, it is essential to choose the right appliances that can assure hygienically clean linen.
MAXG Parrucchieri chooses the excellence of myPRO
Massimo Catalano is a hair stylist from Pordenone and with his sister he operates six beauty salons – MAXG Parrucchieri. They chose Electrolux Professional to clean and sanitize their towels. The performance of the entry-level professional washer and dryer in the myPRO line is perfect to assure perfectly clean and sanitized towels for all their salons.
As Massimo says, "In our salons, we care for both women and men. We also offer beauty therapy services, so we need sanitized towels very quickly. We used to use a domestic washer but it struggled to meet our needs. Now, the myPRO line has halved our washing and drying times, so we have perfectly clean towels for all our salons every day. This means we can focus more on the quality of the services we deliver to our clients."
The laundry system comprising myPRO washer and dryer is the perfect solution to meet the needs of small businesses that need to wash and sanitize large quantities of linen as quickly as possible, keeping down consumption and costs and at the same time delivering professional results.
Five tips to assure health and safety in your salon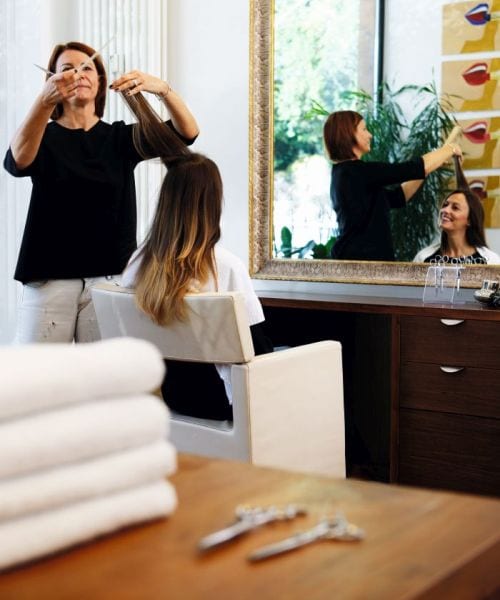 There are a few simple things you can do for the comfort of your clients and employees. Let's see what they are:
There should be enough free space in treatment areas for everyone to move about with ease.
Lighting should be sufficient to enable stylists and therapists to work safely. Make sure the color scheme creates a warm, relaxing ambience without affecting the way hair color or highlights look in the salon.
All mirrors and surfaces should be kept perfectly clean. Products can spill or splash and leave unsightly stains and cloudy build-up if not cleaned immediately.
Use specific cleaning products to treat resistant stains like hair dye or nail varnish.
Scissors, razors and other equipment must be properly cleaned and disinfected before coming into direct contact with a client.
Health and safety in a salon: how to be sure of perfect hygiene
2019-10-02T16:07:07+02:00