Innovative Culinary Technology
USA
Hosted by: Robert Fasce, Worldchefs Chef2Chef Ambassador &  Electrolux Chef Academy
Dress code: Chef Whites
The Aim of the Workshop
The workshop will focus on Sous Vide and High Productivity systems, new technology that incorporates a series of technologically advanced pieces of cooking and chilling products into a single solution. This innovative approach to sustainable cooking also improves chefs' daily activities.
Learning outcomes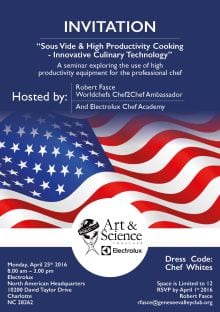 On completion of this practical session participants will have acquired the ability to:
An optimized work process incorporating the latest technology
Higher levels of food safety
Reduction in food loss and, ultimately, food waste
Higher profitability for the food service operation
Explain and demonstrate an understanding of the processes involved for cooking food using high productivity processes
Apply moist, dry and oil methods of cooking appropriately to a variety of ingredients/commodities/dishes
Achieve a balance of nutritional value, texture, flavour and colour for food items that are prepared with an emphasis on healthy eating.
Workshop on Sous Vide & High Prouctivity Cooking
2016-04-15T14:40:29+02:00