"Art & Science Come Together" workshop in Dubai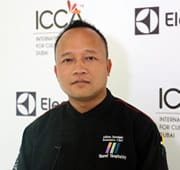 Chef Adito Sasonggo- Executive Chef at Sharaf Hospitality:
"Panini Grill is a brilliant piece of equipment which could help me have consistency of the cooked food at all times,prepared in front of the guests & also allowing to serve much more people making operations efficient & cost effective."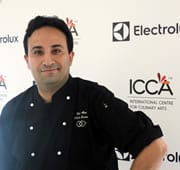 Chef Rahul Abrol – Chef De Cuisine at Sofitel Downtown:
"It was a great experience of sharing & a good lesson of how we could use different ingredients for example secondary meat cuts & achieve incredible results using Electrolux combi Ovens & Cooking Sous Vide without compromising on quality of the dishes."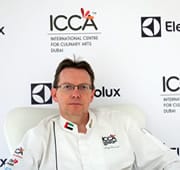 Chef Daniel Hiltbrunner- Chef Instructor at ICCA:
"Food cost is always important in our business especially nowadays. We got to see & try some fantastic equipment like pressure braising pan, panini grill by using which we were shown how we could save not only time and energy but also money".
Workshop in Cook & Chill: Food Cost & How to Manage it
Hosted by: Chef Andy Cuthbert & ICCA School for Culinary Arts, Chef Silvano Costantini (Electrolux Chef Academy)
Dress code: Chef Whites
Electrolux Professional and WORLDCHEFS are pleased to invite you to a Chef2Chef training seminar as a part of their "Art & Science Come Together" alliance. These workshops will educate chefs on implementing sustainable practices in the kitchen while maintaining high standards. The chefs will serve quality food, balancing a mix of Electrolux innovative solutions and the chefs' creativity. Lunch will be provided at the school prepared by the Young chef students. Bring your knives.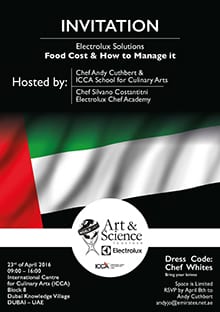 The Aim of the Workshop
The workshop will focus on the Cook & Chill system, new technology that incorporates an oven and blast chiller in a single solution. This innovative approach to sustainable cooking also improves chefs' daily activities. The aim of the workshop is to build on and extend the range of skills, techniques and knowledge helping to better manage the food cost. This seminar would assist in acquiring new culinary knowledge as well as operational one while discovering the solutions to managing profitably different types of kitchens using cooking technology to improve food cost.
Learning outcomes
On completion of this practical session participants will have acquired the ability to:
Learn the way to maximize the use of secondary meat cuts in order to improve food cost
Master the use of Cooking Technology to lower food cost
Discover the formulas & solutions to better manage food cost
Able to explain the importance of food costing & control to the profitability of a catering operation
Outline the main stages of Food Production cycle at which controls need to be applied
Able to determine & explain some of the key business performance indicators essential for a catering operation
Demonstrate the knowledge of the main documentation required for control throughout the food production cycle
Explain the significance of portion control & able to identify the key points of an effective portion control system
Workshop in Cook & Chill: Food Cost & How to Manage it (Dubai 2016)
2016-04-13T14:46:56+02:00