Accelerate your thawing, reduce water usage and spoilage, and start cooking faster with the Electrolux Professional Thawing Cabinet
By Chef Corey Siegel, Electrolux Professional Director of Culinary Development and Executive Chef
For high volume restaurants looking to build a reputation for speedy service and quality food, I know from experience having a kitchen that can do more in less time makes all the difference.
While there may be some tricks to trim a minute or two off ticket times, it may seem impossible to speed up one of the most time-consuming processes: thawing your food.
But with the Electrolux Professional Thawing Cabinet, you can.
It's the piece of equipment that people may not know exists – but it will change your kitchen. That's because the Thawing Cabinet drastically accelerates your thawing time without compromising the safety and quality of your food. So, what used to take a full day to thaw can now only take hours.
And the faster you can thaw, the faster you can cook—and the faster you can serve your customers.
That's why Chef Frank Mendoza uses the Thawing Cabinet for El Sushi Loco, which has three successful locations in Southern California.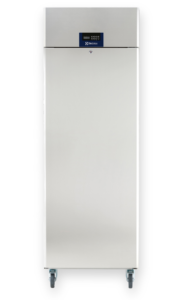 Quickly, Safely and Consistently Thaw Your Food
The Thawing Cabinet accelerates Chef Frank's thawing process with the press of a button. Seven programmable settings let him simultaneously defrost different food types—and in way less time than traditional thawing methods.
He can thaw:
200 pounds of chicken in 8 hours
300 pounds of shrimp in 8 hours
All without the use of running water.
"Once you have beautiful equipment that you can press the button and go, you can do something with that time that's going to be more effective," Chef Frank says.
With the Hybrid Air Flow system, the Thawing Cabinet alternates cold and warm air to keep his food at the correct temperature, while air ducts and powerful fans evenly thaw his chicken and shrimp.
Because the Thawing Cabinet takes care of his food throughout the entire thawing process, he doesn't need to waste time probing his food with a thermometer or adjusting the temperature setting.
And the Thawing Cabinet helps him do more than just save time.
Reduce Water Usage and Costly Spoilage
Instead of racking up his utility bill and risking the integrity of his food by using water, the Thawing Cabinet minimizes his water usage and eliminates the spoilage that occurs with traditional thawing methods.
"I'm able to thaw out close to 300 pounds of shrimp in an 8-hour cycle and it never touches the water," Chef Frank says. "I don't waste water. I don't waste ice. My shrimp spoilage went from 30% to 0% using just one piece of equipment: the Thawing Cabinet."
Once the thawing cycle is complete, the Thaw & Hold function automatically switches on to keep his food at a safe temperature. This feature is ideal for thawing overnight.
Obviously, there's a lot to like about the Thawing Cabinet. Whenever I tell food service operators about it, they tell me they didn't think this kind of equipment could exist.
Well, it does exist. And for those who have it, like Chef Frank Mendoza, they can't imagine their kitchen without it.
"This equipment has literally transformed my restaurant," Chef Frank says. "One of the best investments of my culinary career without a doubt."
If you're interested in learning more about the Thawing Cabinet, Electrolux Professional Directory of Culinary Development and Executive Chef Corey Siegel is happy to tell you more about it. Contact Corey via Email or visit this webpage to learn more.
How Can You Thaw 200 Pounds of Chicken in 8 Hours?
2023-09-21T21:52:12+00:00