What does it take to successfully run a restaurant?
A good location, friendly service and delicious food are good places to start.
But when margins are razor thin, you need to get the most out of your food and labor costs.
That's how Frank Mendoza took what started as a food cart and turned it into El Sushi Loco – a Mexican-inspired sushi restaurant chain with three locations in Southern California.
But keeping his ingredients fresh and safe for consumption was challenging. Spoilage during the shrimp thawing process was delivering a costly blow to his bottom line. Mendoza knew he needed help.
"To be successful, I needed to make an investment," he says.
There Are Inefficiencies that Can Be Eliminated with the Right Equipment
Mendoza is not alone. About 30 percent of restaurant waste comes from overordering, improper storage and unsafe preparation.That's why Mendoza invested in commercial kitchen equipment – and it paid off for El Sushi Loco. Improving its thawing process drastically reduced waste and minimizes the potential for compromising food safety.
"I'm able to thaw out close to 300 pounds of shrimp in an 8-hour cycle and it never touches the water with the Electrolux Professional Thawing Cabinet," Mendoza said. "How does it help me? I don't waste water. I don't waste ice. And my shrimp spoilage went from 30% to 0%."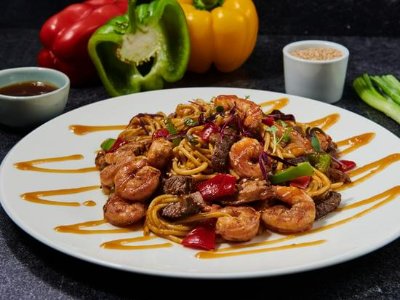 With the Electrolux Professional Pressure Braising Pan, over 80 pounds of chicken can be cooked to the right temperature every time. This process ensures chicken isn't overcooked, or even worse, undercooked and dangerous for consumption. It also allows chicken fat to be rendered and used as cooking oil, eliminating the need to purchase oil.
'This Equipment Has Literally Transformed My Restaurant'
With kitchen equipment he can trust, Mendoza makes the most of every ingredient. For restaurants small or large, finding ways to eliminate spoilage helps improve the health of the business – which means you and your kitchen staff can focus on creating 5-star meals.
"This equipment has literally transformed my restaurant, both financially and emotionally," Mendoza says. "One of the best investments of my culinary career without a doubt. You need the proper tools to do the job."
El Sushi Loco is proof of that.
Learn more about Mendoza, and the impact the right equipment had on his restaurant – El Sushi Loco
El Sushi Loco Eliminates Spoilage and Slashes Food and Labor Costs with Efficient Kitchen Equipment
2023-07-07T21:18:18+00:00