Le Train Bleu's long standing legacy lives on with Molteni
Le Train Bleu is an exceptional place located on the first floor of the Lyon Station. This mythical restaurant has been celebrated since its opening in 1900. Classified as a historical monument in 1972, it offers a sumptuous and refined cuisine in a pure Neo-classical and Art Nouveau style, from a gourmet kitchen of French tradition.
At only 21 years old, Chef Hocquet became the leader of a team of 65 cooks. He quickly moved up in the world, working with the Intercontinental Hotel and then joining the head chef of the Eiffel Tower restaurant. There he participated in the inaugural celebration of the great author, Jules Verne. After starting two of his own restaurants in Drôme and Montpellier, he returned to Paris to join Le Train Bleu.
During the summer of 2014, Le Train Bleu did considerable restoration of frescoes, paintings, furniture, tableware, stucco and gilding. This renovation allowed the restaurant to reconsider the layout and equipment of its historic kitchens. Chef Jean-Pierre Hocquet confidently chose the Molteni cooking suites, which are perfectly adapted for the gourmet cuisine of a restaurant as prestigious as Le Train Bleu.
He boasted, "Every day, 500-600 people are served between 6am to 12:30am. And in 2 years we have had zero breakdowns. A record for equipment that is put through such intense treatment!"
For Jean-Pierre Hocquet, working with luxurious, reliable, high-performing, and aesthetically beautiful tools promotes the best atmosphere for a restaurant of this caliber. He concluded, "It's a considerable benefit!"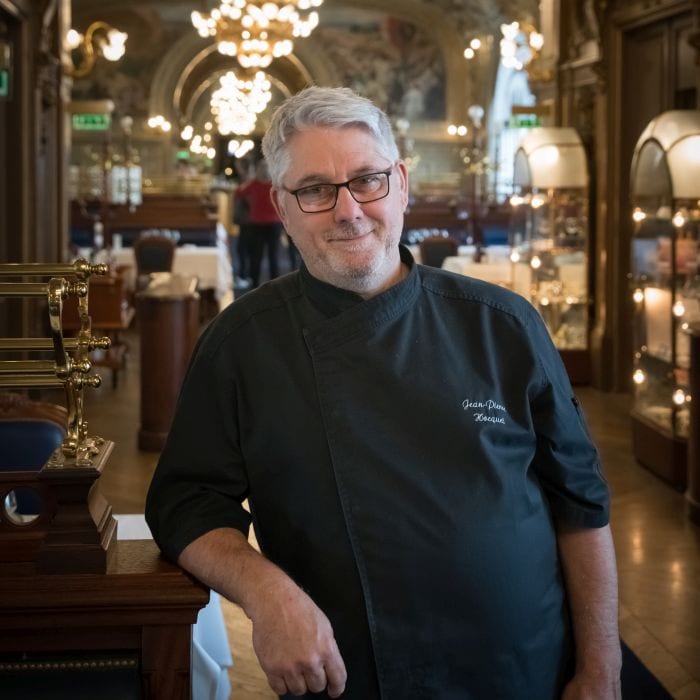 Jean-Pierre Hocquet – Chef of Le Train Bleu commented:
"Perfect attention is given to detail to ensure the day-to-day excellence of a gourmet kitchen." And affirms that "the team is proud of the exceptional equipment that helps them daily."
List of installed equipment:
Give a look to our solutions, you may like them!
Le Train Bleu
2018-04-24T09:08:51+02:00