Summer refrigerator maintenance tips to reduce waste and unexpected costs
With summer underway and temperatures on the rise, now is an ideal time to carry out professional refrigerator maintenance and ensure that your appliance is running safely and efficiently.
There are some simple steps you can follow to ensure that your professional refrigerator is working effectively so that you don't lose perishable goods unnecessarily in the warmer weather as well as avoid unexpected maintenance costs.
Spoiled food leads to food waste, translating to lost revenues and contributing to climate change. In fact, every year between 30 to 40% of all food is wasted, which is a shocking amount.
By effectively maintaining your refrigerator and keeping your food fresher for longer, you can ensure that your business avoids contributing to the food waste problem. Furthermore, you can proactively identify and address potential refrigerator issues, preventing costly emergency service calls and major disruptions.
Take the initiative to prepare your professional refrigerator for optimal performance by scheduling regular preventive maintenance. This approach allows you to identify and address potential issues before they escalate into major problems, ensuring continued efficiency and effectiveness of your equipment.
Clean the interior and exterior
Start with a thorough cleaning of your refrigerator, both inside and out. Use an absorbent cloth to wipe off accumulated dirt in the interior, combined with mild detergent and warm water for the surfaces and shelves. Make sure to disinfect by applying sanitizer or soap to the surfaces, but avoid any harsh chemicals or abrasive materials that can cause damage.
A small brush can be useful in accessing those tiny spaces. For the exterior, remember all of those often-neglected areas like the top and bottom, and make sure you thoroughly clean the floor and wall behind the unit, too.
Check the temperature settings
As the external, ambient temperature increases in the summer, so keep in mind that this can impact on the consumption of your professional refrigerator. To safeguard the performance, we recommend periodic cleaning of the appliance, so to ensure that the internal temperature remains stable according to the setting and your products stay fresh and safe.
Consider investing in a "smart performance" refrigerator system, such as the Electrolux Professional ecostore refrigerator with Optiflow, an inbuilt air circulation system that adapts intelligently to the best cooling results for the refrigerator load, maintaining optimal temperature uniformity and offering increased savings in energy consumption.
A responsible choice for promoting sustainability and reducing food waste is to use a refrigerator with a climatic class 5 rating. This ensures perfect temperature uniformity even in heavy-duty conditions -such as during the summer months- and helps to extend the lifetime of the food by preserving it in the right and safe conditions.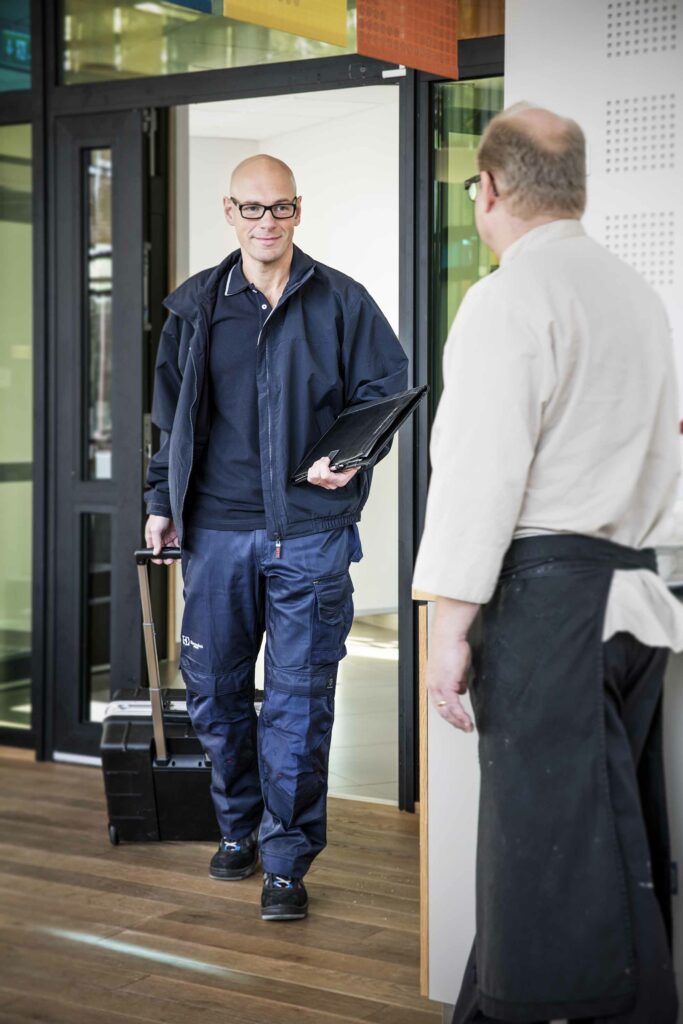 Inspect the door seals
One simple way to ensure maximum efficiency is to check your refrigerator door seals for cracks, tears, leaks, or other signs of damage.
Door seals that have sustained damage mean the refrigerator must work harder to maintain the desired temperature, leading to higher energy costs for your business as well as food safety issues.
The damage isn't always obvious; this can happen when the gasket that runs along the rim of the door is damaged or distorted with a build-up of moisture.
Arrange for any damaged door seals to be replaced promptly, and when budgets allow, think about purchasing an original door seal, online or through an authorized partner, that is easier to maintain for future convenience.
For example, all of the Electrolux Professional ecostore refrigerators come with a triple chamber magnetic gasket that can easily be removed and maintained without adversely affecting the insulation properties of the appliance.
Clear the condenser coils
Your refrigerator's condenser units and coils are classic depositories for grime and dirt, so definitely look at cleaning those too. Any accumulated dust and dirt on the condenser coils can cause the refrigerator to overwork, overheat, and use more energy. You will need to be gentle in clearing the coils of debris, and it is best to use a vacuum cleaner or brush.
As an alternative, long-term solution, you could explore refrigerator models that have wireframe condensers, such as the ecostoreHP Premium series. The shape of the condenser has been adapted to require less maintenance and developed to minimize resistance to the passage of air and allow for better cooling results. This will also help to reduce your business' long-term energy costs.
Monitor the fan and motor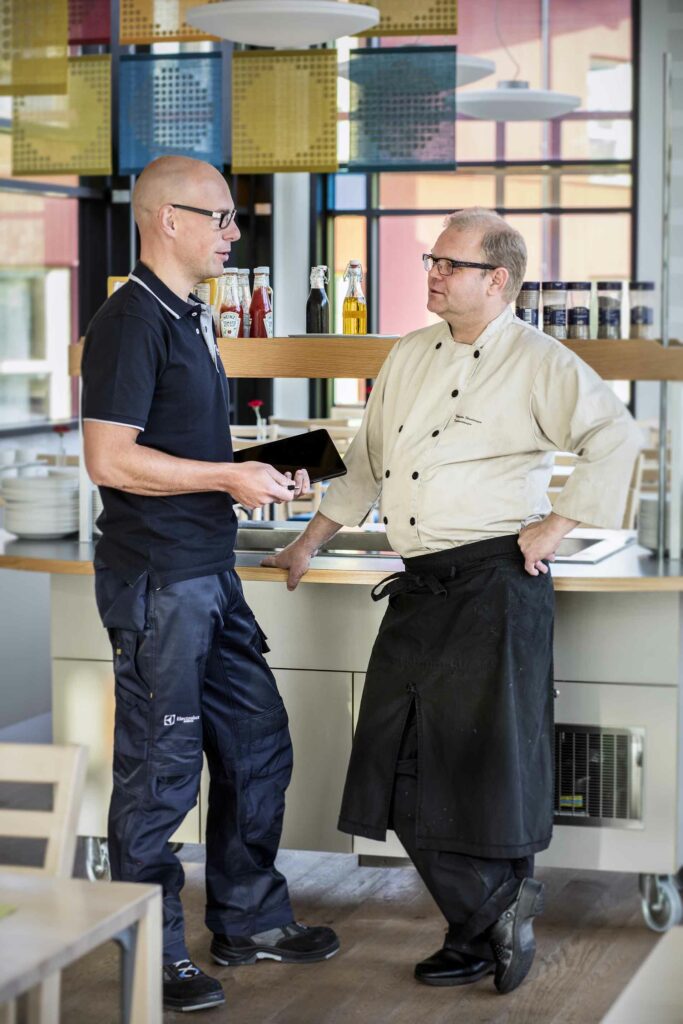 If your team has been reporting strange noises or vibrations coming from your professional refrigerator, then you might need to check and monitor the fan and motor to ensure they are both functioning properly. If you continue to notice any unusual sounds or vibrations, we recommend you to contact your local Electrolux Professional Authorized Service.
A noisy fan likely means an issue with the fan blade itself. Over time, it's possible for the fan to shift and become misaligned. It might even be striking against a build-up of ice on the evaporator. A broken fan motor is also an issue that can lead to higher temperatures in your refrigerator, with less efficient cooling.
Thanks to the Frost watch control of the ecostore Premium cabinets, the defrost is optimized to reduce consumption and it is monitored time to time.
Schedule regular maintenance
Before the peak season starts, the most effective and long-term solution to guarantee an efficient and secure refrigerator is to schedule regular maintenance with a professional service technician from Electrolux Professional authorized service network. This keeps your refrigerator in optimal condition and identifies and prevents potential issues before they arise. Preventative measures are ultimately less expensive than emergency fixes once something has gone wrong.
And effective professional refrigerator maintenance offers long-term benefits for your business that stretch far beyond the summer.
Conclusion
Clean, dust-free refrigerator systems will consume less energy, ensuring smoother function and lower running costs. There will be less food waste and a lower risk of a breakdown over the summer, during the hottest months.
Reduction of food waste also supports the fight against climate change, in which we all have a responsibility to play a part. At Electrolux Professional Group, we are committed to making a difference by not only developing new technologies and advances but also providing an extensive and reliable service network. So, when you choose our professional refrigerators, you can expect more than just innovative features – you can rely on our exceptional service network to ensure your equipment performs at its best.
We encourage you to take proactive steps by scheduling regular maintenance and utilizing original spare parts, as these measures can significantly enhance the longevity and efficiency of your appliances, especially before the peak season starts.
Summer refrigerator maintenance
2023-07-12T08:00:01+02:00