WorldChefs Seminar #3: Bakery and Pastry

The focus of the October WorldChefs seminar was to explore the use of new culinary techniques to produce interesting and delicious tasting bakery and pastry dishes.
Corporate Executive Chef Corey Siegel led the group of attending chefs and provided hands-on culinary demonstrations in the Center of Excellence test kitchen in Charlotte, NC. Fourteen chefs attended the event including executive chefs, pastry chefs, and culinary instructors.
Electrolux Professional equipment was used to prepare the variety of bakery and pastry menu items including canelés, honey challah, pear and almond tarts, country beer bread and more.
The powerful air-o-system pairing of combi oven and blast chiller/shock freezer was demonstrated in addition to using the pressure braising pan, EMPower restaurant range, M2M made to measure range and food preparation equipment. The TRK combination food processor and vegetable cutter was especially helpful in the production of several menu items.
"A lot of the chefs were opened up to the amount of things that could be done in the TRK versus needing several pieces of equipment to do the same thing," Chef Corey said.
At the end of the seminar, attending chefs left excited and motivated about the bakery and pastry concepts as well as equipment used to prepare the menu items.
"I had an amazing time. I'm in the process of getting a hold of my friend that works at Sierra Nevada (brewery) to see what he does with his yeast. I'm excited about using some of the ideas that Chef Corey showed," Pastry Chef Kimberly Beaumont from Champion Hills Country Club in Hendersonville, NC said.
"Thank you very much for hosting us at this great seminar. The Electrolux brand, company and personnel are top notch," Corporate Executive Chef Michael Thrash with GA Foods in Saint Petersburg, Fla., said. "The generous hospitality and thoughtfulness was prevalent. The information and skills learned in the kitchen from Chef Corey were very worthwhile and innovative."
Download our free Baking & Pastry Recipe Book:
Restaurant Industry's Top Leaders Meet at MUFSO 2017
The Multi-Unit Food Service Operators (MUFSO) tradeshow event was held on October 1-3 in Dallas, TX at the Hyatt Regency Reunion. Keynote speakers, interactive panel discussions and highly engaging interviews with industry visionaries were featured including guest speaker Gene Simmons from the legendary rock band, KISS.
Electrolux Professional attended the event to meet with the restaurant industry's top leaders, innovators and experts to discuss food service equipment solutions. Dave Hinton, VP and Head of North American Chains, George Lively, Key Account Manager – North American Chains and Executive Chef Chuck Hoover attended from Electrolux Professional.
The event was well attended by several hundred corporate personnel from dozens of restaurant chain brands from across North America. Attendees at MUFSO represent every foodservice operations segment from the C-Suite to tech, marketing to culinary, and finance to HR and includes large chains, emerging growth chains, multi-concepts and high volume independents.
Electrolux had a booth at the event and showcased the flexibility of the SpeeDelight high-speed unit by presenting live cooking demos. During the multi-day event, Electrolux reached out and met with many of the targeted chain contacts and reconnected with current customer contacts.

Golden Corral Convention & Trade Show 2017
Golden Corral opened its first restaurant in Fayetteville, North Carolina, in 1973 and hasn't looked back since then.
Today it is a successful restaurant chain with 481 locations in 41 states, including Alaska, offering an endless buffet including sirloin steaks, pork, seafood/shrimp, chicken, pot roast and more.
The Golden Corral Convention & Trade Show was held for its franchise partners at the Marriott Marquis in New York City on October 8-11.
Electrolux Professional attended the event featuring the TRS Classic vegetable cutter that is currently used at many of the Golden Corral locations.
Richard Bocian, Electrolux Professional North America Category Manager for Dynamic Preparation, and Codie Buffington with Carolina Marketing (Electrolux sales rep group), attended and provided live food demos using the TRS Classic vegetable cutter to demonstrate the variety of foods and different cuts that it can produce.
Zaxby's Operators Conference 2017
Fast-casual chicken restaurant concept, Zaxby's Franchising, Inc., has expanded outside of the Southeast with over 800 restaurant locations and is still going strong. The restaurant was founded in 1990 and offers chicken fingers, wings, sandwiches and salads in a fun, offbeat atmosphere.
The Zaxby's Operators Conference 2017 was held for its franchise partners at The Westin St. Francis in San Francisco on October 8-12.
Electrolux Professional attended the event featuring the thawing cabinet and VP2 vegetable dryer that is currently used at many of the Zaxby's locations.
Patrick Walker, Electrolux Professional Director of Global Accounts North America, and Jeremiah Davis, Pro Rep Marketing (Electrolux sales rep group), attended the event and showcased the popular pieces of kitchen equipment and their ability to reduce labor costs and increase efficiency and overall food product quality.
The thawing cabinet ensures an even, fast and safe thawing of frozen food from -4°F (-20°C) to 34-39°F (1-4°C). The VP2 vegetable dryer quickly dries lettuce and other vegetables for fast food prep for salads and more.
Electrolux Cares Week 2017
Most of us do not struggle with hunger, but a staggering number of people in our communities do. Electrolux Cares Week, a week of volunteering and giving back in our communities, took place the week of September 25. Many Electrolux sites in North America participated in activities centered around tackling hunger.
One part of the Electrolux purpose "Shape living for the better" is about acting sustainably. Throughout the week, Electrolux employees brought this purpose to life in an impactful way by volunteering in soup kitchens, donating canned goods and addressing hunger to help improve our communities for the better.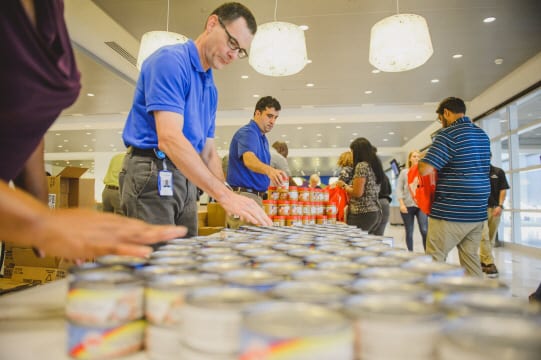 Here are some highlights across North America:
Anderson, SC: Participated in a canned food drive, delivered meals to local shelters, packed meals for children in need, donated Box Tops to local area schools, and much more.
Augusta, GA: Prepared care packages for senior citizens, wrote note cards for elementary-aged children, and baked casserole dishes for the Ronald McDonald House.
Charlotte, NC: Donated canned goods, prepared sandwiches for the homeless shelter, participated in a backpack build for hungry children, and more.
Juarez, Mexico: Donated canned goods for community kitchens, shelter homes and day cares.
Kinston, NC: Donated canned food items and packaged dehydrated food bundles for families in need.
Memphis, TN: Sold safety glasses representing the local school colors. All proceeds went toward providing Thanksgiving meals for needy families in the community.
Springfield, IL: Donated canned goods and participated in a dunk tank where all proceeds benefited United Ministries food bank and Loaves and Fishes.
St. Cloud, MN: Served and funded lunches at the local Salvation Army.
Newsletter – October 2017
2017-10-12T12:17:17+00:00