Making the eco-friendly choice benefits people, the planet, and your business.
As businesses, we all have a shared responsibility to consider and care for the environment through our practices. Committing to a long-term sustainable business model is essential for ensuring a brighter future for all and can bring business benefits too.
This is specifically very true when it comes to commercial laundry facilities or businesses that include in-house laundry, such as hotels, restaurants, healthcare facilities, and luxury gyms and spas. All of these venues have an opportunity to tackle sustainability by using eco-friendly cleaning products, featuring Ecolabel certification, and investing in efficient appliances that minimize utilities waste (water and energy).
Reduce waste, improve efficiency
Modern machines, such as those from Electrolux Professional, come with many advantages, such as energy efficiency and intelligent detergents dosing. What's more, you can combine this with planet-friendly products to reduce your environmental impact even further.
Intelligent dosing maximizes site efficiency by allowing for the precise amount of laundry detergent used during each cycle, according to effective weight of linen inside the drum. Similarly, utilities-saving washing machines go the extra mile to reduce the use of electricity and water, which is good news for your business, especially considering the recent surge in electricity costs affecting many markets, and water scarcity in some geographical areas.
When considering detergents, opt for an eco-friendly, concentrated option that allows you to use less product and water through every cycle – drastically reducing water pollution. Not only does this increase productivity, but it minimizes our environmental imprint on the world.
Look for detergents that prevent allergic reactions
In addition to the environmental factor, there's also a growing global prevalence of asthma and allergies. Around 50 million Americans experience allergies that range in severity every year.
In Sweden alone, it affects one in three people, and the number continues to increase. This has prompted the global community to invest in developing ethical fabric sources that are safe for both textiles and skin.
Consumers with sensitive skin, including parents looking out for toddlers, children, and elderly people who suffer from allergies, are more inclined to choose tested products that are less likely to cause adverse allergic reactions.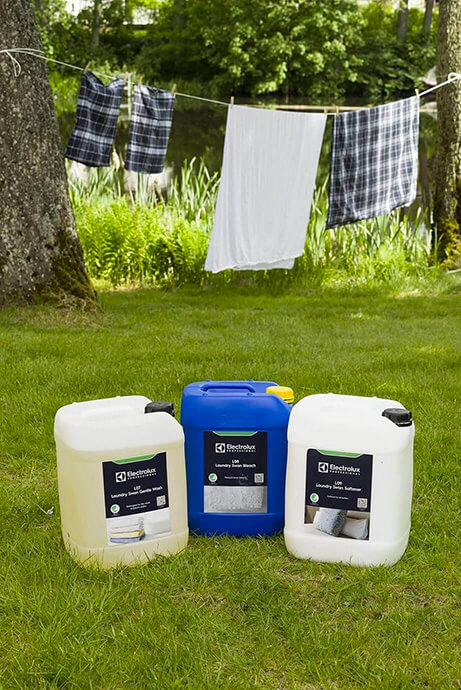 Check that it is dermatologically tested and hypoallergenic
It's important to conduct your due diligence to ensure that the claims of a product are true and accurate. A detergent that is dermatologically tested and hypoallergenic certifies that it has undergone rigorous testing in a lab and that the results are favorable.
Although several certifications exist throughout the market, the majority of them do not conduct thorough testing and solely focus on the formula. For that reason, it's essential to look for a product with an official dermatologically-tested and hypoallergenic certification. This seal guarantees that the item has met the established safety requirements, providing the highest level of evidence for its safety.
Check for the Ecolabel Certification or Nordic Swan
While many products on the market claim to be green, the Ecolabel logo is the only element that certifies it is truly an environmentally friendly product.
The Ecolabel certification signifies that the appropriate governing body has conducted a full evaluation of the product, which assesses raw material selection, production process, use, and dosage, as well as disposal and recycling. Finally, product properties must ensure quality and durability.
The EU Ecolabel, established in 1992, is also called the EU Flower and is one of the world's most recognized eco-labels. The Nordic Swan Ecolabel is the equivalent of the EU Ecolabel but is utilized for products commercialized in Nordic countries. In an effort to be as environmentally friendly as possible, these items are also fragrance-free, reducing the risk of allergic reactions that fragrances can cause.
Ensure it's concentrated and works at low temperatures
Ecolabel products are tested according to international standards, and dosages can make a huge difference. This is because smaller dosages and lower washing temperatures indicate a greener process overall.
If eliminating a stain requires a significant amount of detergent, it is likely not an environmentally friendly option. Similarly, the item isn't eco-conscious if the detergent only functions effectively at high temperatures.
On average, people do laundry three times a week across Europe and wash their clothes at an average temperature of 41°C. However, washing clothing at temperatures of 30°C is increasing dramatically – a welcome step in combatting climate change. Wash cycles at 30°C were also promoted by the International Association for Soaps, Detergents and Maintenance Products (AISE) when they launched the environmental initiative "I Prefer 30°C" in 2014.
Final thoughts
Overall, investing in sustainable cleaning products is a wise business decision as it yields many benefits. It demonstrates to customers that you are dedicated to a sustainable business strategy, resulting in lower energy costs, gentler detergents, and less water waste.
At Electrolux Professional, all detergents comply with the Ecolabel standards and are dermatologically tested and hypoallergenic.
Four features to look for in sustainable cleaning products
2022-12-22T11:55:20+02:00