Llevataps and Electrolux Professional combining fine wines and great food
Joan Borrell, together with his wife Pamela Castillo are the owners of Llevataps, located in the heart of Girona. Joan, an engineer by profession, got involved in this project despite it being new for him.
Llevataps opened its doors in 2010. It stands out for its industrial interior design, which draws customer's attention, even from the outside of the restaurant. "A friend of mine, who is an artist, takes care of all the decoration, we give him the freedom to design what he wants."
The kitchen team consists of 4 chefs, all between 20 and 25 years old and recently graduated from the School of Hospitality of Girona. "I have a professional team, I know that even if I am not there, the team will work well." The menu is dominated by local products, fresh and seasonal. "It's a kitchen of a lifetime, but with a creative, fun touch, we like to give it a spin" says chef Juan Rodriguez Navarro.
For Juan, as a chef, the most important thing is, that from the moment the guests enter until the moment that they leave, their experience is perfect. "I want the guests to enjoy, be calm, relaxed  and have a good time."
At first, when starting this project, Joan started to research professional kitchen equipment manufacturers and came across Electrolux Professional. Ginés Guillé, the Electrolux Professional distributor, was in charge of equipping the restaurant. Ginés is the owner of PEC (Professional Equipment consulting S.L.), a company founded 7 years ago.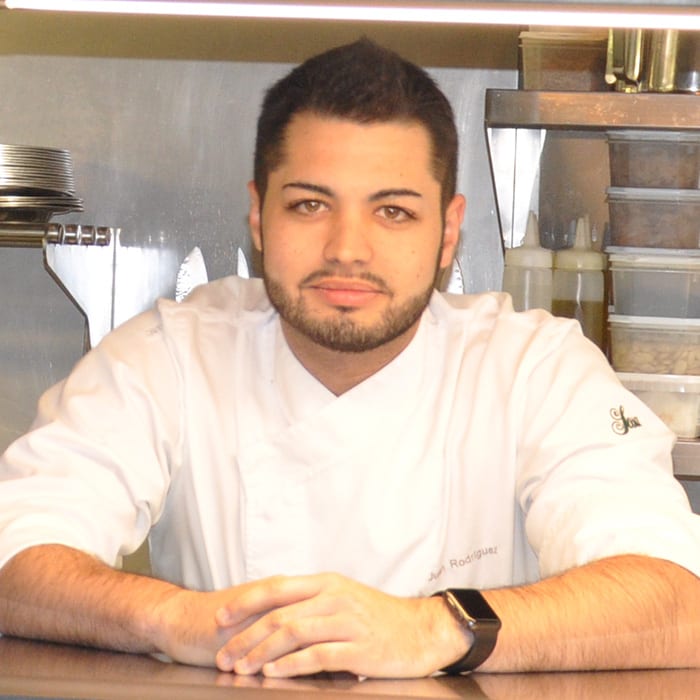 "Why Electrolux Professional?"
Joan Borrel – Owner and Chef
"We are very grateful for the amount of guests we have, the location is unbeatable and we are lucky that some guests have accompanied us since the beginning. The challenge is to manage our offer without losing the personality we want to give to the location and its cuisine. In the long term, 5/10 years from now, we would like Llevataps to continue to develop on its own and be known for having the best products in the area. I think we are already moving towards that."
List of installed equipment:
Llevataps
2019-07-25T09:57:14+02:00