La Laverie Verte, an innovative concept of Eco-responsible laundry
Head to Nancy to discover the Laverie Verte, an eco-responsible laundrette that offers the latest generation washing and drying solutions. A concept that allows its owner, Rodrigue Robert, to differentiate himself and make his establishment more respectful of the environment.
What are the green solutions used in this laundromat to make it eco-responsible? Why this magnificent laundromat came 3rd in the MyLaverieAward 2022 competition, the competition for the most beautiful laundrette in France equipped with Electrolux Professional equipment. We tell you everything!
A green and eco-responsible laundry concept
Who hasn't heard that "all laundries are alike"? An idea that emerged over a few decades but is gradually evolving. Indeed, the new generation of laundrette owners are developing innovative concepts that allow them to stand out, attract new customers and also become ever more responsible.
Rodrigue Robert is one of the engaged laundrette owners. Its Laverie Verte integrates innovative solutions allowing it to be ever more respectful of the environment and to differentiate itself with its customers thanks to:
– The use of green and renewable energy. Electricity used for machines, lights, etc. comes from green and renewable energy.
– The installation of washers and dryers consuming less electricity, water and detergents. Laverie Verte incorporates the latest generation Electrolux Professional Line 6000 washing equipment, which have been developed for laundries and which are low in energy consumption.
– Automatic injection of environmentally friendly detergents. The laundry uses environmentally friendly detergents made from high quality raw materials with a low impact on the environment.
– Natural disinfection. The complete disinfection of the premises is carried out thanks to a powerful natural disinfectant.
Innovative equipment for an eco-responsible laundry
In a laundromat, washing and drying equipment represents the majority of water and electricity consumption. It is therefore necessary to equip it with innovative equipment developed to consume as little energy as possible. The savings made are good for the environment as well as for the pocketbooks of laundromat owners.
The equipment used in La Laverie Verte comes from the Line 6000 Electrolux Professional range. It incorporates innovative technologies to consume less such as:
An accurate linen weighing system to generate water savings
Precise dosage of the detergent according to the laundry load
A "super spin" system to optimize drying times and save energy
Dryers equipped with a heat pump to reduce energy consumption by up to 60%
"Why Electrolux Professional?"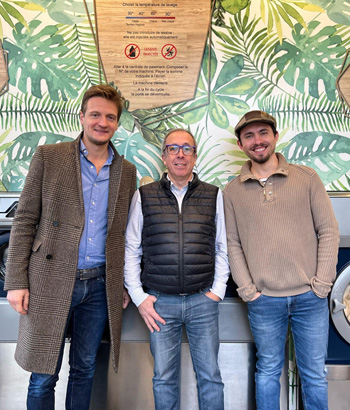 "My laundrette is green thanks to the choice of Electrolux Professional equipment, with low electrical energy and water consumption. I am happy with the Electrolux Professional equipment for its robustness, elegance and low energy consumption," explains Rodrigue Robert, owner of La Laverie Verte.
"In this laundrette, among other things, I provided advice on the choice of machines. I like Electrolux Professional equipment because it is above all a premium brand, and my primary function is to make Premium laundries. Consumption is the most interesting in the entire laundry market," explains Christian Clair, Founder of Lux Laverie and Gold Laverie.
List of installed equipment:
La Laverie Verte laundrette
2023-07-21T08:06:09+02:00