Chef icon with Austrian roots In less than six months, a top-class restaurant concept was created at Vienna Airport.
The company SSP Austria, which specializes in catering for travellers, implemented on the land side of VIE (Internationales abbreviation of Vienna International Airport) the kitchen and bar line of star chef Wolfgang Puck.
Since April 2022, a twenty-strong cooking and service team has been serving guests from all over the world. Around 1,500 snacks and à la carte dishes are prepared and served daily in the area, which is mainly equipped with professional kitchen appliances from Electrolux Professional. From 5 a.m. to 10 p.m., 7 days a week, 52 weeks a year!
Gastronomy concept of an international chef icon with Austrian roots Vienna has one more attraction: a new gastro location was opened at the city's airport in spring 2022, for which none other than Wolfgang Puck, who was born in Carinthia and cooks for Californian celebrities in the USA, was the godfather. After the 700 m² area in the arrivals area of Terminal 3 became vacant a year earlier, the airport's long-standing catering partner, SSP, was awarded the contract for the "Wolfgang Puck Kitchen & Bar" restaurant.
According to the plans of SSP Austria, the new location, which includes an à la carte restaurant, a bar and a "Grab & Go" area in the star chef's branding, was realized with canteen kitchen technology from Electrolux Professional. The professional devices have already proven their longevity, efficiency, functionality and reliability in continuous use in many SSP projects.
"Why Electrolux Professional?"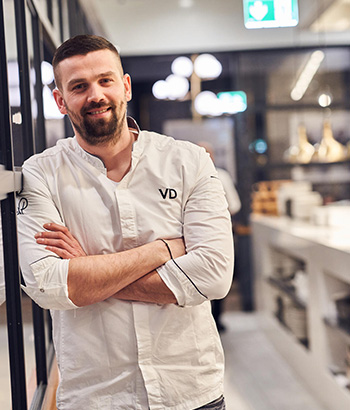 "The project consistently implements the concept of an optimal workflow. The planning of the Wolfgang Puck Kitchen & Bar in Terminal 3 took into account the processes in all work areas and we have precisely matched the kitchen systems to them. As a result, the walking distances of the staff are short, the open kitchen is highly organized and creates a good customer experience for the guest, regardless of the length of stay," reports Mohsen Haddad, Project Manager at Electrolux Professional, who accompanied the project from planning to handover .
Wolfgang Puck Kitchen & Bar
2023-07-19T10:18:19+02:00