At Fornet on the Amsterdam Zuidas, 135 m² is dedicated to sustainable textile maintenance.
The wet & dry cleaning franchise with more than 1,600 shops worldwide, especially in Asia, has been around for 25 years and offers a clean solution for textiles at home and at work.
In this first Dutch shop in the financial district, you can benefit from dry cleaning, clothing and shoe repairs and also the much-requested sneaker cleaning.
"We are very proud of our quality," says Leon Wennekes, CEO of Fornet International, "and guarantee 99.7% successful stain removal. The clothing is always returned fully cleaned 48 hours later, every day of the week."
Worldwide, the concept is based on traditional dry cleaning but also on wet cleaning with Lagoon Advanced Care solutions from Electrolux Professional. As a result, Fornet has built up unique expertise in the field of textile cleaning. This expertise gives the company access to important insights related to sustainability.
Léon clarifies: "our analysis show that washing at Fornet is up to 3 times more environmentally friendly than washing at home."
Further studies showed the following:
– Water consumption is 48% lower than household washing
– 90% of the microplastics from polyester clothing are filtered away
– 30% less CO2 emissions thanks to efficient washing processes.
– Clothes last much longer thanks to mild cleaning, stain removal and repair
Knowing that the entire shop runs on electrical equipment in the absence of a gas supply is a real achievement.
The Dutch branch even goes the extra mile in terms of sustainability. For several months now, an e-bike has been collecting dirty laundry and bringing it back to your home, freshly washed. Furthermore, the laundry only uses biodegradable detergent and packaging and both clothes hangers and discarded clothing are recycled or upcycled in collaboration with a third party.
"Why Electrolux Professional?"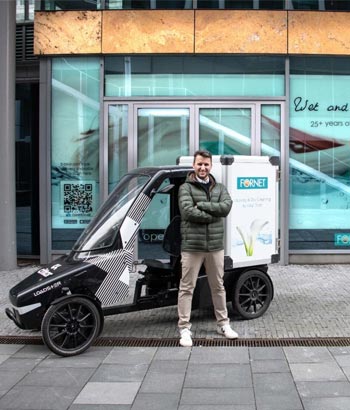 "Electrolux Professional's energy-efficient and efficient equipment is an important component of our corporate values, which focus on trust, creating value and aiming ever higher. With our service, we give our customers more free time and contribute to the environment. This is really a win-win situation," says Leon.
"We would like to further expand the concept internationally, through our own European shops or with franchises. We are also interested in collaborating on the circular economy with companies from the fashion industry."
Fornet, Wet & Dry Cleaning
2023-11-07T18:09:36+02:00