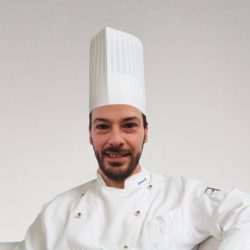 Ingredients
Ingredients for 3 people
1 piece of ginger
1-2 red hot chili peppers (without seeds)
1-2 lemongrass stems (remove the outer layer)
1 peeled garlic clove
Fresh coriander
200ml vegetable oil
1 teaspoon coriander seeds
A pinch of turmeric
500ml vegetable broth
1 package of Chinese rice noodles
1 can of coconut milk
5 medium shrimp
Thai fish sauce or soy sauce
1 lime
Salt
Preparation
Mix ginger, chili pepper, garlic, and coriander in the TRK cutter, adding a little bit of oil (if it is too dry). Brown over medium heat in a casserole for a few minutes to release the aromas. Grind the coriander seeds and add in the pesto with turmeric and vegetable broth, simmer for few minutes. Pour the hot water on spaghetti, let it rest for some time and then drain. Pour the coconut milk in the broth and let it simmer for few minutes, add salt and/or fish sauce.
After cleaning and marinating the shrimp with lime sauce and a sprinkle of soy sauce, thread them on a tandoori grill skewer.
Heat the Easy Steam Plus oven at 250°C and 40% steam and cook the shrimp for 6 minutes. Serve spaghetti in a bowl, pour the hot broth, and decorate with coriander leaves, lime and shrimp.
Thai Soup with Shrimp
2017-07-04T15:37:35+02:00