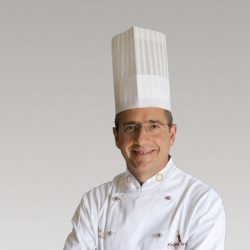 Ingredients and quantities
800 g Codfish, soaked
400 g Yellow-fleshed potatoes
200 g Cherry tomatoes
250 g Lampascioni
30 g Red onions
70 cl Dry white wine
80 g Pecorino cheese
100 g Taggiasca olives
Bread crumbs
Extra-virgin olive oil, white vinegar
Salt, pepper
Preparation
Clean the lampascioni, remove the skins and slightly cut the bulb, place them in a vacuum bag, toss with a little olive oil, salt, pepper and a tablespoon of white vinegar, cook at 90 °C for 40'.
Place a little oil in a saucepan, sprinkle with chopped onions and part of the cherry tomatoes cut into wedges; then place a layer of thinly sliced potatoes alternating them with pieces of cod.
Top with the remaining tomatoes, olives, wine, add salt (a little) and pepper, drizzle with oil and place in the oven for the first stage of cooking.
At the end, add the vacuum-cooked lampascioni, sprinkle the surface with the bread crumbs mixed with pecorino cheese and bake again for 15 more minutes, in order to form a nice crust.
Serve the codfish with its tasty sauce, sprinkle with olive oil and freshly ground pepper.
Notes
"Lampascioni" are tassel hyacinths, a herbaceous plant whose edible bulb is similar to a small onion, tunicate, and reddish in colour, with a slightly bitter taste.
Lampascioni are rich in water, soluble fibres (the type that swells in the stomach inducing a greater sense of satiety), minerals, and vitamins and have been known since ancient times for their purifying, diuretic, and laxative properties. Moreover, they are absolutely low in calories; in fact, 100 grams of lampascioni only have 30 calories.
They can be eaten raw in salads or cooked, boiled, or roasted, to accompany fish or meat based dishes. They are also excellent preserved in oil and vinegar.
This product is popular in some regions of Southern Italy (in particular Basilicata and Puglia); for a few years they have appeared more and more frequently in local farmer's markets in the rest of the country and on the shelves of mass retailers, as a testimony to their growing reputation.
Give a look at these ideas, you may like them:
Baked Codfish with potatoes and "lampascioni"
2016-11-11T13:50:58+02:00