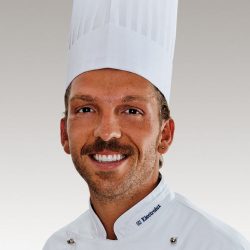 Ingredients:
100 gr pre-cooked potato
50 gr pre-cooked red beetroot
1 table spoon all purpose flour
1 tea spoon EVO oil
¼ masala mix powder
120 gr fresh double cream
70 gr red snapper filet (with skin)
Fine salt
Black pepper
Fresh chive
Preparation:
1. Dice some fresh chive and let it infuse on a small bowl with some EVO oil
2. In another container spread some masala mix in both sides of the red snapper fillet, letting infuse the flavor intensively
3. Boil separately the potatoes and the red beetroots (with the skin on, until soft), then smash them and let them cold down in a bowl (together)
4. Mix both together adding bit by bit the all-purpose flour, some salt and a pinch of pepper
5. Roll the dough to achieve some thin cylinders (1,5 cm round) then cut them in little cubes (forming the typical shape of gnocchi)
6. Let some salted water boil into a pot and prepare the gnocchi to be cooked
7. In a hot non-stick frying pan spread a bit of EVO oil and let stir the red snapper fillet 30 seconds per side (the skin has to be really nice, crunchy & colorful)
8. Put on side for a bit your fish fillet and, in the same pan, heat-up some double cream, adding a pinch of salt and some masala mix (it will become nicely creamy and with a lot of flavor)
9. Boil the gnocchi (the time is always different –but you can easily understand when they are ready because the will come-up from the bottom of the pot –between 1 and 1.5 minutes)
10. Soak the gnocchi and put them to stir on the pan with the hot double cream.
11. Serve them on a hot plate, then display your fillet on top and add some drops of the flavored diced chive EVO oil.
Enjoy!
Give a look at these ideas, you may like them:
Red beetroots & organic potato gnocchi
2016-11-11T07:49:13+02:00