During this time of lockdowns and social distancing, service technicians are still able to provide remote support to customers thanks to a tried and tested augmented reality tool that Professional is speedily making more widely available.
The technology has been developed by third-party company, with input from Professional's Service team in Sweden and our Star Technicians, to customize features and enhance ease of use.
"We were ready to expand its use in Europe but given the current situation, where technicians are unable to visit sites in person, we have ramped up training and doubled the number of licenses over the next few crucial months to serve our customers," explains Magnus Sävenäs, Group VP Customer Care & Quality.
The principle is simple, with technician and customer sharing the same view on their screens – smartphones and tablets. Yet the magic really happens in virtual reality mode, when the technician is able to provide guidance and support literally by hand
Thanks to the AR technology, with their hand behind the screen, technicians can virtually reach and point, allowing to remotely teach how to perform maintenance or repairs on components, for instance.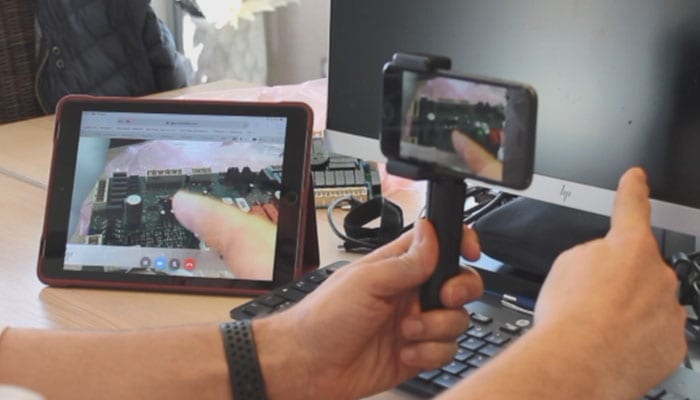 The tool has been so far used successfully to provide service for multi-housing laundries and remote areas in northern Sweden. Further use of the technology has been in UK prisons, where clearance for a technician visit would have demanded time and planning.
"It allows us to provide a more instant response and ultimately more efficient and cost-effective service to customer" Sävenäs add. "We can also start the clock and evaluate the 'virtual visit' in terms of the amount time spent and invoice for the service provided."
Introductory trainings have already been rolled out – and an e-learning webinar has recently been made available to the Electrolux Professional Customer Care Training Academy to all service teams worldwide, along with 50 other online training sessions that are dedicated to Professional's service offering.
"The willingness and flexibility of the service teams in the countries has been impressive and they have really been supportive in turning a challenge into opportunity and drive this step-change in the way we digitalize the delivery of service in the future" comments Sävenäs. "I would like to thank the central and local teams for working intensely to make the step-change happen." concludes Sävenäs.
Staying close to customers with augmented reality service
2020-04-28T17:47:27+02:00