In the realm of culinary endeavors, time often stands as a non-negotiable factor. Whether you're working in a fast-paced commercial kitchen or in the bustling rhythm of a quick-service restaurant, the speed of operations plays an indispensable role in determining success. In these contexts, the fusion of speed and efficiency becomes a paramount formula for success. It is precisely here that the High Speed Oven steps in as a transformative solution, capable of elevating productivity and refining operational blockers. This exposition delves into the quintessential attributes that define the High Speed Oven experience, unraveling five distinctive reasons why embracing this culinary ally can dramatically enhance your business.
Let us have a look at 5 of the main reasons why you should opt for a High Speed Oven.
1. Efficiency: Time saved and quality preserved
At the heart of the high-speed oven's potential resides its remarkable time-saving potential. This culinary marvel is adept at combining the perfect amounts of heat and speed, resulting in impeccably cooked dishes at a fraction of the conventional time. The accelerated pace equips chefs and operators to plan a broader array of tasty offerings within a limited timeframe, thereby increasing both efficiency and productivity. Crucially, this temporal efficiency is achieved without sacrificing quality and taste of the dishes prepared. This is an invaluable feature of the High Speed Oven, particularly within the dynamic ambience of bustling restaurants, cafes, and catering enterprises where every moment is precious.
2. Versatility: A wide array of cooking options
High Speed Ovens, with their multifarious capabilities, prove to be versatile appliances in culinary landscape. You can now prepare from pizzas and pastries to meats and vegetables. Electrolux Professional's High Speed Oven is equipped with a variety of cooking modes, which include microwave, convection and impingement and combination modes, providing chefs with an array of cooking options. This versatility enables operators to experiment with new recipes and techniques, creating exciting new dishes that will impress customers.
3. Energy-efficiency: Pioneering sustainability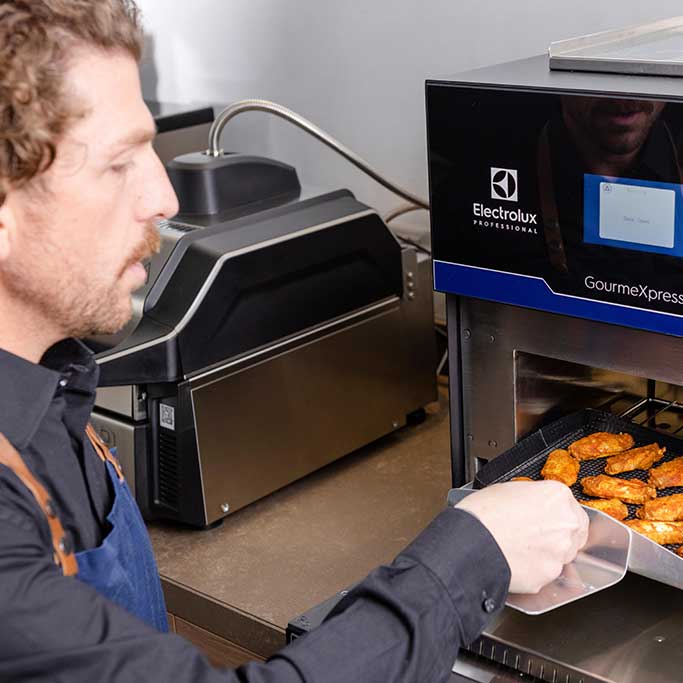 In a time when the pursuit of sustainability is paramount, the Electrolux Professional High Speed Oven is designed with sustainability in mind. It is very energy-efficient, meaning lower energy costs for the business, which can add up to significant savings over time. Moreover, the oven's fast cooking time means that it spends less time heating up, thus further reducing the energy costs for your business.
4. User-Focused Design: Intuitive and Seamless Maintenance
The Electrolux Professional High Speed Oven is all about making things easy for your staff. It's built to be simple for chefs and operators to use and keep in great shape. The controls are straightforward – they help you pick the right cooking program, change the temperature and time, and keep an eye on how things are cooking. Plus, when it's time to tidy up, this oven does an incredible job at facilitating your and your staff's lives. It's designed in a way that makes cleaning super simple and handy, which saves your hardworking staff lots of time and energy.
5. Compatibility with GourmeXpress and SpeeDelight
Adding to the appeal of the Electrolux Professional high-speed oven is its perfect compatibility with its culinary counterparts – GourmeXpress and SpeeDelight. When you acquire both of these awesome solutions, you're opening up a whole world of delicious possibilities! GourmeXpress makes everything smoother and helps your menu grow bigger, setting you up for success and extra profits. It's like a wizard in the kitchen – cooking up all sorts of tasty dishes. And then there's SpeeDelight, the ultimate kitchen buddy for making paninis, sandwiches, toasts, pizza and more – it is seriously the best. When you put these two together, chefs can whip up a never-ending lineup of dishes that will blow your customers' minds!
If you're on the hunt for appliances that can do it all – versatile, efficient, and super user-friendly – then you've hit the jackpot with Electrolux Professional high speed solutions. These appliances are just what you need to kick your productivity and creativity up a notch. By teaming up with both GourmeXpress and SpeeDelight, your business will level up in terms of functionality and productivity. And guess what? Your operators will have a bunch of new menu options to play with, ones that will totally wow your customers and leave a lasting impression.
5 reasons to choose a High Speed Oven
2023-10-31T12:00:45+02:00