A new kitchen in the historic location of this one Michelin star restaurant
End 2022, Bar Bulot opened in a new location: the historic farm of Hertog Jan in Zedelgem near Bruges. Owners Joachim Boudens, Managing Director, and Gert De Mangeleer, Chef, chose for the preparation of their French-Flemish cuisine, an open kitchen of Electrolux Professional, in the same refined style as their dishes.
Together with partner Servito, Electrolux Professional managed to convince these entrepreneurs of a future successful collaboration.
"Electrolux Professional and Servito listened to what our needs were and translated them perfectly into a neatly detailed plan. We greatly appreciated their expertise and professionalism. A visit to their prestige project Ecole Ducasse in Paris, a 5000m² cooking school fully equipped with Electrolux Professional equipment, won us over," says Joachim Boudens.
The kitchen perfectly meets the requirements of the duo and their team:  the use of durable and easy to maintain materials.
Central to the kitchen is the thermaline stove of 8m² with a Swiss finish for a sleek kitchen. The 2 SkyLine Combi Ovens complete the picture.
Chef Destin Cannaert was very impressed with the programming options: "The menu allows me to create my own recipe booklet for fast and accurate service and controlled results. Cleaning is also super fast with the SkyClean function, a fully automatic cleaning program."
The Bar Bulot team is very enthusiastic about the collaboration.
Chef and co-owner Gert De Mangeleer clarifies a few hours before the opening: "The collaboration with Electrolux Professional and Servito went very smoothly. The kitchen was delivered a week before opening, which is truly unique in our sector. My team and I also had the opportunity to prepare well. We are ready!"
"Why Electrolux Professional?"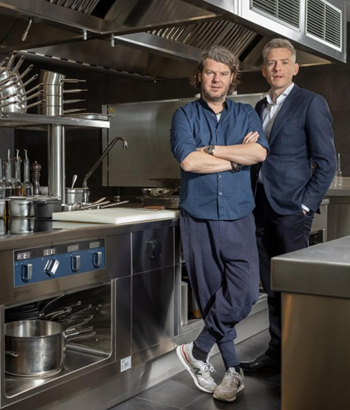 "In the realm of success, an international profile and experience with international projects lay the foundation for greatness. Like sturdy materials and easy-to-clean equipment, they ensure the quality that stands the test of time. A good understanding of the needs, coupled with seamless cooperation with our partners, creates a symphony of satisfaction. And just as timely delivery is the heartbeat of reliability, we orchestrate excellence at every step." Joachim Boudens, Managing Director Hertog Jan Restaurant Group
Bar Bulot by Hertog Jan Restaurant Group
2023-06-06T17:44:12+02:00