Electrolux Professional helps make students feel at home
The English Centre is a private, secular and mixed school founded by the Randell family in 1969 and located in El Puerto de Santa María. Since its opening, its motto has been 'Lifelong love of learning', a motto that has been maintained in the hearts of the ECI community. The same goes for the values (Responsibility and Integrity) and the ethical principles of the institution.
The Center is committed to Educational Projects in the 21st century that stimulate creativity, initiative, student development and critical thinking.
The most important thing for Mr. David J. Randell, as owner, is to form happy students, who are confident, with knowledge and skills for an international environment, students committed to the environment. "This also implies encouraging a healthy lifestyle among the students based on a balanced diet. For this, we rely on the kitchen in the facilities and a committed and dedicated team. We want our students to feel at home."
The Center's vision is to be a benchmark in the national and international education sector. Achieve the maximum satisfaction of families and students through an optimal and complete curriculum, a personalized methodology and a demanding, committed, continuously developing and publicly recognized staff. Based on continuous improvement and innovation in a collaborative environment, students will reach the maximum development of their abilities with excellent academic results.
When asked why they chose Electrolux Professional, David J. Randell answered that it is because of their professionalism and the confidence that the kitchen equipment gives to our staff.
For this reason, Electrolux Professional qualified as their first choice when it comes to equipping their kitchen. "Since they have equipment that is ideal for high productivity and the quality of the cooking of fresh products, a very important factor to take into account in our day to day activities."
The Electrolux solution they like the most is the tilting braising pan. "It is a product with different functionalities and it makes the tasks much easier. We can cook, roast and sauté food. Thanks to the tilting feature, it facilitates the extraction of the cooked product."
Another product that brings a lot of profit is the boiling pan, to cook and to boil.
"One aspect that really catches our attention is that it works as a bain-marie, cooking the products without burning or wasting food. For many diners, it is essential to have a large amount of ready-to-eat food available in a short time. "
The school menu consists of a main course (soup, pasta, vegetables) and a second course (meat, fish …). Salad, bread and fruit are served every day.
The new facilities have a dining room on two levels, clearly divided for students and teachers to use and enjoy together. Parents also have access to observe the functioning and evolution of their children in their diet.
"The dining room has a capacity for 900 guests, where we want and must provide guarantees and Electrolux covers our needs."
The work of the kitchen staff is based on cooperation. It is a team where everyone supports each other to carry out the various daily tasks. They use a rotation system so that all team members feel involved and acquire knowledge of all tasks to be developed.
"Coordinating the work so that it fits the needs of everyone, and first of all the children. Paying special attention to detail when cooking, serving and cleaning. Noting us as a key factor to make a difference, innovative and creative."
When we asked David J. Randell why he chose Electrolux Professional to equip the kitchen, he replied that it was because Electrolux offers an exclusive cooking solution for large quantities. "It is very modern and very intuitive equipment. We believe that one of its main characteristics is the quality and reliability that it demonstrates at the time of cooking. The material is high quality and guarantees confidence."
After several days using the appliances, they ascertained that the cleaning is not very complicated and as a team, dividing the tasks, they get their equipment as good as new each time, ready for another exciting day of cooking.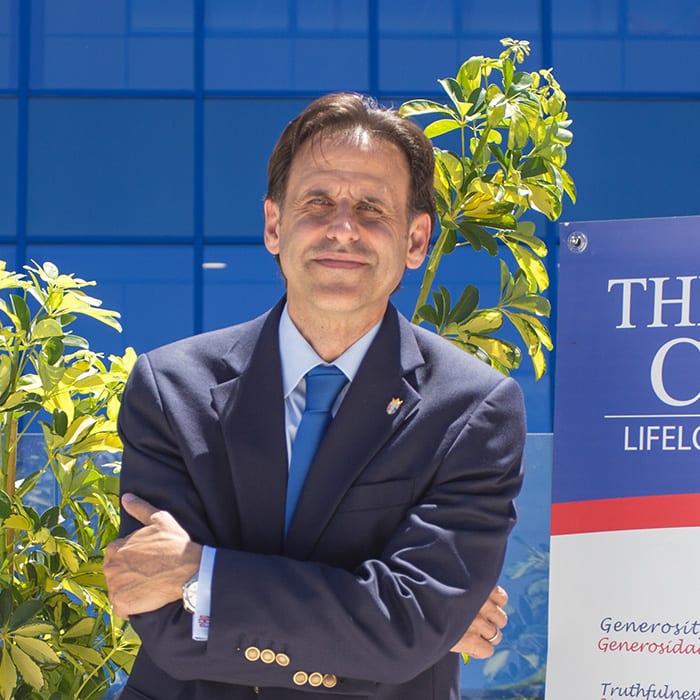 "Why Electrolux Professional?"
David J. Randell – owner
"Electrolux meets the real needs of our dining facility. With a high productivity kitchen as ours, a reliable solution is required. We look for efficiency and precision. Because the appliances are very intuitive and user-friendly, they bring a lot of confidence to the catering team."
"Electrolux Professional for me is an energy saver, easy to use and intuitive, totally recommended for all types of kitchens. Additionally, trust and quality material also provide speed in cooking. Electrolux Professional is clearly a highly recommended and reliable brand in our sector."
List of installed equipment:
El Centro Inglés
2019-08-21T15:34:21+02:00