Not only nourishing the body, but also the soul
It is often said that we are what we eat. No saying is more applicable than this. The masters of the natural, ayurvedic, vegetarian and vegan cuisine of the Accademia Cucina dell'Anima (cooking for the soul) are well aware of this. A project by the non-profit association Centro Studi Bhaktivedanta (Ponsacco, Pisa) led by maestro Marco Ferrini, chef for over forty years.
Among the Academy's teachers is Pietro Leemann, the first vegetarian chef who has been awarded a Michelin star in 1996 at the helm of his restaurant, Joia in Milan.
His vision is a new philosophy of seeing culinary art: food should not be simply cooked but respected and to do so, specific tools should be chosen. For his tailor-made masterpiece, Chef Leemann selected Electrolux Professional's thermaline M2M, a solution he defined as "phenomenal".
The innovative ceiling hood (patented) has also been installed in the tailor-made area: the particular configuration of the intake filters make this system highly efficient, powerful and incredibly quiet, with low energy consumption.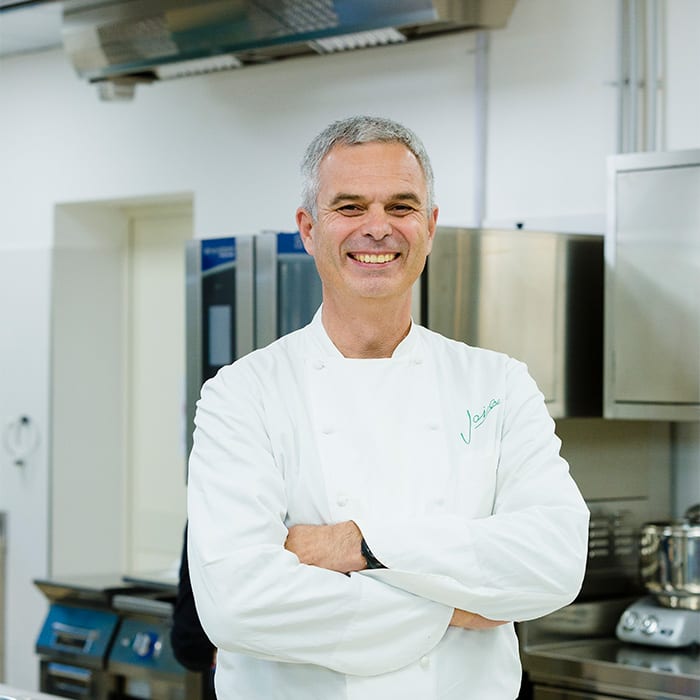 "Why Electrolux Professional?"
Pietro Leemann – Chef
"In my kitchen, I prepare the ingredients in a very simple and transparent way. To be able to do this, I need very efficient equipment that does not alter the nutritional properties."
List of installed equipment:
Cucina per l'Anima
2019-07-17T10:35:40+02:00