With the Red Dot Award motto 2022 "Winning is the beginning" the innovations LiberoPro and TrinityPro from Electrolux Professional scores the Red Dot Award 2022 for product design. The award is the most globally recognized mark for industrial design quality.
The TrinityPro tabletop slicer-cutter-mixer and the LiberoPro plug and play cooking solution can proudly boast the prestigious design award label. This is the first time Electrolux Professional has scooped more than one Red Dot Award in the same year. The global mark of distinction is handed out by an international jury that evaluates design and innovation prowess from thousands of products yearly submitted.
Electrolux Professional has maintained its strong track record of winning submissions for the prestigious Red Dot Design Award, the international competition aimed at all those who would like to distinguish their business through excellent design.
"This award is a tangible proof that both the LiberoPro and the TrinityPro has materialised into relevant and unique products for daily multiple and flexible food preparation tasks", says Michele Cadamuro, Head of Innovation and design at Electrolux Professional. "In addition, it is exciting that two Electrolux Professional solutions have been Red Dot awarded in this internationally recognized mark of design excellence."
LiberoPro – professional plug & play modular cooking range
The sleek lines, neutral and minimal design of this mobile cooking solution makes the LiberoPro appealing for front-of-house cooking, even in fine-dining environments. Chefs can customize and organize the counter to make it ergonomically work for them, such as a side shelf, kitchen towel holder and a high-capacity neutral drawer.
TrinityPro – Vegetable Slicer, Cutter Mixer and Combined Cutter-Slicer
This compact all-in-one product was truly designed with the user at heart and the first dynamic preparation solution from Electrolux Professional to have gained a 4-star Ergocert certification. The combination of design features, technical functionalities and usability is what makes the TrinityPro unique – so much so it has been selected to be on display at the Red Dot Museum in Essen, Germany.
The Red Dot Award
The distinction "Red Dot" has become established internationally as one of the most sought-after seals of quality for good design. The Red Dot Awards is considered one of the most respected and coveted international design awards, having been recognizing world-leading products with outstanding design for over 60 years in recent years, Professional has won Red Dot Awards for the SkyLine Cook&Chill range, green&clean Rack Type dishwasher and the thermaline M2M modular cooking solution.
Media contact Jacob Broberg, Senior Vice President Investor Relations and Communications +46 70 190 00 33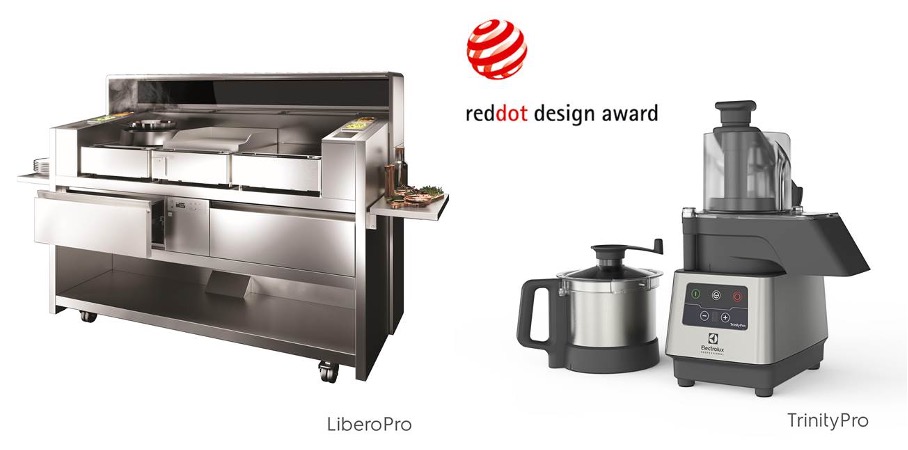 LiberoPro and TrinityPro from Electrolux Professional wins Red Dot design award 2022
2022-05-19T09:31:23+00:00