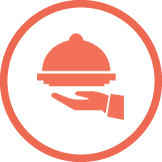 "Electrolux Professional has been very good to me and the equipment has been very good to my kitchen. I wouldn't hesitate to recommend the products to others in the industry."
Simon Hulstone
Chef Proprietor The Elephant – Michelin star Restaurant
Devon, United Kingdom
Running a restaurant can be a very tough task.
That's why you need a mate that helps you and never lets you down.
Electrolux Professional
Food solutions
By choosing them you will get exactly the flexibility, easiness and power you were looking for.
A kitchen that helps you excel

Created to be a true partner to top chefs, thermaline and Molteni from Electrolux Professional meet all the requirements of fine dining restaurants.
Every need catered to.

Whether you run chains and quick service restaurants, fine dining or full service restaurants, Electrolux Professional has the equipment that can solve even your thoughest challenges.
Our solutions for your business
Quick service restaurants
Discover what Electrolux can do for your business
The voice of our customers
IYO
"We choose Electrolux Professional because in terms of technology and functionality it is definetly a step forward. With thermaline, we are really good as it is a block that guarantees unmatched efficency and solidity".
Claudio Liu, Founder
Iyo – Michelin star Restaurant
Milan, Italy
Priceless Milano
"There are so many advantages in cooking that I would certainly recommend Electrolux solutions to my colleagues, not only in Italy but worldwide".
Christian Pircher
JRE chef from the Kirchsteiger Restaurant
Foiana
Tiergarten
"The decision for Electrolux Professional appliances was the result of a tender. Electrolux Professional was chosen thanks to the good support, the reliability of the products and the price / performance ratio".
Maikel Konrad
Head Chef at Restaurant Tiergarten
Solutions for restaurants
2016-05-13T13:56:38+00:00