The Rössli Albisrieden now shines in new, traditional splendor.
At first glance, the Rössli Albisrieden is a traditional inn, as you would hardly expect in the middle of the city of Zurich. But Albisrieden, even as a Zurich neighborhood, has retained at least a little of its village character – if only in terms of its townscape. And here, the time-honored house that is home to the Rössli Albisrieden fits in perfectly.
Over a period of two years, the owner renovated the bijou in close cooperation with the preservation office. Since April of this year, the inn now shines in new, traditional splendor. There are 60 seats in the two interior rooms, 48 in the pleasantly shaded garden. A matter close to the chef's heart is the seasonality and regionality of the products as well as the fresh, in-house preparation of all components. A challenge in the comparatively small kitchen and with a kitchen team of only three.
This makes it all the more important that the kitchen is perfectly organized and equipped. Electrolux Professional made sure of that during the renovation.
The age of the Rössli Albisrieden was particularly challenging. In addition to the bar, guests also get a glimpse of the kitchen through a window. The centerpiece here is the custom-built thermaline 90 M2M stove with a large work surface including a folding shelf and multifunction roaster. For maximum flexibility, the Rössli Albisrieden opted for a full-surface induction stove on which several pans can be placed side by side.
"What's more, the 20-centimeter-deep stovetop bars are particularly practical, so you can pull a pan onto them and pause," says chef Hamdi Ebibi.
In fact, he can't stop praising about everything: from the sink area with its hood-type dishwasher to the generously sized storage and work surfaces to the combi steamer and blast chiller/freezer,
"I've never worked in such a perfectly planned and designed kitchen," says Hamdi Ebibi. And Chris Eckstein also has nothing but good things to say: "Working with Electrolux Professional was super pleasant and went smoothly."
Of course, the team was also personally involved in the delivery, installation and introduction. Chef Helene Kunz is close to the daily cooking routine and knows what is important for professional chefs during the introduction, and head & chef Hamdi Ebibi confirms that this professional instruction has been enormously helpful.
"Why Electrolux Professional?"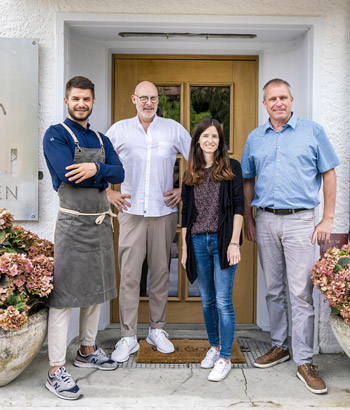 "After this experience I can recommend Electrolux Professional to anyone who wants a perfectly coordinated kitchen for eternity"
Chris Eckstein, Managing Director
Rössli Albisrieden Restaurant
2023-10-13T09:39:48+02:00