One of the main problems in a commercial kitchen is heat generation from the different equipment in operation. The working conditions in a busy kitchen can get unpleasant for workers and this ultimately harms the quality of their input.
How to reduce heat in a commercial kitchen?
Having an equipment that can be operated in a way that reduces heat can be of a huge help.
When things get busy easy to use and simplicity are key. The activation and control of your kitchen equipment need to be immediate and straightforward. A touch controlled system can assist you. The heating elements activates on contact with the dish or the plate. No need to manually turn on the equipment. Just place the dish and get ready to brown, cook or gratin.
One of the features you should look for when selecting a product is efficiency. In a busy kitchen every little process, if done in a smart way, can help.
A fast and flexible heating system can be a game changing move if you aim to reduce heat in your kitchen.
For example when you are browning, gratin or reheating one of your dish, you do not always need to have the entire salamander in operation. Having an option that allows you to turn on only half of the heating panel, if you need to, can be a smart way to save energy while containing heat dispersion.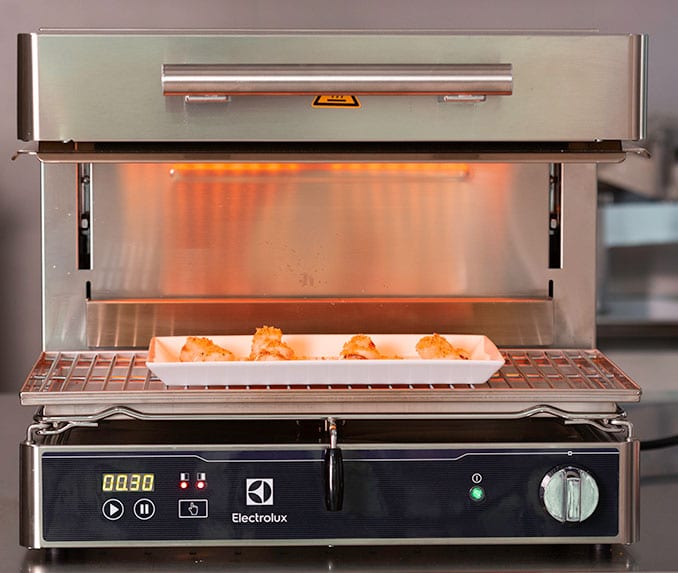 Features that guarantee precision and speed let you save energy costs, ensuring a more pleasant environment in the kitchen. Turn your salamander on, wait few seconds then starts the operation in the fastest and most energy efficient way possible. Smooth the preparation process and save money. Every little detail matters and even the simplest of features can assist you.
Setting the time intuitively with a user friendly control knob, let you proceed with your work while being mind-free from controlling what is going on with the salamander.
Switching on at need, together with simplicity of use and efficiency in your equipment can be your best allies in trying to reduce heat in your commercial kitchen. Save money on energy and reduce your stress with a pleasant, heat reduced environment in your commercial kitchen.
Save on energy costs and reduce heat with our salamanders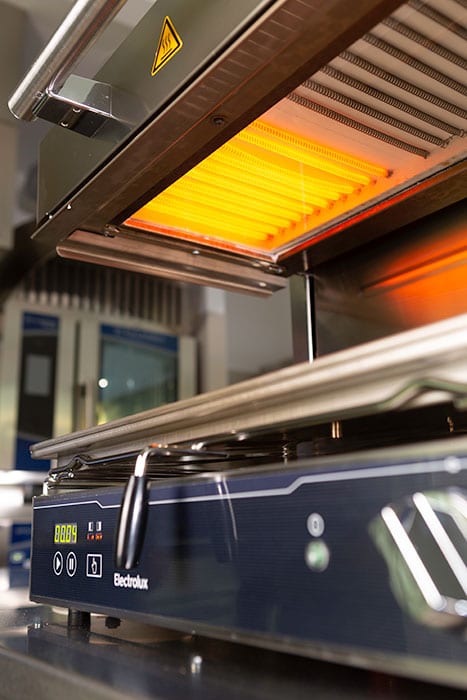 An efficient way to reduce heat in your kitchen while saving on energy costs
2018-12-13T11:53:15+02:00