The 13th of December at the Ariston Hotel in Carpaccio di Paestum, near Salerno, Italy, the famous 3 Michelin star chef Massimo Bottura was the protagonist of an exclusive lecture for In Cibum.
In Cibum is the Haute Ecole for culinary art for the south of Italy. It will open this spring in Pontecagnano Faiano, near Salerno.
Together with Massimo Bottura, Enzo Vizzari, a famous culinary reviewer and director of "Le Guide de L'Espresso", accompanied him in this unique educational day.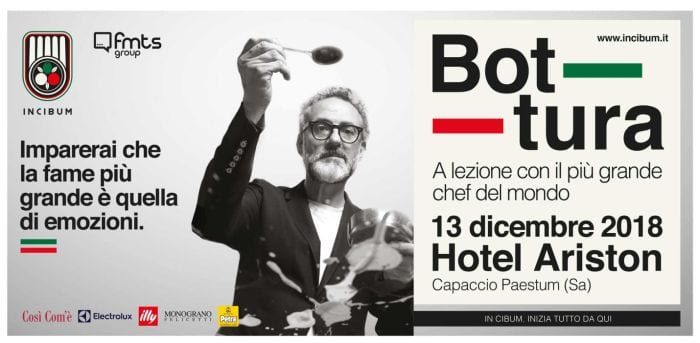 The chef held an important lectio magistralis and a show cooking on a beautiful Molteni by Electrolux, best-known as the Rolls-Royce of the culinary world.
Other starred chefs took part in the event. Cristian Torsiello and Giuseppe Iannotti (both awarded with a Michelin star), 2 young chefs with a distinctive and well-known identity, are now the representatives of  a new generation of professionals in the Italian cuisine at international level.
Have a look at our top class solutions
In Cibum: a lecture with Massimo Bottura
2018-12-11T10:50:32+02:00