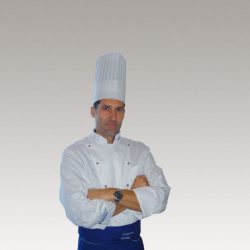 Ingredients and quantities
Ingredients
Goat meat
Olive oil
Salt and pepper
Fresh herbs
A few thin slices of speck
1 garlic clove
A sprig of sage, a sprig of rosemary
Mixed salad
Polenta
For the stuffing:
Artichokes
Ricotta cheese
Grated Parmigiano
Salt, pepper
Julienne sautéed shallot
Preparation
Debone the goat meat leaving the pulp in one piece; beat well between two layers of plastic wrap until you get a thin layer of uniform thickness. Drizzle with olive oil, salt, pepper, and fresh herbs.
In the meanwhile, prepare the stuffing with the artichokes (previously sautéed and coarsely chopped), ricotta cheese, grated Parmigiano, salt, pepper and julienne sautéed shallot. Roll the meat to form a classic tight roll, and then Hard positive blast chill for a few minutes.
Place a few thin slices of speck on a flat surface and slightly overlap them longitudinally, then lay the roll on top and completely wrap it with the speck. Further wrap the roll very tightly in a sheet of parchment paper.
Condition in a vacuum cooking bag along with a garlic clove, a sprig of sage and a sprig of rosemary, as well as a tablespoon of extra virgin olive oil.
Steam:
1) 90° for 15 min
2) 79° fore 2,5 hours
Blast chill, then cut into thick slices and cook on chrome fry top at 240° or in the oven on preheated Upan until golden brown on both sides. Serve with mixed salad and polenta.
Give a look at these ideas, you may like them:
Deboned goat meat with artichoke stuffing
2016-11-04T10:33:34+02:00