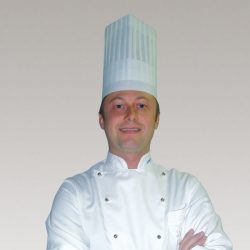 Ingredients and quantities
Ingredients for 10 people
Veal brisket 1,8 Kg
800 g grated Parmigiano cheese
4 Eggs
200 g Salami paste
100 g Mortadella
1 bunch of chopped parsley
200 g of bread crumbs
1 stalk of celery
1 carrot, 1 onion
Nutmeg to taste
Salt and pepper to taste
Preparation
Cut the meat with the tip of a knife to create a pocket.
Prepare the soft but compact stuffing with the seared bread and all the other ingredients.
Place the stuffing inside the meat pocket and sew with twine before placing it in the pot.
Open the meat with the tip of a pocket knife. Prepare the stuffing by scalding the breadcrumbs with a little broth, add the Parmigiano cheese, eggs, salami paste, mortadella, garlic, and parsley, all chopped. The stuffing should be compact enough to prevent it from breaking the meat while cooking and spilling out.
Sew up the meat with a thick needle and twine. Place in a 6 cm gn 1/1 with carrots, celery, and onion. Preheat the AOS at 120 °C, steam, add salt and pepper, insert the needle probe at 87 °C at the core. Positive blast chill, slice and regenerate on the plate before serving.
Notes
The name derives from the dialect "picaj" which is nothing but the twine that is used to sew the meat that has been cut so as to create a pocket in the veal brisket. The function of the picaj was also to be tied up to the handle of the pot, in order to recover the meat more easily once cooked and ready to be served.
Solutions used
Give a look at these ideas, you may like them:
Picaja: stuffed veal brisket
2016-11-02T15:16:43+02:00