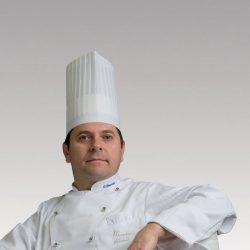 Ingredients and quantities
Ingredients
2 fresh monkfish fillets, 300 g. each
400 g fresh porcini mushrooms
500 g purple potatoes
150 rolled "pancetta steccata"
50 g fresh parsley
1 garlic clove
Salt and pepper and extra virgin olive oil to taste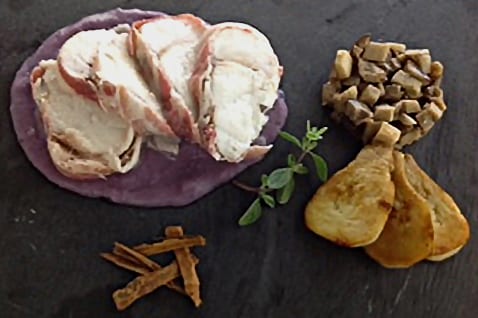 Preparation
Layer the thinly sliced pancetta on parchment paper, place the monkfish fillet on top and wrap it completely, do the same with the other fish fillet, insert the 2 fish fillets into a baking bag and vacuum at the maximum setting with the machine, steam the fish in the air-o-steam Touchline oven at low temperature, 71 °C in the baking chamber and 66 °C at the core, using the vacuum probe; then, blast chill with the air-o-chill, Soft cycle, for 40' and store in the refrigerator.
Peel the potatoes, cut them into 10×10 mm cubes and steam them in a regular pan with the air-o-steam oven at 100 °C for 18', mash them with a potato masher as soon as they are cooked, add salt and some boiling water, stir with a whisk and add some olive oil until you get a smooth cream, keep in water bath.
In a frying pan, sautée the whole garlic with a drizzle of olive oil, add the thinly sliced mushrooms, salt and pepper and when they are cooked add the chopped parsley.
Then remove the fish from the bag, place it on a U/PAN baking pan, regenerate it in the air-o-steam Touch Oven, Convection cooking cycle, 200 °C, 10% humidity, for 10', scallop the fish, serve with the mashed potatoes, the fish on top of the purée and near the crisp porcini.
Give a look at these ideas, you may like them:
Monkfish fillet with crispy porcini mushrooms and purple potatoes
2016-11-04T10:50:02+02:00