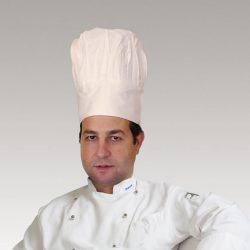 Ingredients
Ingredients for 10 people
For the caponata:
1000 g eggplants, diced
100 g fresh celery, cut into julienne
50 g white onions, minced
100 g fresh carrots, minced
200 g ripe tomato, diced
100 g pitted green olives, cut into julienne
20 g desalted capers
55 g unpeeled roasted almonds
100 g white wine vinegar
100 g caster sugar
5 g fresh basil leaves
5 g fresh mint leaves
100 g extra-virgin olive oil
30 g sea salt
2 g black pepper, freshly ground
2000 g fresh sardines, boned and flattened
150 g breadcrumbs
50 g raisins
10 g roasted pine nuts
10 g minced parsley
20 g lemon squeeze
20 g grated caciocavallo
10 g caster sugar
For the egg:
Boiled egg (3 of them)
100 g red wine vinegar
300 g red wine
For the finishing:
150 g sweet and sour reduction
50 g extra-virgin olive oil
5 g black pepper, freshly ground
Preparation
For the caponata: steam the eggplants in the oven for 5 minutes, as well as the celery, carrots and olives, keeping all of them separate, blast chill quickly and put aside. In a saucepan, caramelize the sugar, add the vinegar and let it reduce by 50%.
Sauté the onions with the oil in a skillet, add the olives, celery, capers, carrots, and eggplants, let everything brown over high heat for a few minutes, adjust to taste and add the sweet and sour sauce; when cooked, add the tomatoes and herbs.
When it is time to serve the dish, recondition in the oven in combined environment at 125° C with 25% humidity for about 8 minutes, then add the crushed almonds.
For the sardines: combine the ingredients in a bowl and mix them well.
On a work surface arrange the sardines with the open end up, place some of the mixture in the middle and the roll the sardines from head to tail up to create a roll with the tail up and "pierce the bone terminal of the tail".
Slightly oil the sardines and cook them in the oven at 165 °C in dry heat, with 10% humidity for 8 minutes, put aside.
For the egg: steam the egg for 15 minutes, peel it and marinate it for 48 hours in vinegar and wine, making sure to move the eggs after the first 12 hours of soaking.
For the dressage: with the help of a ring place some heated caponata in the middle of the plate, place one sardine on top and finish with a quarter egg cut longitudinally.
Complete the dish with the sweet and sour sauce and a little bit of oil.
Give a look at these ideas, you may like them:
Baronial Caponata with fried stuffed sardine and "drunk" egg
2016-11-01T15:30:07+02:00