Serve up summer flavors with Electrolux Professional's commercial soft serve ice cream machines. Easy to use and delivering a great ROI.
Make sure to get the most from summertime: add ice cream to your menu! No matter where your business is located, when temperatures rise everybody desires to cool down. Ice cream is the fresh, healthy, and always loved solution.
Don't limit your creativity. A soft serve ice cream machine allows you to offer a wide range of flavors and even tap into some of the latest ice cream trends, such as piling on different toppings, creating layers of ice cream flavors or serving them in Instagram-friendly cones.
You could even host an ice cream social, a themed event where customers can come and enjoy unique ice cream flavors with a party atmosphere and even games – it's not just for kids, adults love them too.
The benefits of a commercial soft serve ice cream machine
When it comes to deciding which ice creams to sell, you want to ensure you go for the option that provides the biggest return on investment. Choosing pre-packaged ice creams generally works out to be more expensive, reducing your profit margins.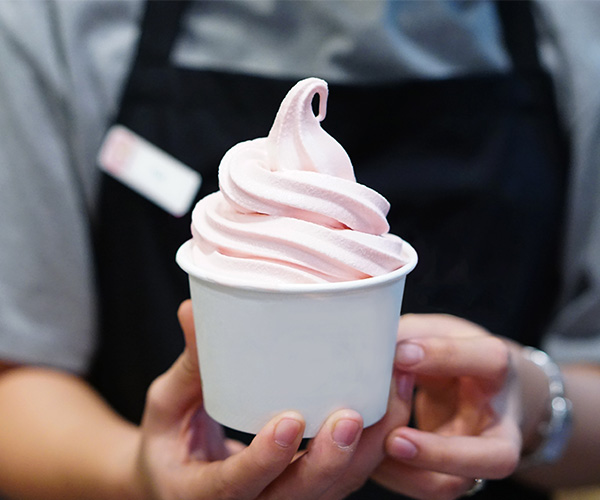 With a commercial soft serve ice cream machine, you can enrich your offer by choosing between ice cream or frozen yoghurt, adding new flavors, or perhaps mixing two or three flavors together. They can also lower costs significantly, compared to pre-package ice cream.
The most modern dispensers are compact and have been carefully designed to take up the minimal space possible. It means they can easily be brought out or placed back in storage for the following summer.
Pick your commercial soft serve ice cream machine
At Electrolux Professional, we have created a range of commercial soft serve ice cream machines to satisfy the needs of every type of business. Our range goes from larger to smaller machines, suitable for chains rather than local bars.
The Roma floor standing soft ice cream dispenser can serve up to 650 cones an hour with enough storage capacity to ensure you can keep up with demand on even the busiest day moments. But there are also smaller, more compact options that take up minimal space on a countertop and serve up 150 ice creams an hour.
All our machines in the range are available both with a gravity or pump feeding system. Gravity feeding provides a denser ice cream, similar to a traditional "gelato" and, moreover, it is easier to clean. The pump feeding system ensures you can achieve a higher overrun that maximizes profitability by incorporating more air into the frozen product and delivers a lighter, softer, and warmer texture.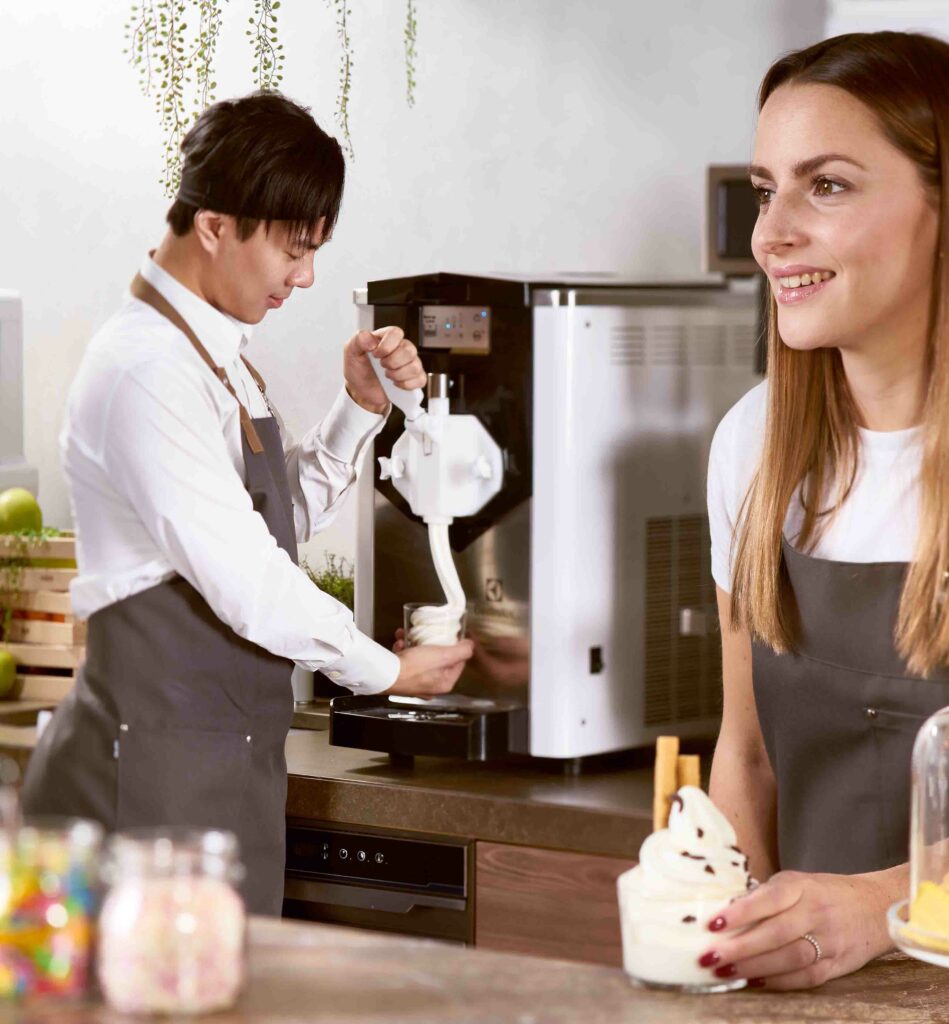 One more option is to pair two different machines: a big one for traditional flavors, and a small one for different dietary requirements, such as lactose-free, vegan, or fruit-based sorbets.
The more advanced commercial soft serve ice cream machines also come with a digital display for ease of use. Whether you opt for the countertop Capri or Portofino, or the floor standing Firenze or Roma, it's easy for staff to learn how to use them.
You can choose between single flavor dispensers or two-flavor options such as the Portofino or Roma models, which offer the chance to serve two flavors or twist them together for a creative third option.
Make it original with cones and toppings
Extras are among the most profitable options for your soft serve ice creams, and kids are the most attracted from colored, "pop" solutions. It makes ordering more exciting and introduces opportunities to upsell.
Think about introducing different types of cones beyond the usual wafer style and branch out into cake cones, waffle cones or chocolate-dipped options. These can all be priced higher and also create a great photo opportunity. Consider putting up signs that encourage customers to post their pictures to social media for the chance of winning a free ice cream. It all helps boost your profile online and supports your marketing activities.
Even the simplest wafer cone or ice cream tub can be given a little extra interest with a great topping. Consider lining up tempting toppings for customers to request. It is another way to tempt people to add an ice cream to their order and is much more appealing than packeted ice creams they can buy in stores.
Last but not least, ice cream bases can be purchased from specialized companies or prepared with handmade ingredients, to ensure every time the best quality and customization possible.
Final thoughts
Whether you're adding ice creams to your menu or simply considering investing in a commercial soft serve ice cream machine, so you can host events offering something a little different, it is a great business opportunity. In the summer months, customers are relaxed and looking to try something new, particularly in the hot seasons. All you have to do is choose the dispenser that best fits your price range and enjoy a great ROI.
Learn more about our commercial soft serve ice cream machines
Boost business with a soft serve ice cream machine
2022-08-10T09:09:15+02:00