Hygienic and durable, quartz food display solutions offer function without compromising on style.
With the right food displays, you can create a fantastic setting for buffets and events. Today's food servery counters are designed to look sleek and stylish while keeping food at the right temperature and offering the flexibility needed to suit different situations.
Here we explain some of the benefits associated with choosing quartz food servery counters to display your food.
1 – It's the most hygienic option
Keeping food service and kitchen areas clean and hygienic is fundamental for food businesses. Dining customers should feel safe in the knowledge that your kitchen and serving area are held to the highest hygiene standards.
Quartz is a durable material that is both hygienic and easy to clean, making less work for you. Its surfaces are non-porous, meaning that it doesn't harbor any bacteria or viruses because they cannot grow. It also maintains a stylish and modern aspect with a natural sheen without the need for glossing agents, sealants, or waxes. All it needs is a daily wipe-down to keep it in good condition.
Quartz doesn't stain or tarnish and can be easily cleaned without the need for detergent. It maintains its natural glow so doesn't need to be scrubbed or polished.
For our food servery counters we've combined this with clean lines and no annoying fasteners or hard-to-access gaps where food crumbs and grease would usually get stuck.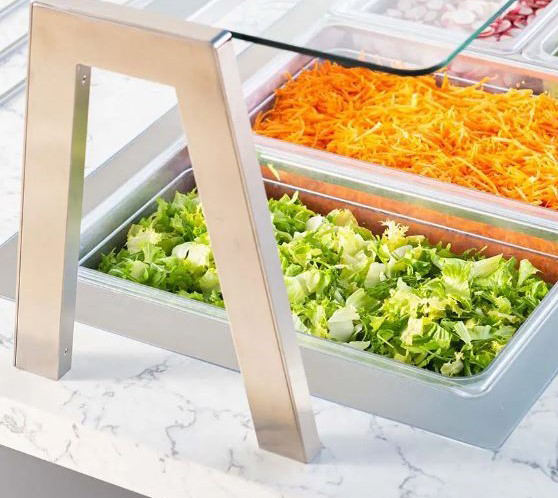 2 – A durable and sustainable option
Quartz is one of the most common minerals in the earth's crust. It's considered a low emission material and can also be recycled, therefore can be considered a more sustainable option. It's also very durable and resistant to wear and tear, making it an eco-friendly and cost-effective solution.
Electrolux Professional's Flexy Style line is the first-ever quartz-top solution with no pre-design time, meaning that everything is ready for you to order and go. You can choose between more than 30,000 combinations, making it a practical solution.
3 – An elegant aesthetic
As a high-quality, natural material, quartz adds a rich design element to food display options. Rather than the stainless-steel metals of traditional service areas, these displays are designed to complement elevated surrounds, whether a corporate event, wedding or simply the buffet area of a hotel or restaurant.
A polished look for any setting or event, quartz stone is available in myriad colors and offers a gleaming finish to catering servery counters.
4 – Long-lasting color
Natural materials make for the most durable and long-lasting products. A favorite choice for worktops due to its ability to hold its color and shine over many years, quartz has long been the preference in household kitchens.
Bringing the same level of style to your commercial space, quartz food servery counters are designed to remain polished and rich in color whether you opt for a lighter or darker color or opt for a design such as a natural marbled effect. With Electrolux Professional, you have 10 colors to choose from, all of the highest quality quartz.
Flexy Style: ideal materials, exquisite design
All of Electrolux Professional's food displays are designed with sustainability and cost-efficiency in mind. Each food display adheres to the highest standard energy-saving solutions while also providing efficient and practical solutions.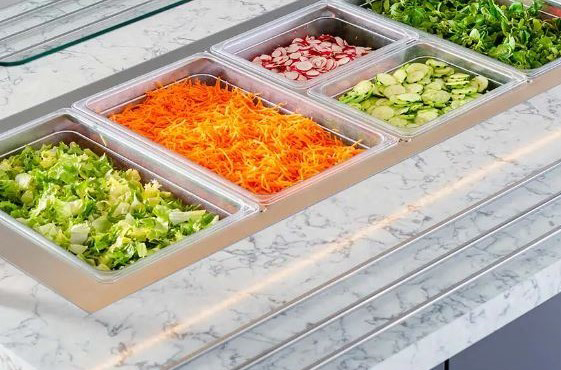 Energy-saving features of the Flexy Style line include its air-operated Bain Marie, which saves water and reduces operating and installation costs, and makes it easier to maintain. It also reduces energy consumption and warm-up time with instant heat in just 16 minutes. This feature saves up to 90 percent of energy during warm-up and 35 percent of energy during operation.
Along with decorative lighting options, minimalist design, and linear elements to avoid clips and interlocking elements that can be more difficult to clean, every part of the Flexy Style has been carefully developed.
Final thoughts
Food servery counters with a quartz top have been carefully designed to ensure they offer the maximum hygiene and flexibility while remaining an elegant solution. The food display can be customized to fit your space and reflect your business's ambiance with different heights, widths, and depths available, as well as different side panel colors, drop-in functions and finishes.
The displays cater to a variety of serving situations and can be used fixed or as a mobile option, for service or self-service. They can keep food such as salad bars cold and fresh, as well as keep the servery counter hot for a brasserie. If you are hosting an outdoor event, set them up al fresco, or use them indoors, fitting the units together to suit your needs.
With quartz as the perfect finish for both style and function, our Flexy Style food servery counters ensure your customers will always enjoy their food in the best possible condition and surrounds.
Four reasons to use quartz food servery counters
2022-09-16T15:51:23+02:00