Electrolux Professional Modular Cooking Ranges
Our modular cooking ranges fit perfectly for quick service and full service restaurants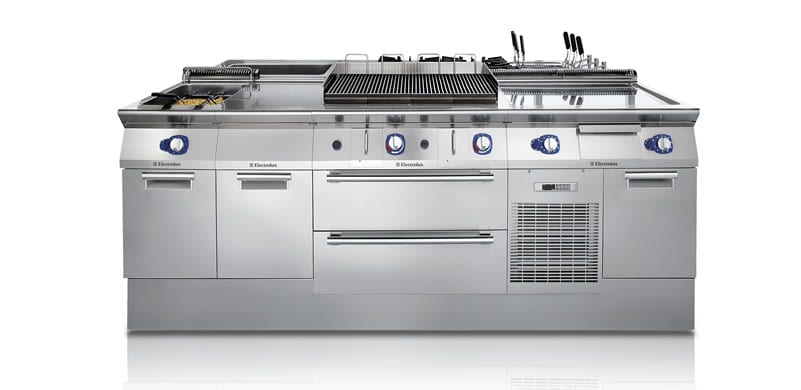 900XP range
Automatic Pasta Cooker HP is extremely versatile. Not only pasta, it boils meat, vegetables, potatoes, rice, cereals and more.
PowerGrill: high performance grilling system and superior heat uniformity.
1200mm-wide Fry TopHP: superb productivity and quality of cooking.
Gas convection oven: increased productivity by cooking on 2 levels, and maximizing kitchen operations.
"Flower flame" burners: flame adapts to pots of any diameter, heats only the bottom.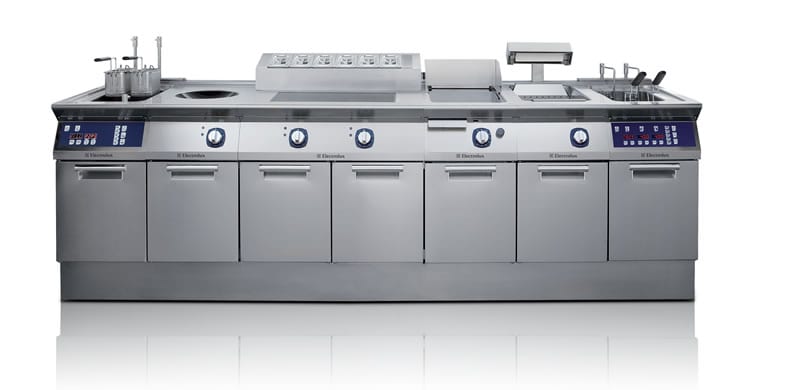 700XP range
The new 700XP stove incorporates a number of clever innovations to improve cooking efficiency and productivity:
High power Induction Top and woks increase performance assure low heat emissions to increase savings and a better cooking environment.
The Electric Hob Top offers small, labour-intensive kitchens increased productivity as compared to standard electric plates.
The exclusive "flower flame" burners guarantee flexibility and high efficiency. Because of their unique shape, the flame is precisely adjusted to fit pans of any diameter.
Modular Cooking Ranges from Electrolux Professional
Imagine a commercial kitchen that can grow with you. That's one of the major advantages of owning an Electrolux Professional modular cooking range.
Every business wants to grow, but not every business is ready for growth when the time is right. When you have Electrolux Professional in your kitchen, you're always ready. The modular design means you can add components as they're needed.
Being modular also means maintenance is simplified. If one section of your cooking range needs some heavy duty cleaning or service, it's easy to remove just that section without having to take your entire cooking range out of action. That's smart, and it's just one of many advantages you will find with Electrolux Professional commercial kitchen appliances.
Read More
Modular Cooking Equipment Gives You More Control
Having a modular system means you get more independent control over every station. It also means you don't need to purchase individual specialized equipment for every different kind of food you want to prepare.
This simplifies everything for you and for your cooking professionals. Instead of having to concern yourself with multiple warranties and deal with numerous suppliers, you can get all your product support from one place. In fact, you can fit out your entire kitchen with Electrolux Professional appliances, because we have everything you need.
Another concern you may have if you're sourcing your kitchen equipment from numerous different brands is how you will manage if one of those brands goes out of business. This does happen sometimes, and when it does, it can be very costly to those who have purchased items under that brand.
You won't have to worry about that with Electrolux Professional. We've been around for 100 years, and we're now a global company. We've never been stronger than we are today, and the future is looking even more promising.
Our Commercial Modular Cooking Range is Versatile and Powerful
In a busy kitchen environment, efficiency is vital to success. Food needs to be turned out on schedule, and people need to be able to move through each stage of preparation as rapidly and safely as they possibly can.
Electrolux Professional equipment is designed with business in mind. We know you don't just want a safe and efficient kitchen; you need it. So everything we make is created in order to provide maximum efficiency and safety.
With multiple cooking stations in one unit, and as many processes as possible automated, the workload is reduced and simplified. One trained chef may easily manage many different cooking processes without ever needing to look away from the cooking area.
Hot Features of Our Modular Cooking System
We are justifiably proud of the sheer design excellence that has gone into the creation of our modular cookers. You will know from your very first encounter that this is no idle boast. Preparing food with any of our modular cooking ranges can only be described as a pleasure.
Here are just a few of the features you will notice and appreciate about the modular cooking ranges available from Electrolux Professional in Australia:
Choose from pre-configured or custom configuration according to your need
Quality stainless steel exterior surface for durable good looks and easy cleaning
High performance grill tops in either gas or electric versions
Dual zone gas cooking hobs to suit 8kW or 16kW burners. Dual zone electric hobs
Automated programmable pasta cookers. Make perfect al dente pasta every time
Programmable gas or electric fryers with capacity from 5 to 23 litres
Electric chip scuttles for simultaneously draining oil and keeping the product warm
Solid top gas cookers with cast iron cooking plates for reliable long term performance
Chromium plated gas fry tops with thermostatic control and frontal simmer zone
Bain-Marie units to keep food warm, featuring incoloy armoured heating elements
High capacity (from 60L to 250L) boiling pan units, either gas or electric powered
High capacity (from 60L to 100L) braising pan units, either gas or electric powered
Induction cooking plate units (1, 2, or 4 plate models available)
Multi-function cooking units with capacity from 11 to 22 litres
Refrigerated base units, for quick access to chilled items (helps save space and/or expand your refrigerated storage capacity).
You decide what your kitchen needs and we make it possible to get the exact configuration you want and remember you can always add more modules as your needs change.
Electrolux Professional has expert commercial kitchen planners who can provide any advice you may need about commercial kitchen equipment, so get in touch today and find out more about the many products and services we offer.
We are proud to be known as the premier global brand that businesses trust to get the job done. We supply Australia with commercial range hood filters. Additionally, we specialise in delivering high-quality commercial grills and commercial kettles. Don't hesitate to contact us for more information.
Read Less
Accessories for 900XP and 700XP Modular Cooking Ranges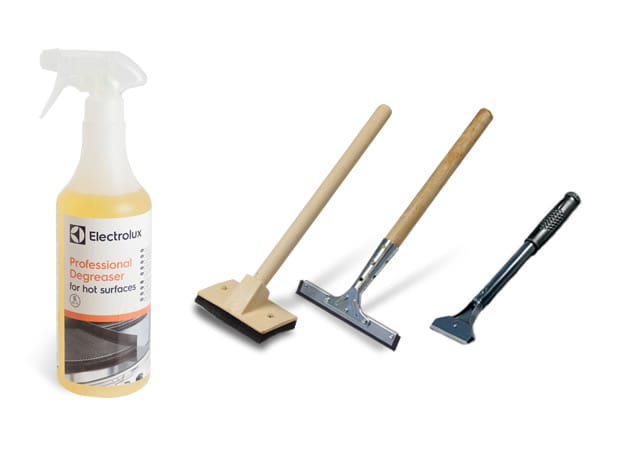 Professional degreaser
Our professional degreaser is the ideal cleaning solution for cooking surfaces at high temperatures. It is reccomended for fry tops, braising pans and multifunctional cookers.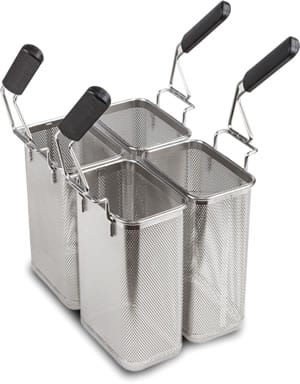 Pasta cooker baskets
Entirely made in AISI 304 to ensure maximum hygiene, our baskets are designed to offer maximum ergonomics.
Discover what 900XP and 700XP modular ranges can do for your business
Modular Cooking Ranges
2019-07-17T01:27:43+00:00
Filter (396 Products)