At Electrolux Professional we don't settle for anything less than the highest quality for our customers, which is why we make sure that every part used in our equipment is tested and stands up to the long lifetime we design into all our products.
However, there can be some occasions where parts need replacing due to wear or damage.
Under these circumstances, do you know if your service provider supplies the genuine item or a substitute copy? The part might look the same, but only genuine spare parts are approved for use in our equipment.
Here we explain some of the benefits associated with insisting on genuine spare parts, and some of the reasons why a non-genuine or non-approved part shouldn't be adopted in its place.
1) INCREASED SAFETY
Not only for employees, but also for operators and the product itself. Genuine OEM (Original Equipment Manufacturer) parts have been tested within specialized laboratories with their specific piece of equipment, in order to ensure its safe operation, thus safeguarding both the initial investment and the health and safety of your staff who will work with it.
2) CERTIFIED RELIABILITY AND PERFORMANCE
Your professional equipment is designed to remain robust, operate at full efficiency and last for many years with heavy-duty use, but without overusing energy and supplies – and with no unnecessary costs. Such reliability derives from fitting only genuine spare parts, accessories and consumables that – thanks to their durable nature – ensure it runs correctly as a cost-effective and high-performance solution, with an undoubtedly positive impact on your business.
3) EXTENDED LIFETIME
Professional equipment is the cornerstone of any hospitality and health care operation, hence keeping it active and maximizing its uptime is crucial for achieving a profitable business. Real OEM parts ensure appliances run exactly as they should and for longer, reducing the chances of unplanned downtime and the subsequent impact this can have on your business.
4) GUARANTEED WARRANTY PROTECTION
Using non-OEM parts can invalidate the manufacturer's warranty on the equipment, so that the appliance may no longer be covered for future warranty claims. Moreover, as a customer you cannot claim back the cost of the part under the warranty since these non-genuine parts will not be covered by the manufacturer. Therefore, insisting on genuine spare parts, accessories and consumables ensures your warranty remains valid, covering you for future claims should they arise.
5) LOWER TOTAL COST
A non-genuine spare can offer a lower "up front" cost. This may give provide a short-term gain, but it takes no account of the total cost of ownership later on. A non-genuine can affect the equipment efficiency and operation, generating unseen costs that can arise in the longer period. Genuine spare parts are tested to fit and work properly, avoiding further breakdowns, are more likely to last longer, reducing downtime, further lost business opportunity and additional repair costs.
Thereafter a genuine OEM part can improve Return on Investment through longer lifetime, increased value, and more profit to your business.
On the other hand, original parts are tested to fit and work properly into the related machine, thus avoiding further breakdowns, and they are also more likely to last longer, reducing downtime and ensuring business continuity.
Therefore, an OEM part can improve your Return On Investment, allowing you to get more value through the years.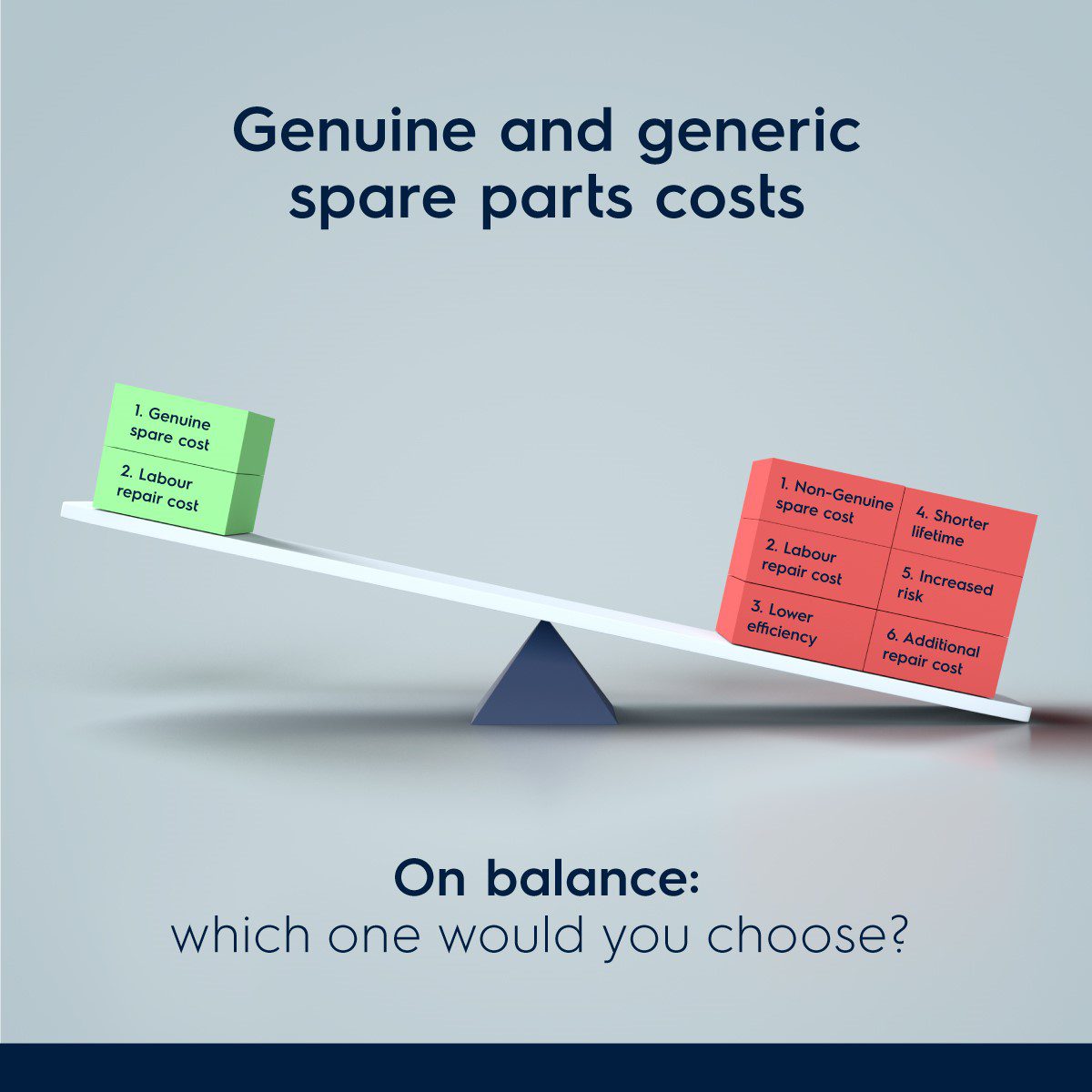 CONCLUSION
Safety, reliability, longevity, warranty protection and lower cost of ownership all add up to increased value to your business.
Be re-assured, insist on genuine, trusted parts for your equipment. Why settle for anything less?
What is the real added value of original parts, and what benefits do they bring to your business?
2022-02-22T11:34:00+02:00