Olmsted, not your usual neighborhood restaurant
While Brooklyn-based Olmsted masquerades as a neighborhood restaurant tucked into an unassuming building in Prospect Heights, it offers a simple buy compelling season menu that has drawn attention from a global and local audience. The restaurant was named for famed architect Frederick Law Olmsted, who helped design Central Park in New York City and other green spaces in the urban landscape.
The backyard of the 50-seat restaurant is an urban garden, driving ingredients for the menu and into the kitchen.
"Olmsted is a fine-dining restaurant operating as a casual neighborhood restaurant," said Chef Greg Baxtrom. "It's a food destination that happens to be in a charming neighborhood."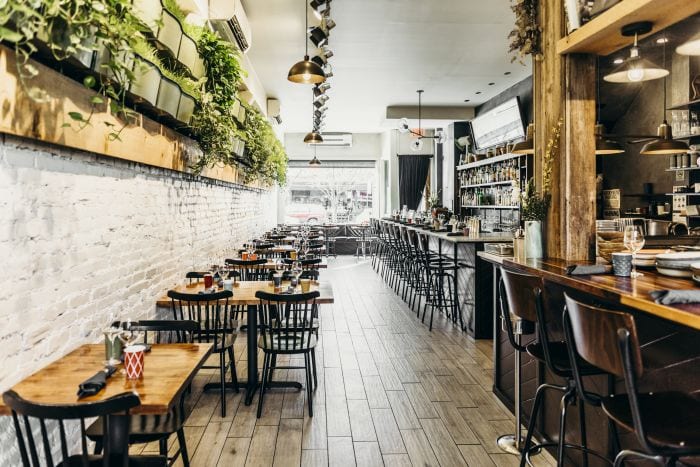 It's a global neighborhood restaurant – entertaining customers from Copenhagen and Mexico City to the neighbors down the street every week.
Chef Baxtrom explained that diners have evolved and become more sophisticated. They aren't looking for a six-hour meal that costs thousands. He looked at their menu as creating some simple but sublime.
"We just want them to know that they're getting a great product and it tastes great."
The team chose Electrolux Professional products because they always liked them. The small kitchen housed next door to the restaurant in the Williamsburg neighborhood has stacked air-o-steam Touchline Combi Ovens bracketed by the EMPower Restaurant Series ranges and a Pressure Braising Pan.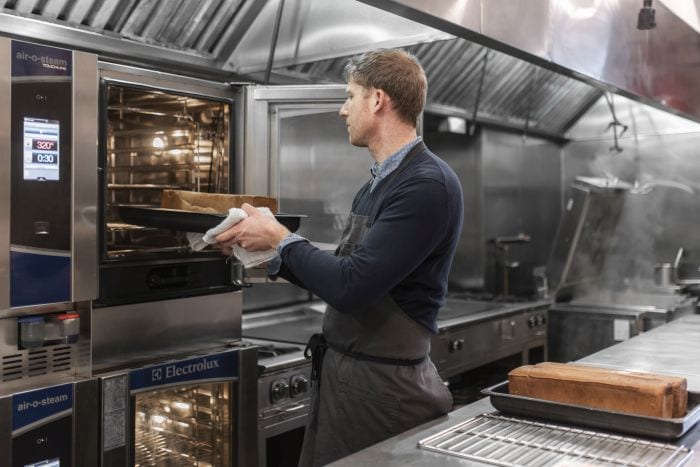 "Chef friends of mine have referred (Electrolux) in the past," Chef Baxtrom said. "The truth is in the period that you were opening a restaurant a few time, you try to hang on to your allies. I met a whole bunch of people from Electrolux. I really like the product. It was just more that I could bring to the table. They've always been supportive. They'd give me a kitchen drawing so I'd be prepared for meetings."
"We are extremely proud to be part of the success of Greg and Max and his entire team at The Olmsted," said Roger Kenney, Territory Sales Manager for Electrolux Professional. "Greg's philosophy of community and people first to enjoy his talents and the professional and hospitable personality of their team and the respect for his environment stood out from Day One of our initial meeting."
Of the Electrolux Professional solutions filling the small footprint of a kitchen, Chef Baxtrom says the Combi Ovens are like having another employee. He's also getting much use out of his Pressure Braising Pan – a piece of equipment that is new to him, but they are finding multiple applications for it.
"It's huge for consistency, like making the sweet and sour sauce," Chef Baxtrom said. "It's not just a time saver; it's a quality check thing … that is why we built a better kitchen, to achieve that."
The crab rangoon they serve six months out of the year illustrates how everything works in the kitchen.
"I'm using the crab I want to use. The sweet and sour sauce takes two hours to make," Chef Baxtrom said.
Chef Baxtrom emphasizes the importance of consistency to his guests visiting the restaurant in New York. His team weighs every little thing to the gram as they work to be an ambitious, fine-dining restaurant. They don't want to disappoint their guests, and they make everything in-house from the pickles to the ricotta cheese to the ice cream.
"The Olmsted is truly a partnership with Electrolux Professional as their values align with our values for life and for business," Kenney said.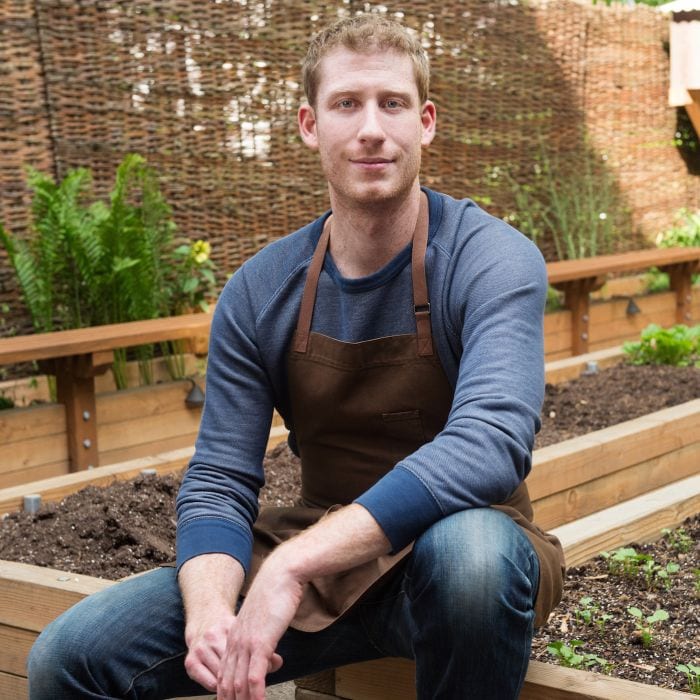 "Why Electrolux Professional?"
Greg Baxtrom – Chef
"The truth is in the period that you were opening a restaurant a few time, you try to hang on to your allies. I met a whole bunch of people from Electrolux. I really like the product. It was just more that I could bring to the table. They've always been supportive. They'd give me a kitchen drawing so I'd be prepared for meetings."
List of installed equipment:
Olmsted
2019-06-05T01:00:51+02:00