An establishment of excellence
The École Ducasse-Paris Campus  is a world-renowned establishment that opens its doors to us today: École Ducasse-Paris Campus, located in Meudon, 10 kilometers from Paris. Each year, students are trained in culinary arts and baking.
Discover the backstage of this prestigious school which offers its students the opportunity to work on the most beautiful French professional kitchens.
École Ducasse-Paris Campus, the world reference in culinary arts and pastry
Each year, several hundred students, all passionate about the culinary arts and pastry arts, are trained in the techniques of the profession.
École Ducasse's mission is to transmit Alain Ducasse's culinary know-how and expertise as well as his philosophy inscribed in a civic and eco-responsible approach. The school trains students from all walks of life to become entrepreneurs, managers and citizens.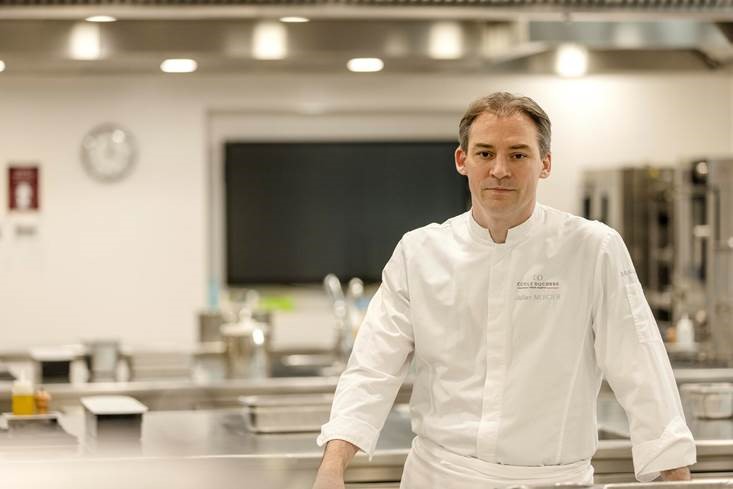 Both chef and creator, Alain Ducasse is above all a true pioneer of philosophy, living well and eating well. He is now the most starred chef in the world.
Its philosophy combines tradition and modernity, respecting the products used, to highlight the authenticity of each product.
The Chef's obsession was to create an establishment that allows him to transmit the knowledge he had acquired during his travels around the world and transform it into educational content in a dedicated and unique place.
"It took ten years of work to design this modern, contemporary, technical and universal tool. Today, being in this building is a great satisfaction because it is an architectural purpose made up of high-tech professional kitchens", says Chef Alain Ducasse.
"Why Electrolux Professional?"
Chef Julian Mercier, chef of Ecole Ducasse-Paris Campus, has been working with Chef Alain Ducasse for 20 years now. He tells us the reasons for his choice of Molteni and Electrolux Professional equipment:
"We have 17 Electrolux Professional thermaline cooking blocks that have been custom-made to our needs with parts for people with reduced mobility. I am satisfied with the Electrolux Professional equipment because it is easy to use, it is resistant, easy to handle and the understanding of its use is done very quickly. On SkyLine ovens, what is pleasant to use is already their operating mode which is intuitive. It is not difficult to find the programs on the ovens, the cooking is stable and fair throughout the oven, from top to bottom. Cleaning is very easy to do, moreover in terms of safety, it is very pleasant.
What I like about Molteni stoves is their sturdiness. They are made in France, they have an ease of use which is very appreciable with a very nice design".
École Ducasse, the secrets of the establishment's professional kitchens
To honor the excellence of French cuisine, it took many months of reflection, manufacture and installation of professional kitchens.
The result: 9 professional kitchens, 1 shop and 1 gourmet restaurant with 60 seats open to the public. The quantity and quality of the equipment are dizzying, as Eric Mouton, Commercial Director of the Molteni brand for France and Electrolux Professional sales manager for the Ile de France region, recalls: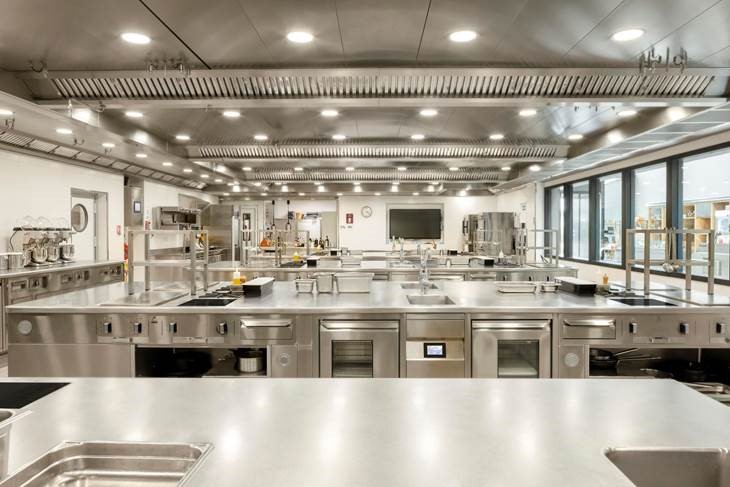 "This professional kitchen project is one of the biggest in the last 10 years. The establishment covers more than 5,000 m2and the workspaces have been organized so that the students work in high-end professional kitchens that incorporate premium equipment that can be found in the most beautiful starred establishments around the world.
90 tons of professional kitchen equipment have been installed by Electrolux Professional and Molteni, they are easy to use, innovative and durable. These are excellent solutions for professional training because they allow students to be supported in an optimal way, in excellence as Chef Alain Ducasse wished. We are a multi-specialist manufacturer and have fully equipped professional kitchens. This includes horizontal and vertical cooking equipment, cold, washing, dynamic preparation".
The equipment of the Molteni brand was manufactured in France in St Vallier in the Drôme and mainly installed in the gourmet restaurant "Adour" as well as in the kitchen dedicated to continuing professional training:
– 3 Molteni stoves from the 1923 range, made to measure. They integrate tandoori ovens, multifunction water cooker, temperature holding drawers, woks, high-performance 8-zone inductions, griddle plates, Ecotop plates, etc.
– 4 Molteni grills with 3 stations
– 2 Molteni rotisseries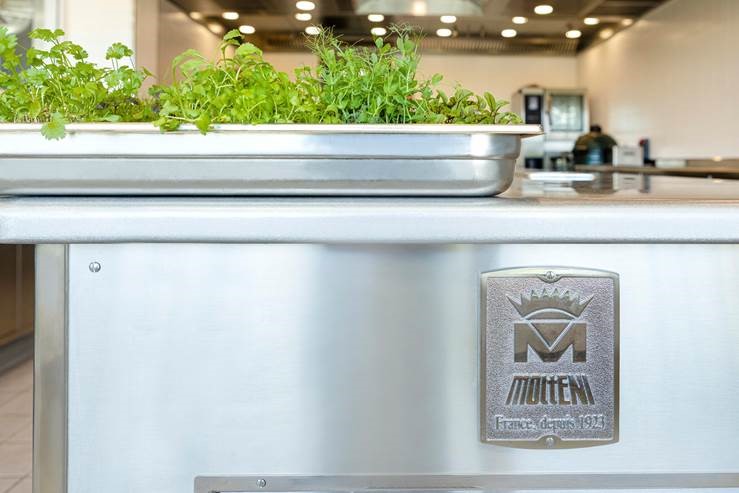 Equipment from the Electrolux Professional brand has also been installed on all floors of the school:
– 17 tailor-made thermaline M2M stoves with a central or back-to-back configuration, composed of a single top. 4 stations were installed per stove. A specific position has been developed for students with reduced mobility. Each station incorporates 1 Free Cooking 2-zone plate, 1 7kw gas fire, refrigerated bases, temperature holding drawers, etc.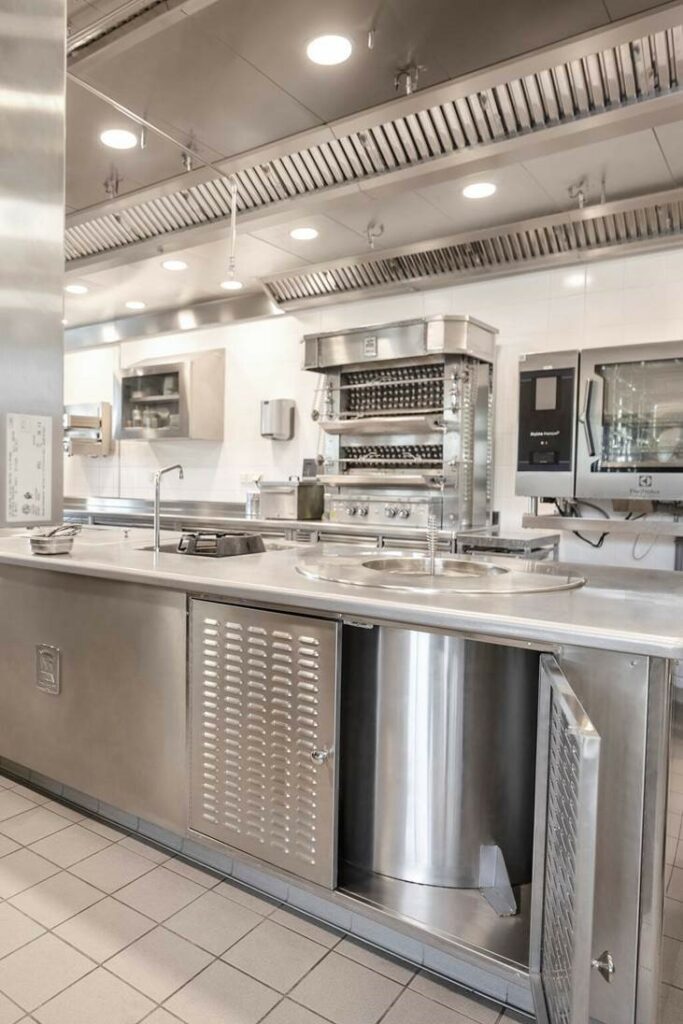 In terms of cooking and Cook&Chill solutions, we also find:
– 10 SkyLine professional ovens, 6 and 10 GN 1/1 levels
– 10 SkyLine 6 blast chillers and 10 GN 1/1 levels
– 22 multiSlim compact ovens
– 11 super-fast salamanders
In refrigeration, the institute has equipped its classrooms and restaurant with:
– 18 positive and negative ecostore refrigerated cabinets
For washing, the establishment is equipped with:
– 7 automatic hood battery washers
– 9 grean&clean frontal dishwashers
– 1 automatic Green&Clean dishwasher
For dynamic preparation, more than 100 devices including:
– Mixing beaters
– Cutter, mixers and emulsifier
– Table sheeter
– Mixer and turbo grinders
– Slicers
– And more…
We would like to thank the École Ducasse teams and Chef Alain for entrusting us with the realization of this beautiful project. Thanks also to Chef Julian Mercier, as well as all the students of the class of 2022!
Find École Ducasse-Paris Campus on its website:  www.ecoleducasse.com/campuses/paris-campus
École Ducasse-Paris Campus
2022-11-09T13:09:20+02:00