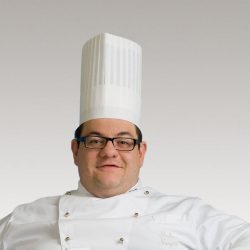 Ingredients
pork meat
salt, pepper, extra virgin olive oil
fresh or dry herbs
Preparation
Take the pork meat and remove the excess fat. Season very well with salt, pepper, extra virgin olive oil, fresh or dry herbs to your taste then put the meat under vacuum – this is a very important step for the best result in terms of flavour, smell and taste.
Once the pork has been marinated select a special cycle in our air-o-steam Touchline oven called LTC Low Temperature Cooking, set your desired core temperature and press start. In this case 68°C is the optimum temperature. At the oven's prompt, simply load the oven insert the probe close the door and go home – its that easy!
During the overnight cooking cycle the air-o-steam Touchline uses dedicated algorithms and the lambda sensor control to continuosly monitor the cooking process. The result the next day will be pork cooked to perfection and an amazing meat weight loss of less than 10%. Then chill the meat with air-o-chill, the best blast chiller in the market.
When you reach the right temperature you can then slice the pork sliced very thick (3-4 cm), season again with dry spices, salt, pepper, and extra vergin olive oil. At the same time preheat the oven in convection cycle at 260°C, take one non-stick grill (code 922289), put the cherry wood chips (code 0S1717) under water and prepare our volcano smoker (code 922338) with a natural coal.
Light with the gas torch till the coals become red and put the wet wood chips on the top and close the volcano Smoker with the dedicated lid. Now the oven will be ready to grill and smoke the pork for which you will select a cooking cycle of 8 or 10 minutes. After that you are ready to enjoy this delicious tender and juicy pork dish.
Give a look at these ideas, you may like them:
Smoked & grilled pork
2016-10-25T08:13:13+02:00