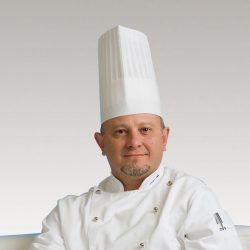 Ingredients
Ingredients for 6 people
For the mullet fillets:
6 mullets
50 g. pistachios
Extra virgin olive oil to taste
250 g. black rice
Salt, black pepper, herbs to taste
1 onion 2 zucchini
1+1 yellow and red pepper
For the sweet and sour sauce:
4 dl. vinegar, 4 dl water, 10 amaretti
100 g. pine nuts 2 tablespoons sugar
100 g. candied mandarin orange
80 g. peeled white almonds
100 g. raisins, salt and pepper to taste, 1 pinch of cinnamon
Preparation
Procedure for the mullet fillets: Gut and scale the mullets, trim the fillets and arrange them on a plate. Cook the black rice in plenty of water. Cool off in AOC soft cycle.
Procedure for the vegetables: wash and cut the onion, zucchini, and peppers into small cubes, add the herbs, salt, pepper and place everything in a vacuum bag and steam for 12 minutes at 85° C.
Procedure for the sweet and sour sauce: boil half vinegar and half water, add the crushed amaretti, sugar, salt, pepper, and cinnamon and cook the mixture, adding some water every time it starts thickening.
Halfway through cooking, add the candied mandarin in small pieces, raisins, pine nuts, and toasted and chopped almonds. Let cook until the sauce is quite thick and well cooked.
At this point, check it to see if it needs more sugar or more vinegar. Strain and put on the side.
Notes
1st step Cooking + presentation: Preheat the aos touch line. In the meanwhile, place the fillets on a lightly oiled u – pan fry griddle baking pan, add salt and pepper and cook them in convection cycle at 170 °C with 20% VC humidity for 6-8 minutes, or a little longer depending on the size.
In the meanwhile, regenerate the bag with the vegetables the in AOS, steam cycle, heat the sweet and sour sauce, and sautée the previously cooked rice with a drizzle of extra virgin olive oil, add the chopped pistachios, salt and pepper.
At this point, place the sweet and sour sauce at the centre of the serving dish, lay a spoonful of rice with pistachios, some vegetables and add the mullet fillets on top, and then complete with some leaves of edible flowers, herbs, and grated fresh mandarin orange.
Cooking program/setting

Convection with moisture control, Steam cycle at low temperature.
Give a look at these ideas, you may like them:
Mullet fillets and black rice with pistachio on sweet and sour sauce with pine nuts and mandarin orange
2016-10-29T16:31:57+02:00