Women in the restaurant and hospitality industry have an appetite for change – as seen and heard at the recent Parabere Forum – a global network to improve gastronomy with women's vision.
Ingrid Yllmark, VP Corporate Communications, recently joined a group of Electrolux Professional women to attend the two-day conference in Malmö, Sweden, and recalls her impressions for International Women's Day, March 8, 2018. 
"Our purpose to Shape Living for the Better includes the drive to inspire and contribute to positive change. As a partner at this year's Forum, we had a platform to promote our values and network with around 400 delegates from 30 countries.
They ranged from Michelin-star chefs to young entrepreneurs that all shared a passion for food and the power of gender diversity in the industry.
What became evident was that a shift has already started – females are determined to claim their place as leaders and become the new faces of the next big thing in food.
What's more, millennials are not only discussing diversity, they are intent on bringing sustainable thinking to the fore – being a force for good to feed an ever-growing population through social projects and innovative start-ups.
Big personalities in the restaurant trade are increasingly supporting the cause.
On stage, Anne-Sophie Pic – the French chef with a tally of seven Michelin stars to her name – discussed the trials of taking over her family business amid the male-dominated arena of her father's kitchen.
Now established as a culinary icon, she advocates better practices and conditions that have allowed for an almost 50-50 balance of male and female chefs at the flagship Maison Pic in Valance.
Her male counterparts are – importantly – speaking out too. Noma's René Redzepi revealed a vision that his restaurants should be the best place to work in the world – for both sexes.
And given his 10-year-old daughter's flair for food, he would certainly encourage her to follow in his footsteps yet make her own mark in tomorrow's gastronomic world.
With women making their voices heard louder in the industry, it makes business sense for us at Electrolux Professional – with our shared values – to support this shift, be part of it and empower even more change for the better."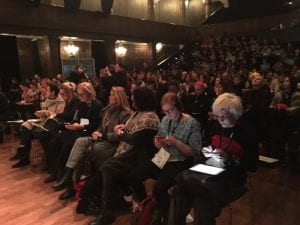 A female force for the food service business
2018-03-08T17:08:33+02:00