Electrolux Commercial Cooking Ranges
Since 1871.
Production, precision and tradition for over 100 years.
thermaline M2M Industrial Cooking Range
made to measure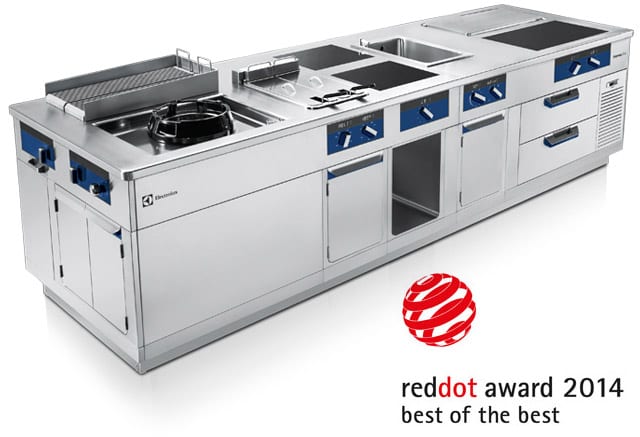 Create your ideal kitchen
Made to Measure is created to offer every top chef a partner for life, meeting the requirements of five-star hotels and fine dining restaurants with the latest professional technology and ultimate kitchen design.
Red Dot Award for Product Design

thermaline M2M has won the Red Dot Award for Product Design 2014, a prize that has established itself as one of the most sought-after quality marks for excellent design worldwide.
thermaline modular 80 & 90 commercial ranges
thermaline Modular cooking ranges boast a strong internal frame resistant to bumps and corrosion
Free-cooking top allows you to use both pots and pans and cook food directly on contact at the same time
The unique retro-illuminated glass display and the highly-visible LED digits, on electric version, provide full control of your operations.
The Thermodul seamless connection between cooking functions (ProThermetic boiling and braising pans included) avoids liquid infiltration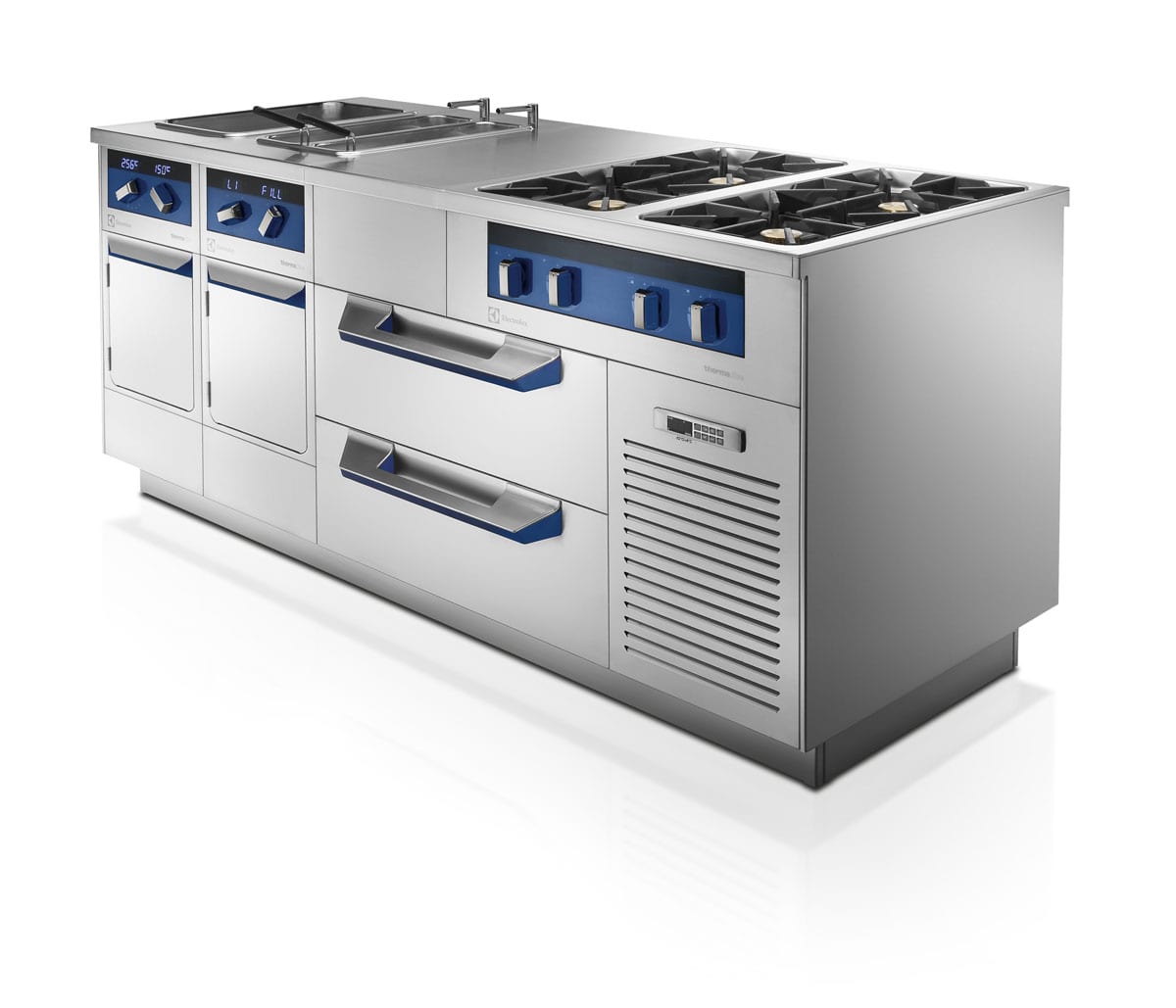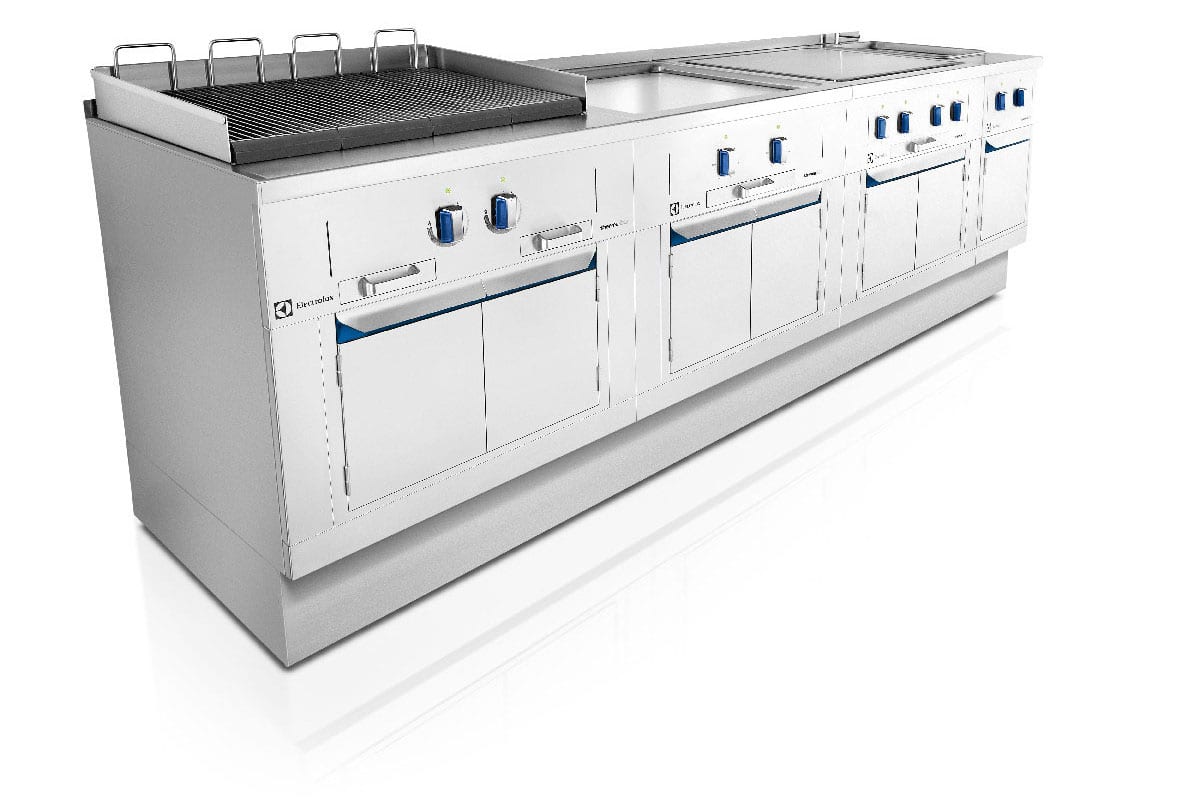 thermaline modular 85 commercial range
The most flexible modular cooking system offering multiple configurations (against the wall and back to back)
Infinite Possibilities
with M2M thermaline
Check out our 25 examples of
M2M thermaline Suites!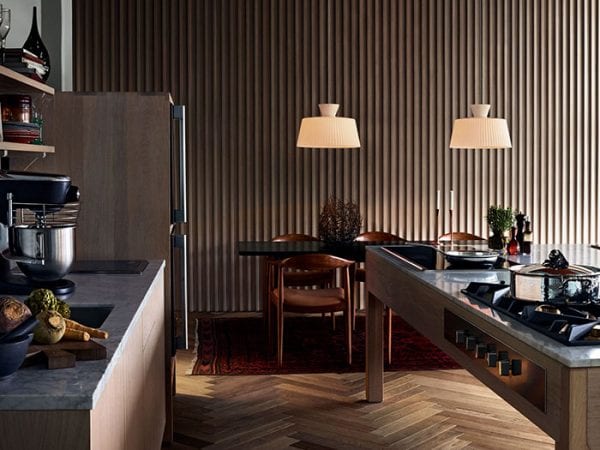 Electrolux
Grand Cuisine
Designed for "built-in/drop-in" installation in exceptional kitchens and can be combined with thermaline M2M
Quality Industrial Cooking Ranges From a Market Leader
With over 100 years of experience and expertise in designing commercial kitchen equipment, Electrolux is one of the leading global manufacturers of industrial cooking ranges. We're the name that you can trust to deliver the highest functioning and high quality commercial cooking ranges at affordable prices.
From hotel and restaurants to catering companies, cafes and supermarket delis, school and company canteens to cruise liners, care homes and hospitals, we supply cooking ranges for any commercial and industrial environment.
Read More
At Electrolux, we are committed to pushing the boundaries of design and driving innovation, delivering revolutionary kitchen ranges that make life easier and more profitable for our customers. Sustainability is also to the fore of each of our ranges, with a strong focus on improving water and electricity efficiencies to help our customers to save on costs and enjoy greater profitability.
When you buy an Electrolux cooking range, you are purchasing from a multi award-winning brand, who have deep specialist expertise in commercial kitchen equipment. With a full range of commercial kitchen equipment available, your range can stand alongside a host of other Electrolux branded products including refrigeration tables, counters and cabinets, grills, ovens, chillers, dishwashing equipment, serving trolleys, waste management systems and much more.
Shop The Electrolux Professional Cooking Range Collection
Within the Electrolux cooking range collection are two different models, both highly celebrated and revered across industry and a feature in thousands of commercial kitchens worldwide – the 900XP and 700XP
The 900 XP
The 900XP is the versatile range for both quick service and full service restaurants. Featuring an automatic pasta cooker that also boils meat and veg and many other food items, a high performance grill, a superb top fryer, a gas convection oven that enables cooking on two levels and flower flame burners which adapt to pots of any diameter, the 900XP professional cooking range is the cost saving and energy saving, high performance option for your commercial kitchen.
The 700XP
Embracing technological innovations, the 700XP is cleverly designed to serve as one of the most productive and efficient commercial cooking ranges on the market. Among these innovations include a high power induction top, which assures low heat emissions.
The range also promises an electric hob top which is an excellent, high productivity alternative to standard electric plates as well as our exclusive flower flame burners, which adjust to the diameter of any pan. The 700XP will ensure you make best use of space while cooking on high performance, efficient equipment.
Enquire About Electrolux Professional Australia's Cooking Ranges
Our videos, brochures and website can only boast the benefits of our cooking ranges so much. If you are interested in learning more about the Electrolux 900XP or 700XP, complete our online enquiry form and we'll soon be in touch.
Allow us to explain precisely our cooking ranges may benefit your specific commercial kitchen space and how businesses of your size and industry have integrated the Electrolux cooking ranges into their space.
Empower greater efficiency and productivity, reduce costs and enjoy long-lasting performance by introducing an Electrolux commercial cooking range into your kitchen space.
We are proud to be known as the premier global brand that businesses trust to get the job done. We supply Australia with commercial deep fryers. Additionally, we specialise in delivering high-quality commercial blast chillers and commercial cheese cutters. Don't hesitate to contact us for more information.
Read Less
Get in touch with our team of experts and find out what Electrolux commercial cooking ranges can do for your business
Cooking Ranges
2019-07-17T02:04:50+00:00