Setting the trend in green laundry with Electrolux Professional
Les Résidences de Bellevue cater to the dependent elderly with a capacity of 572 beds in 5 units and 10 day care areas for people with Alzheimer's, making it one of the first nursing homes in France.
In additon to being beautifully surrounded by 12 hectares of green in Bourges, Les Résidences de Bellevue clearly express their choice in following a green policy. For Mrs. Kraft, Deputy Director of Economic Services, the objectives of the institution are very clear.
And if the No. 1 priority remains by vocation the respect of the resident, the axes of development themselves are guided by the spirit of openness and innovation. For example, as part of its active participation in research programs, the institution has built a prototype apartment to begin working towards the independence of people with disabilities. Another example, the hotel is home to a social companion dog which provides help in the maintenance of functional and mental autonomy for the disabled.
Electrolux was proud to have accompanied the institution in the creation and development of their laundry facility, providing project realization, technical assistance, site supervision and on-hand training of the users. It was a real partnership demonstrating genuine trust between professionals.
The laundry was renewed with the latest generation of equipment limiting detergent, water and energy consumptions and the air is specifically treated. The dirty laundry area is separate from the clean laundry area to avoid bacterial contamination. Finally, the laundry facility has a fresh new face: it's new in its process, ergonomic in its organization, 100% compliant with the requirements of CBHI standard of hygiene and more ecological in its operation. It is a high tech laundry which can handle perfectly up to 400 tons of laundry per year in optimum hygiene, comfort, quality and respect for the environment.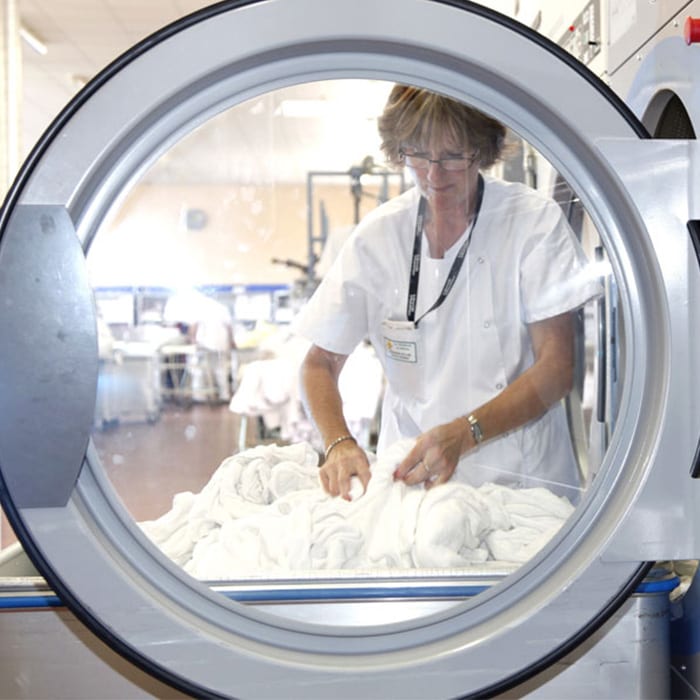 "Why Electrolux Professional?"
The dirty laundry area is separate from the clean laundry area to avoid bacterial contamination.
Les Résidences de Bellevue
2015-07-27T14:34:09+02:00