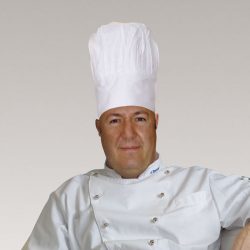 Ingredients
Ingredients for 4 people
800g turkey breast in a single slice
200g chestnuts, already peeled and boiled
30g Grana Padano cheese
2 whole eggs
1 sprig rosemary
4 sprigs red currant
200g chopped celery, onions, and carrots
salt, pepper, extra virgin olive oil
Preparation
For the stuffing: place chestnuts, cheese, and eggs in the cutter, chop everything finely, season with salt and pepper.
Stuff: spread the stuffing on the turkey slice that has been lightly beaten in order to obtain an even slice, leaving about 3 centimetres on each side. Roll the meat and tie it up with kitchen twine.
Cooking: bake at a temperature of 65° at the core
Finishing : after the cooking, blend the vegetables with the mixer, season to taste and, if necessary, thicken with potato starch.
Serving: after cutting the turkey slices to a thickness of about 2 cm, put them on the plate, glaze with the previously prepared sauce and garnish with rosemary and red currant.
Cooking program/setting
LTC low temperature cooking : start cooking temperature 140° temperature at the core 65°.
Notes
This recipe is also suitable for people intolerant to gluten.
Give a look at these ideas, you may like them:
Turkey supreme roll with chestnut mousse
2016-10-21T08:36:56+02:00